'It's been absolutely incredible' - on-course bookmakers relish Glorious return
On-course bookmakers said trade at Glorious Goodwood was close to 2019 levels after a sell-out crowd returned to the track on Saturday.
Martin Davies, who is based in south Wales, worked at every day of the festival and, speaking before racing on Saturday, he said trade in the betting ring had been better than expected this week.
"It's been much better than I thought it would be and it seems very busy but the number of bookmakers has decreased," said Davies. "Before last week, there was a suggestion there may not be a huge crowd but we had a boost when Goodwood reported positive sales.
"It was amazing that they managed to put this on in such a short space of time. The marketing must have been exceptional to get this many people through the gate – it's been absolutely incredible. The crowd have been positive and even thanked us, which is unheard of."
Goodwood operated as a cashless venue, except when placing a bet, which posed the occasional problem for bookmakers, and Davies added: "It becomes very difficult when people don't think they need cash as it's so much slower for us to take bets by card.
"It's not about the money I take, it's the amount of tickets, so delays to the process are a disadvantage. I would have still come if it was cashless but I'm not sure I'd have lasted very long. I'm one of the biggest moaners in the world but I never considered not coming."
The feel-good factor was felt by bookmaker Martin Verrall, who said: "There's a sense of normality and people are happy to be back at the races. We've taken cash and most people are bringing it. The trade has been on par with pre-Covid times, which is great but surprising."
It has been a tough 18 months for on-course bookmakers, who were unable to attend behind-closed-doors meetings for much of the Covid-19 pandemic, but Jamie Stevens was in an upbeat mood due to the return of crowds and predicted a profitable day on Saturday.
Based between Cirencester and Swindon, Stevens, who bets as George Cooper, came to Goodwood only on Saturday, but was thrilled to be back at a landmark meeting, especially after losing a laptop during the downpours at Sandown on Wednesday.
"My son-in-law and best friend, who also works in the industry, said if we don't take £25,000 today we might as well give up," he said.
---
Read more:
Goodwood delight at crowd levels but Friday fight leads to racegoer arrest
Your key questions answered as full crowds are allowed back to tracks in England
Bookmaker pitches vacant at Goodwood over cashless betting concerns
'It's mortifying' - bookies' outrage at decision to keep off-course SP system
---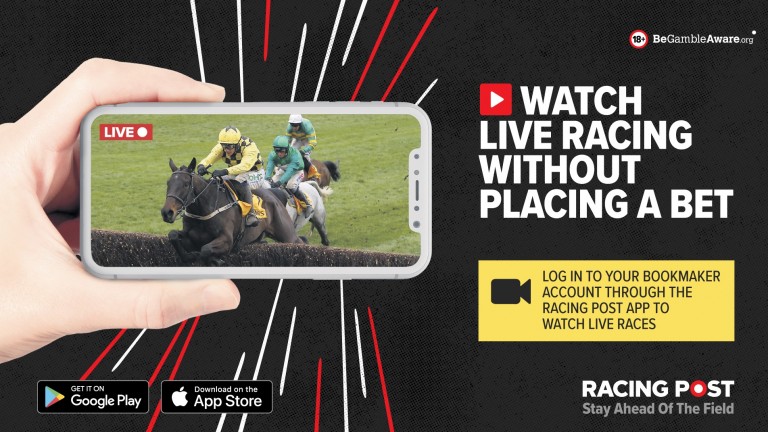 Watch live races through the Racing Post. Log in to your bookmaker account and look on the racecards for eligible races. Click the red 'Watch live now' icon and they're off! Find out how here
---
My son-in-law and best friend, who also works in the industry, said if we don't take £25,000 today we might as well give up