How a Ukrainian with no English became an integral part of Team Gifford
From Ukraine to West Sussex via Middleham, there is nothing routine about Volodymyr Stepanyuk's journey in racing.
You would be hard pressed to find someone who squeezes more into their schedule than the 35-year-old, who is known as 'Vova' to his friends and colleagues at Nick Gifford Racing.
During his 14 years at Gifford's famous Findon stable, his hard graft has seen him climb the ranks and he currently fills the role of property manager, which covers all things about yard maintenance, as well as riding four lots a day.
Vova arrived in Britain in 2005 unable to speak a word of English but he is fluent now and has skilfully mastered the art of sarcasm in his second language. Jovial and industrious, he is highly regarded among Gifford's tight-knit team.
Raised on a farm in Ukraine close to the borders of Poland and Belarus, Vova has always been an animal lover but he literally stumbled into equestrianism on a walk in woodlands close to his home.
"When I was 14 I was bored in the summer holidays, so I went for a walk in the forest to go and pick mushrooms," he remembers. "I saw a girl riding past on a horse. I thought it was so cool and she said I should go along and have a look. I rocked up at the stable yard, she put me on a horse and I've never looked back. I thought it was amazing."
Rather than the Derby or the Cheltenham Gold Cup, it was replays of the Velka Pardubicka on YouTube that spiked his interest in racing. The Grand National was next and by 18 he was set on joining a racing yard in either Britain or Ireland. After much paperwork and an uncomfortable interrogation at Leeds Bradford Airport, he ended up at James Bethell's Middleham yard.
"It was the girl I met in the woods that day," Vova says. "She came to the UK a couple of years before me and she was the one who introduced me to James Bethell and he organised a work permit. On the basis of that I could get a visa.
"I couldn't speak a word of English when I arrived and I got held up at the airport for about two hours. They went through my paperwork but wanted to interview me a bit more and took me to a private room. I'm terrified at that stage. I'm 18 and have never been abroad and thought I was going to get arrested. They wanted to know what my purpose was for coming to the UK and all I could say was racing!"
With his paperwork all in order, he was eventually sent on his way to Bethell's yard. Six months later he was speaking the language and, although he was thrown straight in at the deep end, he looks back fondly on those early days in Britain.
"It was a great experience," he says. "I could get by after six months but it probably took a year before I mastered this language. Learning a language in a year is probably one of the proudest moments of my life.
"There was no holding back at James Bethell's. He had plenty of horses and there were plenty of opportunities. He'd let you crack on and was a top man. There's a real community in racing.
"I came to the UK and couldn't speak a word of English but a couple of months down the road I'd have to go racing and lead up my horse. You'd go with the travelling head lad and he'd drop you off at the gate, put you in the stable and you'd have to get your horse ready.
"The first time at Redcar I had no idea what time I needed to lead out or where I needed to go. The guys in the stable next door, who I'd never met before, said they'd help me, no problem. They got me ready, helped me out and it was amazing.
"Pretty much everywhere you go, if you need helping out, people in racing always will. I've never had someone say no to me."
After two and half years with Bethell and a six-month stint with Richard Whitaker near Wetherby, Vova was keen to look for a jumping yard to further his career. A former colleague put him in touch with Gifford and soon he was making the 300-mile move to the south coast.
"I thought National Hunt was the way forward," he says. "I came down for an interview, I rode out and then Nick said, 'When can you start?'. The rest is history."
Given he is hardly afraid to travel, the fact he has stayed put in Findon for the past 14 years says plenty about Gifford and his team. For Stepanyuk, it is the family feel of the yard which makes it special.
"It's a small yard and it means you get a lot of opportunities to learn new skills," he says. "I started off as a stable lad but over the years I've been the gallops man and now I'm the property manager. If I'm needed to go racing I go racing, I deal with all the deliveries and pretty much if anything breaks I fix it."
His working days start with his harrowing the gallops, then comes riding out his four lots. After that he could be cutting the grass, treading in the gallops, preparing the schooling jumps or fixing stable doors. It is a full-on schedule and one on which he thrives.
"Long hours are not a problem; time flies when you're doing something you love doing," he says. "There are plenty of jobs where you can make more money and I've been offered them but I put my mental health before money.
"You're close to nature in this job and the horses are always positive. If you're having a bad day they always cheer you up. We've got a great team of staff too and Nick is great. He's given me so much."
Vova's work ethic saw him nominated for the Dedication Award at this year's Godolphin Stud and Stable Staff Awards, which have recently been rebranded as the Thoroughbred Industry Employee Awards. He finished second to Alyson West from the James Ferguson team and he also made the finalists for Stable Person of the Year at the McCoy Awards.
"It was very unexpected," he says of both nominations. "It's nice to see your hard work recognised and they were awesome. Awards like that are very important. You have your ups and downs in this sport and, especially for the youngsters, I think it's crucial that they are recognised. It keeps them motivated."
The last 12 months have proved the most challenging of his time in Britain, having to watch from afar as his home nation has been forced into a war with Russia.
"Mentally it's been a bit all over the place," he says. "The first three months I didn't know what had hit me. Work pulled me out of that hole because it keeps you busy. Being driven and focusing on work distracts you a bit. Horses played a very important role in that. If you've got something on your mind, you go and ride a horse and it's gone because you have to focus on what you're doing."
Vova speaks to his family in Ukraine every day without fail and reports them to be doing well in the circumstances.
"We're raising money to help but my family see it as their country and will fight if they have to rather than leave. At the moment they're doing good."
Asked for his highlights from his career in racing, he rates his first trip to the Cheltenham Festival with the Gifford-trained On Trend right up there. He is also the proud owner of Glen Rocco, who he used to ride every day during the horse's racing days and who he couldn't bear to see leave the yard when retired. He might not have made his millions yet but Vova has certainly found happiness around horses.
"There's a lot of opportunities in racing," he concludes. "It's been an awesome journey for me and I don't want it to stop yet."
---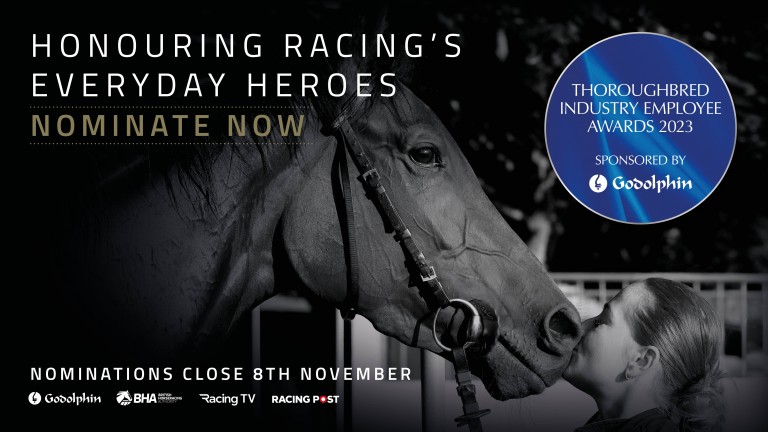 Nominations are open until November 8 for the Thoroughbred Industry Employee Awards, sponsored by Godolphin. The awards are an opportunity for employees from across the various areas of the industry, such as training yards, studs or administrative roles, to be celebrated for their hard work and dedication. Find out more by visiting thoroughbredawards.co.uk.
---
I'm terrified at that stage. I'm 18 and have never been abroad and thought I was going to get arrested