Ten-year suspension for jockey who carried electrical device during race
Jockey Tomas Mejia has been suspended for ten years and fined $5,000 by the Monmouth Park board of stewards for possessing an electrical device during the running of a race on September 3.
The ruling, made on Wednesday, came after photographic evidence was presented to the stewards, proving that Mejia had the electrical device upon his entrance to the winner's enclosure after landing the seventh race aboard Strongerthanuknow and prior to dismounting.
An electrical device, known as a 'buzzer' in racecourse lingo, is used to urge a horse into running faster by delivering an electronic shock. They are prohibited.
Strongerthanuknow, owned by Colts Neck Stables and trained by Jorge Duarte Jr, won a 5f allowance race. In third place entering the home straight, the filly surged late under urging from Mejia to catch 4-5 favourite Mumbai.
In addition, the stewards referred the matter to the New Jersey Racing Commission (NJRC) with a recommendation that Mejia's licence is permanently revoked.
Jockey Tomas Mejia receives 10-year suspension, $5,000 fine from stewards at New Jersey's Monmouth Park for possession of an electrical device in 7th race Sept. 3. Stewards recommend permanent revocation of Mejia's license to NJ commission. pic.twitter.com/T36wiDJNkv

— Ray Paulick (@raypaulick) September 16, 2021
The suspension for Mejia is double the length of the five-year penalty given to Roman Chapa by the Texas Racing Commission for carrying a buzzer in a race at Sam Houston Race Park in 2015, one of the multiple infractions the rider had for electronic shocking devices. Chapa was also fined $100,000.
In another case last year, jockey Denny Velazquez was handed a one-year suspension and a $10,000 fine by the board of stewards at Canterbury Park for being found in possession of an electrical device and a loaded firearm during a search of his vehicle.
Those infractions came at tracks in which whip regulations were not nearly as restrictive as Monmouth Park. This year the New Jersey Racing Commission implemented rules that prevent a jockey from using the whip except for safety reasons. Stewards have issued suspensions to jockeys who have used the whip.
Since the stewards could not prove that Mejia used the device to encourage Strongerthanuknow – their evidence consisted of photographs taken of Mejia in the winner's enclosure while he possessed the device – they did not disqualify Strongerthanuknow or revise the finishing order.
'The penalty is serious'
As part of the suspension, which will run through September 9, 2031, Mejia is denied access to all grounds under the jurisdiction of the NJRC for any and all purposes.
Robert Tuccille, Mejia's agent, said he asked the rider if he had carried the device during the race and did not receive an answer.
"I'm still trying to wrap myself around all this because I did not know all the details of it," said Tuccille. "The penalty is serious and the allegations are serious. All I know is that they have a photo. It's a very sad situation and a very tough situation because there was no need for it."
Tuccille said he had yet to speak to Mejia to inquire if the rider will file an appeal.
Mejia, 26, has had 1,101 rides in North America with 110 wins. He is tied for ninth at the Monmouth meet with 19 wins.
---
Read more international stories:
New races for next year's carnival with prize-money boost for World Cup card
Sonnyboyliston set to miss Melbourne Cup as Twilight Payment handed top weight
Our experts highlight 25-1 and 14-1 outsiders for the Arc after eventful weekend
---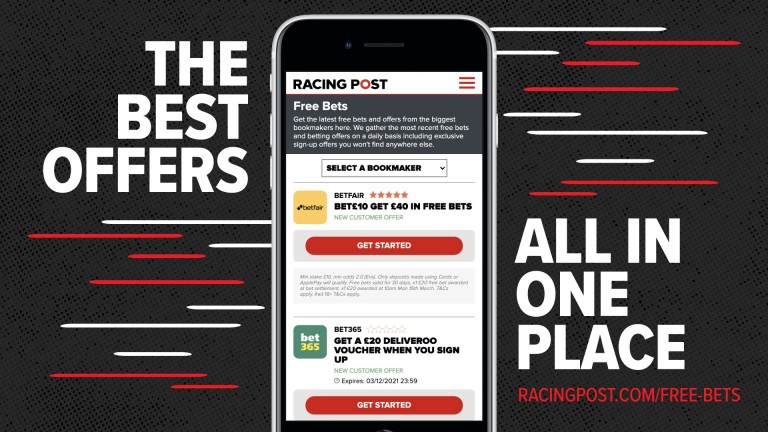 For all our exclusive free bet offers and must-have daily promotions click the free bets button or go to racingpost.com/freebets
---
The ruling came after photographic evidence was presented to the stewards