'I don't think I'll ever train a horse as gutsy' - Oscula stars for Boughey
Monday: Deauville
August 15 may be the high summer bank holiday across large parts of Europe but autumn was in the air at Deauville; specifically the first Sunday in October and thoughts of Longchamp.
Al Hakeem confirmed himself one of France's leading contenders for the Qatar Prix de l'Arc de Triomphe with a battling display in the Group 2 Prix Guillaume d'Ornano.
But the award for toughest customer of the day goes without any doubt to Oscula, who powered home in the Group 3 Prix de Lieurey under Ryan Moore for her third win - and eighth start - in the 73 days since Epsom's Oaks card.
"It's remarkable really as she only had a saddle on her back four times between runs," said winning trainer George Boughey. "She's so tenacious and I don't think I'll ever train a horse that's as gutsy as her. It's a 12-hour travel over here and that was a good performance.
"She's a huge advert for Nick Bradley. He wanted her to run when I might possibly have not and he's a fantastic guy. I'm delighted for the owners, they've got plenty of horses with me and it's a good advert for everyone at home. They work very hard and Laura, my girlfriend, rides her everyday."
Boughey has been mixing Oscula's starts between seven furlongs and a mile during her action-packed summer and it's the shorter distance where she will get her chance at Group 1 glory.
Boughey said: "She's obviously very good around a bend, she won at Goodwood and has won here around a bend. I'd like to go to the Foret as they usually go a good gallop around there and it's usually soft."
Al Hakeem has been the apple of Jean-Claude Rouget's eye all season and on his return to action after a break following a fourth-placed effort behind stablemate Vadeni in the Prix du Jockey Club, he shook off the rust with a cosy half-length defeat of Junko under Cristian Demuro.
Paddy Power cut Al Hakeem into 14-1 (from 20) for the Arc and Rouget confirmed that, subject to conversations within Al Shaqab Racing, that is where he would like to go, in all likelihood without need for another run.
"He is a Group 1 horse but in the Jockey Club it was not easy for him from the outside [draw] and Vadeni couldn't be beaten on that day," said Rouget, who also had Sunday's impressive Listed winner Lassaut to juggle.
"I think he's the one that could stay a mile and a half, his way of running gives him a good chance of getting the trip.
"Personally I wouldn't choose to go to the Prix Niel, I'd like to go to straight to the Arc."
---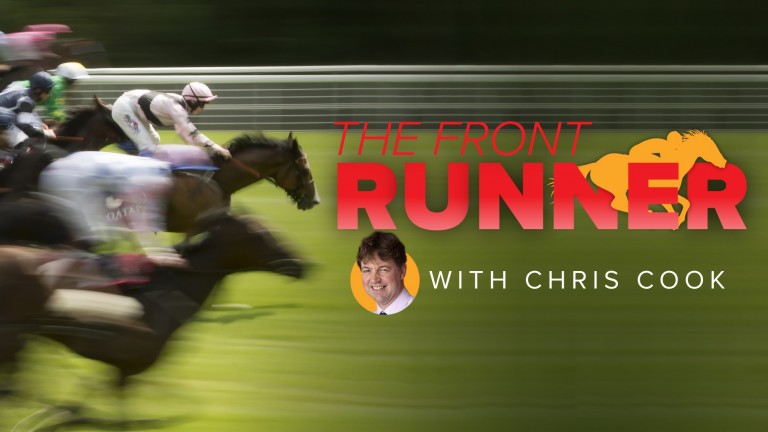 The Front Runner is our latest email newsletter available exclusively to Members' Club Ultimate subscribers. Chris Cook, a four-time Racing Reporter of the Year award winner, provides his take on the day's biggest stories and tips for the upcoming racing every morning from Monday to Friday. Not a Members' Club Ultimate subscriber? Click here to join today and also receive our Ultimate Daily emails plus our full range of fantastic website and newspaper content
---
I think he's the one that could stay a mile and a half, his way of running gives him a good chance of getting the trip