Inside the black market: big bonuses, personal managers and no safeguards
Black market bookmakers are luring punters with unrestricted gambling, the ability to bet via credit card and 'personal managers' who encourage customers to gamble heavily in return for bigger bonuses, a Racing Post investigation can reveal.
The unregulated websites also ignore clear signs that they are dealing with those vulnerable to gambling addiction, continuing to push free bets and encouraging prolific punting to unlock unspecified perks.
The revelations come amid alarming signs that affordability checks already introduced on British punters are prompting more consumers to use black market operators. There is also widespread concern that the forthcoming government review of the Gambling Act – which could introduce draconian restrictions on legal betting – will lead to an explosion in unregulated betting.
It is not only vulnerable customers who will be endangered should this come to pass. Our investigation reveals that getting winnings paid out from these firms – all based offshore and with highly opaque financial structures – is often close to impossible, and unlike with regulated firms there is no means by which disputes can be escalated.
---
Read part one of the Racing Post's special investigation: 'A genuine menace' - is the threat from the black market being taken seriously?
---
Last year, a Racing Post investigation highlighted the scale and cynicism of black market advertising directed at customers from the UK and other regulated markets, including brazen efforts to target those who have self-excluded from betting with mainstream bookmakers.
Dozens of websites claiming to be betting review platforms were found to be using terms such as 'non-Gamstop', referring to the free service which provides customers the ability to self-exclude from all licensed bookmakers for a set period of time. Black market bookmakers are not participants in the scheme.
That is only one of many examples of how black market bookmakers fail to protect customers, particularly those vulnerable to gambling problems. Unlicensed bookmakers also offer the ability to bet via credit card, a method that was stopped by the UK betting industry regulator the Gambling Commission in April 2020. On its website, the Gambling Commission states: "We are clear with gambling businesses that they must reduce the risk of harm from gambling and an important part of this is not allowing people to gamble with money that they may not have."
Using a credit card, the Racing Post signed up to and deposited with three black market betting firms that were chosen via review websites returned following a search using the term 'non-gamstop betting'.
Subsequently, dozens of text messages and emails were sent to the number and address used for signing up, offering free spins, time-limited bonuses on winnings of up to 400 per cent, free gifts and free entry to tournaments with large jackpots.
Free bet and bonuses offered by licensed firms are underpinned by guidance from the Competition & Markets Authority and the Advertising Standards Authority, which require terms and conditions such as wagering requirements to be clearly stated. There has also been speculation free bets and bonuses will be clamped down on in the government's forthcoming gambling review.
By contrast, black market firms push what appear to be generous and enticing bonuses, only for punters to find out once they have been initiated that they require the funds to be rolled over multiple times before a withdrawal is permitted, or that 'no deposit' free bets require a subsequent deposit for any sum to be taken out.
Slot game features that have been banned on safer gambling grounds in the UK also remain available on black market sites visited by the Racing Post.
These include autoplay tools, whereby the reels spin automatically at a set stake and which "can lead players to losing track of their play", according to the Gambling Commission. The black market sites also deploy other banned features such as the use of sounds and images to give the illusion of a win when the sum returned is in fact lower or equal to the stake, and no display of playing time or total profit/loss for the playing period.
As part of a blizzard of marketing initiatives, two black market operators owned by the same entity based on the small Caribbean island of Curacao supplemented the texts and emails by making phone contact via a 'personal manager', who provided information on "personalised gifts" and to ascertain "casino preferences".
Posing as a customer who had previously self-excluded due to difficulties with gambling, the Racing Post asked one of the personal managers spoken to on the phone whether there would be any restrictions placed on their betting activity as freedom from this was why their site had been selected.
"I can understand sometimes when playing in casinos it can be more difficult for you when you are betting," they said. "On our website we have this self-regulation. We have our own restrictions and our own rules and our terms and conditions mean we are working together – you as a client and me as a provider.
"Yes, I am understanding you and I have not seen any problems with you using the casinos. We are not going to stop you making decisions on your betting."
The Racing Post spoke to this personal manager three times in seven days on the phone, with problem gambling mentioned during each call. Despite these clear warning signs that they were dealing with a potentially vulnerable customer, the personal manager stated that they were "trying to help people with their betting" and that the more gambling that took place on the account, the better bonuses they could provide as a result.
"Of course, the more active you are the more bonuses you are getting," they said. "I am trying to help you. There are a lot of people who don't understand how the betting works, how to play, how to upload their documents, how to make a withdrawal — there are a lot of different questions.
"Sometimes they talk about the problems, but sometimes if they want to share that they have won, say, €1,000 then they can call me and say, 'It's great, I've won this much money' and I will tell them this is great, this is superb and share that experience with them."
The black market employee added: "Can I call you next week with regards to something interesting for you? It will be updates about our sites and, maybe if you have gone on to be very active on our site, I can provide you with some superb, interesting bonus."
Reviews from UK customers of the sites signed up to on consumer review website Trustpilot averaged 1.5 stars out of five and warned punters of the difficulties in withdrawing winnings from black market firms.
One reviewer wrote: "This site will reel you in but never ever pay out. I was trying for over a month. I got verified then I didn't, then I did, then I didn't etc. In the end I just gambled it away."
Reviewing one of the other sites, a user said: "Please be careful using this site. Absolute scam that preys on problem gamblers as it's non-gamstop. You won't be able to withdraw funds on this site while they phone you multiple times claiming to be a manager asking you to deposit for bonuses. Awful site."
The Racing Post was unable to withdraw winnings of €200 from one of the black market websites, while the others either disabled the withdrawal option or did not respond to requests for funds to be withdrawn from the accounts.
Buried among the terms and conditions on multiple sites visited by the Racing Post was a requirement for punters to regularly deposit in order to make a withdrawal request at all.
The websites state: "You need to have at least one successful deposit for the last 30 days before creating a withdrawal request. If you haven't made a deposit for this period of time or you have started the game with a welcome no-deposit bonus, you have to make a deposit before creating the request and also to comply with the terms for the bets amount."
Restrictions on withdrawals are strictly banned by the Gambling Commission, which states that customers should expect to be able to "withdraw your money at any time without unreasonable delay or restriction".
Black market sites are also not bound by the independent betting disputes service Ibas which "adjudicates on disputes between licensed gambling operators and their customers".
To add further confusion and uncertainty for punters potentially engaging with unlicensed sites, the Curacao-based company operating the brands which made contact via so-called personal managers was liquidated last month, according to the Curacao Commercial Register, yet continues to offer betting products.
Furthermore, the deposit payments for these black market sites were made to another company based in Uzbekistan. Payments to other black market websites used by the Racing Post went to companies in China.
Commenting on the findings by the Racing Post, Betting and Gaming Council (BGC) chief executive Michael Dugher said: "Black market gambling sites deploy a host of reprehensible tactics to lure in players and provide none of the safeguards in place in the regulated market.
"While our members in the regulated industry are committed to safer gambling tools and investing millions in research, education and treatment for the minority of problem gamblers, their efforts are being constantly undermined by this growing black market.
"You can't stop the black market, but what you can do is stop driving people there with the wrong kind of regulation. Invasive affordability checks and banning promotions that customers enjoy, like free bets, is a sure-fire way to infuriate punters and push them to sites like this."
He added: "We strongly support the white paper as a further way to drive up standards, but this timely investigation by the Racing Post has highlighted the dangers for punters. I hope ministers are alert to this."
Proposals being considered as part of the review into gambling in the UK include stringent affordability checks on customers, whereby bettors would be required to provide bookmakers with access to private information such as bank accounts, tax returns and share portfolios to prove they have the financial means to bet, potentially triggered by net monthly losses as low as £100.
Ahead of the publication of this white paper, many bookmakers have already begun introducing affordability checks, albeit generally triggered at higher levels of spend. Betting industry sources say that many customers are unwilling to provide the sensitive financial information when contacted.
A YouGov poll carried out this year on behalf of the BGC, a trade body representing a majority of the leading gambling companies, found that only 16 per cent of those surveyed would submit to affordability checks, while 59 per cent of people said the intrusion would lead to more people betting with black market websites.
The number of people already accessing the black market from the UK was estimated in a report for the BGC by consultancy firm PwC to have more than doubled in the last two years to 460,000 from 220,000.
British racing has estimated that it could lose up to £100 million a year in funding under the strictest affordability proposals as punters bet with firms that do not pay levy or media rights, or simply stop betting altogether.
All the black market sites used by the Racing Post offered betting on British, Irish and international racing — as well as other live sports such as football — virtuals, esports and casino games, including ones themed around the war in Ukraine.
Speaking last year, Tim Miller, executive director of the Gambling Commission, said the regulator was "alive" to the threat of the black market and that action was taken regularly to shut down or cut off sites that could potentially harm punters in the UK.
However, it is clear that for the time being, and on the cusp of a potentially seismic overhaul of British gambling regulation, the black market remains a readily accessible and tempting means of betting, albeit one replete with dangers, above all to potentially vulnerable customers.
---
Read more on this subject:
'A genuine menace' - is the threat from the black market being taken seriously?
Revealed: how black market betting sites are preying on gambling addicts (£)

---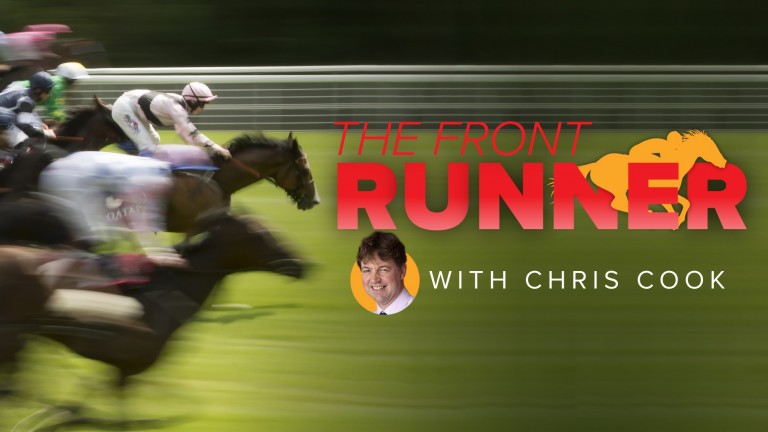 The Front Runner is our latest email newsletter available exclusively to Members' Club Ultimate subscribers. Chris Cook, a four-time Racing Reporter of the Year award winner, provides his take on the day's biggest stories and tips for the upcoming racing every morning from Monday to Friday
The unregulated websites ignore clear signs that they are dealing with those vulnerable to gambling addiction