'Infuriated' Brown to appeal as horses struggle to complete the long trek home
A missed opportunity, a missed sailing and a long voyage home for two of her horses – and none of it was her fault. It is no wonder trainer Katy Brown describes herself as infuriated.
Not only was her filly Secret Memories an unlucky loser at Chelmsford on Sunday evening but snow delayed the race by 63 minutes meaning she missed the intended sailing home from Fishguard in South Wales on Sunday night.
Secret Memories and Mrs Hitchcock set sail from the port of Dublin on Wednesday morning of last week. Five days later and they are still not home.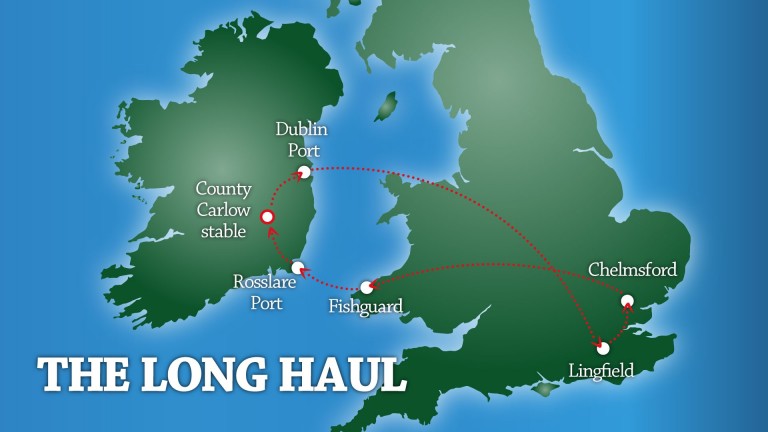 Mrs Hitchcock finished fifth in a 6f handicap at Lingfield on Friday and Secret Memories was due to run at the same venue the following afternoon only to be eliminated beneath the cut-off limit on Friday morning.
Quick thinking by Brown ensured Secret Memories found an opportunity at Chelmsford 24 hours later, but bad luck in running and bad luck with the weather meant it was a Sunday afternoon to forget.
"We left at half eight on Wednesday morning and we are still not home," said Yorkshire native Brown on Monday afternoon. "With the race delayed on Sunday, it would not have been fair on the horses to rush them for a sailing back.
"The trip has been longer than anticipated but it would have been all worthwhile had we come back with a winner. Let's hope our appeal will be successful," Brown added.
An aggrieved Brown is convinced she has a solid case after the stewards refused to reverse the result of the concluding 6f handicap at Chelmsford.
Secret Memories was badly hampered by Fareeq deep inside the final furlong, forcing Paddy Bradley to snatch up the four-year-old filly and switch to the outside to mount his challenge. The pair failed by three-quarters of a length and also failed in the stewards' room afterwards.
That decision has left Brown, whose stable is based ten miles from Carlow town, seething. She said: "I have no doubt that she would have won by a length or two had she not been interfered with. I have phoned the BHA and we are appealing. I am pretty infuriated to be honest."
---
Tortuous timetable
Wednesday, January 17
8.30am leaves Dublin Port with Mrs Hitchcock and Secret Memories
Friday, January 19
10.30am Secret Memories is eliminated at bottom of 6f handicap at Lingfield on Saturday
1.25pm Mrs Hitchcock finishes fifth in 5f handicap at Lingfield
Sunday, January 21
4.30pm Secret Memories due to run in 6f handicap at Chelmsford
5.33pm The race at Chelmsford goes off over an hour late due to snow and Secret Memories finishes an unlucky second
Monday, January 22
11.45pm departs from Fishguard to Rosslare
Tuesday, January 23
4.30am arrives in Rosslare Port in Wexford
7am arrives back at County Carlow stable
---
The trip has been longer than anticipated but it would have been all worthwhile had we come back with a winner. Let's hope our appeal is successful