'If I had been anywhere else but Cheltenham I wouldn't be here to tell the tale'
David Jennings talks to Colin Howell, whose life was saved by the medical team at last year's festival
If you are still trying to convince your other half that a trip to Cheltenham is worth the expense, and that you simply have to be there, as the slogan goes, perhaps the tale of Colin Howell will persuade them.
"If I'd been anywhere else but Cheltenham that day I wouldn't be here now to tell the tale – I was in the right place at the right time with the right people around me," says the 69-year-old from Wincanton.
"I can't thank Cheltenham racecourse and all the people who treated me enough. The medical team saved my life. I fully understand how lucky I am to be alive and am making the most of it. So many people have done so much for me, I wish I could repay them all."
Rewind to March 16, 2017. It was the day Howell had dreamt about for decades. A maiden voyage to the Cotswolds for a day at the Cheltenham Festival. Little did he know it would turn into a nightmare.
Having savoured all seven races, including a serene round of jumping from Un De Sceaux in the Ryanair Chase, Howell was merrily making his way out of the racecourse and wondering why he did not have a small wager on Domesday Book in the Kim Muir. His next memory is waking up in Cheltenham General Hospital.
What happened in between is best explained by Kevin Dickens, community responder officer for Gloucestershire and operations officer for the Cheltenham Festival.
"Colin collapsed and his heart went into a chaotic rhythm," explains Dickens. "His chances of survival were greatly enhanced because of where he was. He was given life support very swiftly. It was prompt and sufficient.
"We couldn't have delivered the type of service given to Colin without everybody working together and getting involved, from the doctors to the paramedic crew to the police. It was one big team effort.
"The fact we could use a defibrillator on Colin allowed us to give him advanced life support, so it was the perfect chain of survival."
Howell's cardiac arrest was due to two main arteries being blocked. It could have cost him his life had the care he received not been so prompt and thorough.
'I went down like a sack of spuds'
He has since had stents put in and will return to Cheltenham for the opening day of the 2018 festival to present the track with another defibrillator in the exact area where he collapsed. There will be no more popular presentation all week.
"I was fine," recalls Howell. "I had a bit of a cold but nothing major at all. I was with my two grandchildren, a friend of mine and his son. We were on the way to the courtesy bus to take us to the train and apparently I went down like a sack of spuds.
"The care I had from the moment I went to the ground was critical. It was seconds, not minutes, when they began to revive me by all accounts.
"Kevin has been terrific through it all. He talked me through everything that happened, and the quality of care I received was second to none. I've used up quite a few of my lives at this stage!"
Howell is now a successful owner too. He is part of Caloona Racing, who own Jubilympics – a winner of a handicap hurdle at Wincanton on the first day of this month. The horse might struggle to squeeze into a race at Cheltenham, but his owner will most certainly be there.
"I just hope my return to Cheltenham won't be as eventful as my last visit," says Howell.
Cheltenham is not just where stars are born, it is where lives are saved.
---
IN SAFE HANDS
Medical care on each day of the Cheltenham Festival
5 Doctors covering racing
4 Emergency ambulances covering the racecourse site
2 4x4 ambulances covering racing
2 Emergency ambulances covering racing
2 Nurses in the jockeys' hospital
1 Tactical commander based in silver event control
1 Operational commander
1 Racecourse medical co-ordinator
1 Loggist in silver event control
Supported by St John Ambulance (all volunteers)
16 First-aid assistants
3 Non-emergency double crew ambulances
2 Doctors in the medical centre
2 Cycle responders
2 Operational commanders
1 Event manager
1 Non-emergency 4x4 ambulance
---
One-month free trial
Read exclusive tipping, interviews and comment when you join Members' Club Ultimate. Enjoy your first month free when you subscribe using promo code FREETRIAL. Find out more here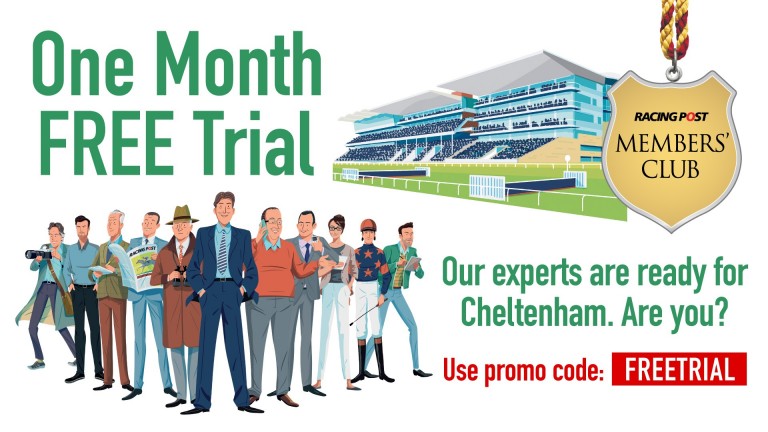 ---
I was in the right place at the right time with the right people around me