The heatwave: how British yards and racecourses are coping with the weather
Our reporters and photographers bring you the latest news on Monday as the sport grapples with the heatwave
---
Racing's yards, studs and participants are negotiating a scorching start to the week in Britain with temperatures forecast to hit up to 41C.
Fixtures at Cartmel, with an earlier start time of midday, and Ayr went ahead, although meetings at Windsor and Beverley were called off on Friday due to the forecast heat.
The Met Office has issued a red warning for extreme heat in much of England, from London and the south east up to Manchester and York, while an amber warning covers the remaining parts of England and Wales and part of Scotland.
---
Team 'happy' with Glorious Goodwood conditions
While the country deals with sweltering heat the team at Goodwood are happy with conditions at the track ahead of the five-day festival next week.
It is currently a mixture of good and good to firm in places at the track on the south downs with eight days to go until the Qatar Goodwood festival begins, and there could be some rain in the forecast which will help the ground in the build-up.
Ed Arkell, clerk of the course, said: "The latest forecast I got this morning is that it [the high temperature] peters out a bit and there's the potential – with the emphasis on potential – for maybe up to 12mm of rain between now and next Monday.
"Anything will be gratefully received but I don't think we're going to get the sort of massive thunderstorm you might expect at the end of a very hot period.
"We're very pleased with it, the track looks very well. It's a mixture of good and good to firm at the moment. Considering what's going on I'm very pleased with it."
Posted at 3.30pm
---
'We've had the fans on since 9.30am'
All attention was on one of the countries quirkiest racecourses in Cartmel. Based in a Lake District village, the track only races through the summer and is a short, sharp circuit with only six fences.
Despite being one of England's smaller tracks, Cartmel has all the necessary horse welfare provisions to deal with the heat and the seven-race card passed safely and without incident.
Before racing, clerk of the course Anthea Leigh told Racing TV: "We've put the meeting forward by two hours as it will get hotter throughout the day.
"The fans have been on since 9.30am this morning so that cooling mist has already reduced the temperature inside there. We have a big cooling team as we do for every meeting, we're a summer course and it's what we do."
Posted at 12pm
---
What are trainers doing?
Temperatures were forecast to reach between 27C and 29C for the fixture at Cartmel and predicted to hit the mid-20s at Ayr for the seven-race Flat card that started at 1.50.
In Newmarket – considered Flat racing's headquarters and estimated to home more than 3,000 racehorses – temperatures are predicted to reach as high as 37C on Monday afternoon, while the other major training bases in Lambourn and Malton are to experience similar heat.
Due to the conditions, trainers took horses out for morning gallops earlier than usual. Lambourn-based Stan Moore had his string out at 5.40am this morning and tweeted a video of his team as the sun began to rise.
Sun just about to come up in lambourn on a hot Monday morning pic.twitter.com/fNMgnr31pE

— Stan Moore (@stanmooreracing) July 18, 2022
The coastal town of Minehead in Somerset is sure to be a popular destination over the next few days and local trainer Philip Hobbs adjusted his hours due to the heat.
He said: "When things like this happen you just have to adapt and deal with it. We're quite lucky because it's only today for us and we don't have quite the same extreme temperatures they have in other parts of the country, so we started an hour earlier.
"We'll make sure the horses have plenty of water and washed them all off after exercise, that's about it really."
I knew they'd work it out eventually. pic.twitter.com/jTFLXR1hPv

— hugh anderson (@hughanderson) July 18, 2022
Trainer James Tate told the Racing Post on Sunday: "For the next two days we won't be doing any big, long lots or long bits of exercise, or any gallops or things like that.
"It will just be a case of getting in, getting out, doing a little bit of exercise and keeping hydrated and cool.
"As trainers we're used to adapting all the time and it shouldn't be too bad. We'll get out early and we won't do too much with them in the next couple of days. I'm sure they'll cope with it better than we do."
Updated at 12pm
---
Heat history: how racing fared on the record-breaking hottest day
The temperature hit 38.7C in Cambridge on the hottest day on record in Britain on July 25, 2019 but racing still went ahead at five tracks with just one abandonment.
The final two races at Southwell, due at 2.00 and 2.30, were cancelled with clerk of the course Charlie Moore saying at the time "common sense had prevailed" at the day's only jumps fixture.
Racing did take place at Yarmouth in the afternoon, around 80 miles east of the record-breaking heat at the Cambridge University Botanic Garden.
A similar distance south, and on the outskirts of London, there were no issues at Sandown Park for an afternoon meeting. Subsequent 2,000 Guineas winner Kameko made his racecourse debut at Sandown that day.
Newbury and Doncaster also staged evening meetings without any hiccups.
Posted at 12pm
---
The long, hot summer of 1976
Martin Stevens on two two high-class horses during the heatwave of 1976 and their bearing on future generations
Jeremy Tree sent a pair of more fragile horses owned by Jock Whitney from Beckhampton in Wiltshire – now the base of Roger and Harry Charlton, of course – to a young Michael Stoute in Newmarket, so that they could complete their preparations for their later-season targets on better ground or wood chip.
Tree's idea, hailed at the time by the distinguished racing journalist Tim Fitzgeorge-Parker as "brainy and unselfish", resulted in a Cambridgeshire victory for Intermission and a Jockey Club Cup success for Bright Finish in the space of just a fortnight that autumn.
Stoute had already proved himself one to watch by sending out the sprinters Alphadamus and Blue Cashmere to win big pots, but his handling of Intermission and Bright Finish really cemented his status as a trainer on the up.
Read more from Martin here
Posted at 11.30am
---
'We're getting them out early'
The Racing Post's Jack Haynes spent the first part of the morning at Olly Murphy's Warren Chase stables near Stratford, where staff headed in an hour early and first lot pulled out at 6am.
The summer jumping horses had a light canter on the six-furlong Wexford sand gallop at first lot, when the temperature was around 17C, with the majority of the four remaining lots, each around 40 minutes, consisting of winter horses in their early walking and trotting stages.
It is set to peak at 38C in Warwickshire, with Murphy's staff returning in the late afternoon to check on the horses and their waters and dish out the evening feed.
Murphy said: "We're being sensible and getting the horses out early with the aim of finishing by around ten o'clock. We give the horses a nice cold hose down after exercise, put them on the walker for half an hour and then they will head back to their stables for the rest of the day.
"They don't like to be bothered in this heat and our boxes are all pretty new and purpose built, so they have plenty of ventilation and a good air flow."
Posted at 11am
---
Read this next:
Tracks confident they can cope as heatwave sweeps across Britain
---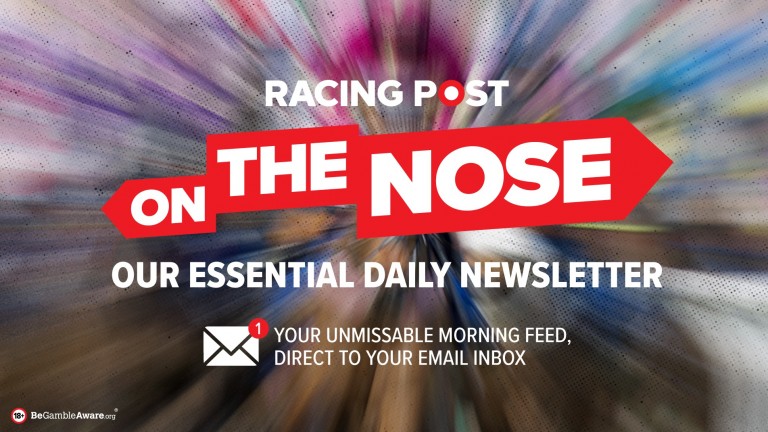 Sign up to receive On The Nose, our essential daily newsletter, from the Racing Post. Your unmissable morning feed, direct to your email inbox every morning.
---
It's a mixture of good and good to firm at the moment. Considering what's going on I'm very pleased with it