Here's why social media should be embraced as racing's linchpin
It has long been said many aspects of racing need to be brought into the modern era, so it is disappointing so many people view social media as foe rather than a friend, as its potential to benefit the sport is considerable.
The landscape of journalism is developing. The type of news and the speed at which we consume it is rapidly changing and increasing. First and foremost, social media is one of the most effective ways to reach and recruit potential fans of the sport.
Take Snapchat for example, where clips, often no longer than ten seconds, are creating an environment of immediate, disposable news. In the run-up to Irish Champions Weekend, Leopardstown racecourse (@LeopardstownRC) deployed Snapchat to access students and the younger generation. It was a colossal success.
By allowing people to connect to horseracing in ten seconds, without having to move from the sofa, we are taking the crucial first step to getting more people through the gates on raceday.
ITV Racing has stated its mission to attract new people to horseracing and its team have clearly recognised this simply cannot be achieved without championing social media.
Twitter provides access to race replays, interviews, features and tipping quicker than ever before. Through social media, racing has a massive and exciting opportunity to captivate – and in time convert – the casual racing fan to a lifelong devotee of the sport.
ITV Racing's Friday evening Facebook Live sessions, 60-second round-up clips and constant flow of audio-visual content has been one of its main triumphs during its first year broadcasting racing on mainstream television.
---
---
Social media also offers racing a vital opportunity to bolster its integrity and become more transparent. The relationships between trainers and bookmakers have come under the microscope in recent weeks – for better or for worse – but social media can provide clarity to an often murky picture.
Paul Nicholls has long been associated with his Betfair blog but often reaches out to the public to update people on the wellbeing of his horses and running plans. Nicholls recognises that training racehorses in the modern day is just as much about public perception as it is hay and workouts, and that's why he is a champion in nature as well as name.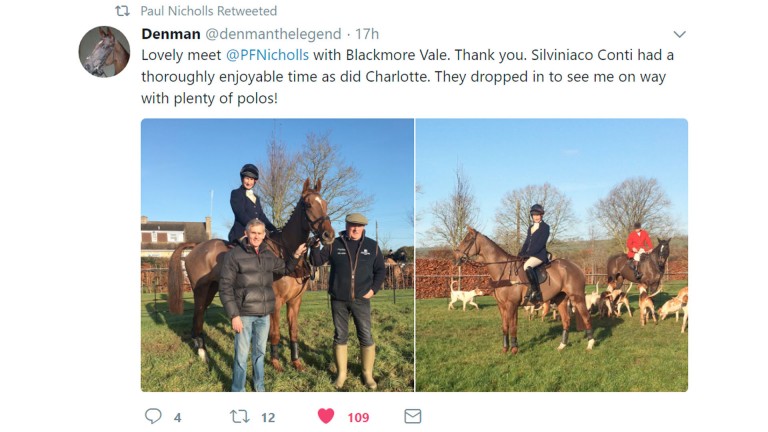 His assistant Harry Derham's blog has also built up a loyal following (see this week's Q&A) and gives a unique insight into the life of an employee in the industry and the care and attention the horses receive. Social media also gives the public a chance to keep up to date with retired racehorses in their new lives.
Every yard needs new owners and social media is a powerful tool for recruiting new owners – just ask Fergal O'Brien. The trainer's open door policy and active social media presence has gained him more than 900 followers on Instagram (fob_racing) and 11,000 Twitter followers (@FOBRacing), a percentage of whom are prospective bill-payers.
It's time for the sceptics to embrace social media. It's the most progressive, powerful device we have to promote horseracing, and it's about time it was given the respect it deserves.
---
Follow the Racing Post on Twitter (@RacingPost) to get the latest alerts
---
Through social media, racing has a massive and exciting opportunity to captivate – and in time convert – the casual racing fan to a lifelong devotee