'Irreplaceable' Highland Reel bows out in fitting fashion with gutsy win
The iron horse with the golden legacy. In a perfectly fitting finale to a wonderful tale, Highland Reel bowed out doing what he does best: finding impossible amounts off the bridle, thousands of miles from home, to win a Group 1 and a huge sum of prize-money.
There have been more talented horses but has there been one tougher? One thing in no doubt is that Highland Reel has won more prize-money than any horse trained in Europe, with this success taking his haul to an incredible £7,513,355.
It could not have been scripted any better as old adversary Talismanic loomed up menacingly, still hard on the bridle, while Highland Reel was responding gallantly to Ryan Moore's urgings. Talismanic came, he saw the white of Highland Reel's eye and was unable to conquer.
This seventh top-level success marked the end of an incredible journey, encompassing four seasons in training and 13 starts outside Britain and Ireland, with journeys to France, Australia, Dubai, the USA and four times to Hong Kong.
Moore said: "He's high-class with a great attitude and very durable. He's raced all around the world and his consistency marks him out – he always runs his race and is a pleasure to ride. Hopefully he'll pass it on [to his progeny]."
Aidan O'Brien, who was enjoying a 28th top-level success in 2017, paid tribute to a stable star and stalwart, saying: "It's very rare you get a horse who can travel like him. Every year he has travelled the world. He's an incredible horse.
"He's irreplaceable. Where do you get a horse who did what he did? But he has to go to stud at some time.
"He's had a lot of highlights – he's done it at two, three, four and five. To win at the top all the way along and finish at a place like this, with an atmosphere like this, is incredible."
Highland Reel had a length and three-quarters in hand at the line and was pulling away again after being given an aggressive ride from Moore, who knew his mount would keep finding for pressure.
Moore said: "He's always been a very straightforward horse and gets the trip well. He's got a lot of good tactical speed and I was always happy and confident. Once he gets into a fight he's probably going to prevail. He dug in during the last furlong and was going away again at the finish."
O'Brien added: "He's tactically very good, fast early and then quickens. What's unbelievable is that he's so brave. When you want everything he gives you everything. Ryan gave him a brilliant ride, he knew he wasn't going to give up."
Travelling head lad Pat Keating has been by Highland Reel's side throughout and was beaming from ear to ear after the five-year-old crossed the line. He said: "It's an unbelievable feeling and great to see him going out on a high like that. He was a pure gentleman to look after."
Maxime Guyon attempted to play Talismanic late, holding on to his strong-travelling mount for as long as he dared. But he conceded he was beaten by a better horse on the day.
"I was in an ideal position all the way, where I wanted to be and close enough to Highland Reel," he said. "I waited as long as I could as he only has a short run but I couldn't get by him."
Japan's Tosen Basil finished third, three-quarters of a length behind Talismanic, while Ralph Beckett's Chemical Charge fared best of the British raiders in fourth.
Jockey Oisin Murphy said: "When we talked about the race beforehand we all agreed he should start handily, but he was a little nervous in the gate and lacked the early speed. I thought I might win a furlong out, but he's still run a career best."
This was a second Hong Kong Vase for Highland Reel, who won in 2015 and was only narrowly denied last year. He clearly relishes the sound surface often produced at Sha Tin.
"He's very comfortable on fast ground, a very good mover," said O'Brien.
Highland Reel may be a fluent mover but he's left a big footprint all over the world: a true globetrotting giant.
---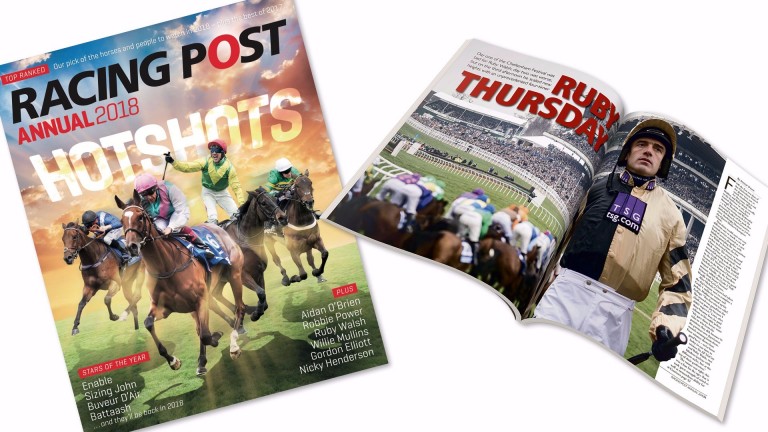 Look back on a sizzling year of racing in the new edition of the Racing Post Annual, which has 208 colour pages packed with the best stories and pictures of 2017. Order now here or call 01933 304858
When you want everything he gives you everything. Ryan gave him a brilliant ride. He wasn't going to give up