Rachael Blackmore makes history on 11-1 Minella Times in 2021 Grand National
A life was changed forever this day and perhaps, so too, a sport.
For on this day at Aintree, in front of a crowd that totalled just a few hundred people, a feat was accomplished that will have caused heads to spin all around the world. Here in the 173rd running of the world's greatest and most famous horserace, something that for so long had seemed possible only in bold fiction became enshrined in glorious fact.
A woman has ridden the winner of the Grand National and her name is Rachael Blackmore. She is the woman – she is the jockey – who changed everything.
On the back of Minella Times she was utterly sublime, just as she had been at the Cheltenham Festival, where success aboard Honeysuckle was her highlight in the meeting she dominated. Yet as wonderful as that was – and it was – what happened here was off the scale. The Randox Grand National transcends everything else in this sport. Right now, so does the extraordinary rider who in front of a global audience smashed through the tallest of glass ceilings.
"Queen of Cheltenham now becomes the Queen of Aintree too!"

Incredible scenes as Rachael Blackmore wins the Grand National on Minella Times!

Here is the #RacingPostLive reaction to the historic win! pic.twitter.com/8WJ4NSgUAC

— Racing Post (@RacingPost) April 10, 2021
It was not all about her, of course, nor would someone so modest wish for it to be portrayed that way. Henry de Bromhead, who made history himself when last month sweeping the Champion Hurdle, Champion Chase and Gold Cup in the same week, trained not only his first Grand National winner but also the second.
He was also responsible for the 100-1 runner-up Balko Des Flos, while Ireland completely dominated the 30-fence marathon, with Any Second Now and Burrows Saint filling the places and the nation's horses taking ten of the first 11 finishing positions.
Those words are astonishing to write. The sight of Blackmore winning the Grand National was astonishing to witness. Only a few lucky people will be able to claim an 'I was there' moment, yet Blackmore was there. Truth be told, that was all that really mattered.
---
2021 Randox Grand National: full result and race replay
---
"I just cannot believe it," she said while still on the back of Minella Times. "He gave me an absolutely sensational spin. I'm so lucky to be riding him and I can't believe we've just won the Grand National. I don't feel male or female right now. I don't even feel human. This is just unbelievable."
Until not that long ago, it really was.
In 1977 Charlotte Brew made herself a household name as the first woman to take on the fearsome challenge. Five years later Geraldine Rees became the first member of her sex to complete the course, passing the post a distant but delighted eighth in what was then regularly referred to as "not a girl's race". In those days it was not, but mainly because of sexism and a lack of opportunities.
Young girls had to make do with the 1944 film National Velvet in which Elizabeth Taylor's character finished first past the post. Even then she suffered the ignominy of being disqualified for being an ineligible jockey.
Prior to this behind-closed-doors Grand National, Katie Walsh's 2012 third on Seabass was the closest we had come to a watershed revolution. At that point Blackmore was in the early stages of a career that was slow to take off, but she waited for her talent to be rewarded, just as she waited on Minella Times, now the second horse to win the Grand National for JP McManus, previously successful with Don't Push It in 2010.
The sadness of this contest was that the McManus-owned The Long Mile lost his life after suffering an injury on the second circuit. This is so often a sport of triumph and despair. That has been evident again this week with the serious injury suffered by Lorna Brooke at Taunton on Thursday, while Bryony Frost was being transported to a Liverpool hospital as Blackmore was celebrating. The magical moments need to be savoured. Few have tasted so sweet as this one.
---
The evolution of Rachael Blackmore: from little-known rider to unstoppable force (Members' Club)
---
To realise the dream, the 31-year-old Blackmore displayed patience in abundance, keeping a lid on her mount as Sam Waley-Cohen and Jett opened up a huge advantage. Cloth Cap, sent off 11-2 favourite, raced prominently but faded quickly and was eventually pulled up before the third-last fence, leaving 11-1 shot Minella Times to ease into the lead and gallop powerfully past the near empty grandstands for a six-and-a-half-length triumph.
"It feels amazing, it really does," said De Bromhead. "She got a great passage all the way round, we had a lot of luck on our side and he winged fences for her.
"I've been watching the Grand National since I was a kid. I'm just so lucky – and aren't we so lucky to have Rachael? They broke the mould with her. She's brilliant."
She is also the person who on the most important of all stages gave horseracing one of its truly defining days.
"I never even imagined I would get a ride in this race let alone be standing here looking at the back of this trophy," she said. "I didn't dream about making a career as a jockey because I didn't think it could happen. Keep your dreams big, that's the inspiration I have for you.
---
2021 Grand National result: where your horse finished and who won
---
"I can't believe I'm Rachael Blackmore. I can't believe I'm me. This race is the one that catches every young person with a pony's imagination. It's just phenomenal. To actually fulfil something like this is unbelievable."
It is no longer unbelievable. It actually happened and it was a joy to witness. Thanks to Rachael Blackmore and Minella Times, what took place here at Aintree was the very grandest of Grand Nationals.
---
Read more on the 2021 Grand National:
Jonjo O'Neill: Tom did the right thing by pulling up favourite Cloth Cap
'I chatted with Rachael at halfway – but I couldn't go with her from two out'
Katie Walsh: Rachael Blackmore is an inspiration to males and females alike
National hero Minella Times adds to season of seasons for Henry de Bromhead
2021 Grand National: how you reacted to the big race on social media
---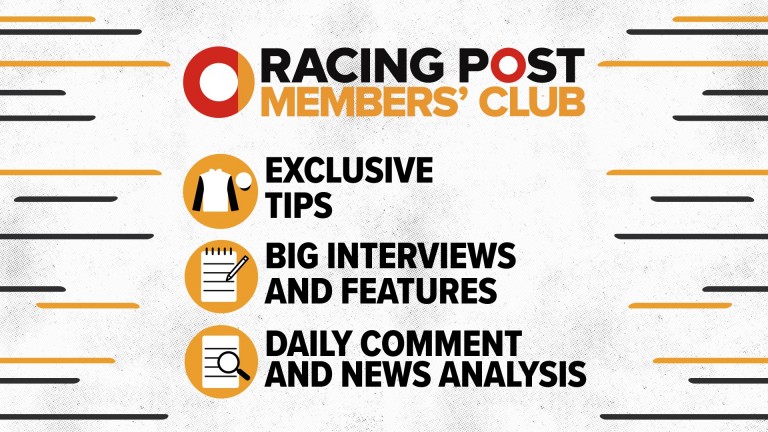 Join Members' Club Ultimate and read tipping from the likes of Pricewise and Paul Kealy, all the big interviews and features, daily comment and news analysis – plus our Ultimate Daily newsletter. Click here to sign up.
---
I'm so lucky to be riding him and I can't believe we've just won the Grand National. I don't feel male or female right now. I don't even feel human!