Grand National-winning rider David Mullins quits the saddle aged just 24
Grand National winner David Mullins has stunned racing by announcing his retirement from the saddle at the age of just 24, revealing his heart was no longer in the game and that he struggled with the lifestyle required.
Mullins, who won the 2016 Grand National on Rule The World at the age of 19 as well as nine Grade 1s during a short but very successful stint in the saddle, broke the news exclusively to the Racing Post yesterday. He said he was at peace with his decision and has known for more than a year that it was not the right career path for him.
Mullins said: "I think I realised during Galway [summer festival] in 2019 that the whole thing wasn't for me. When you're in the racing bubble and riding horses it's very hard to think outside of that bubble and I needed to get out of it."
---
Watch: David Mullins' finest moment in the saddle, winning the 2016 Grand National on Rule The World
---
He added: "When you leave school at 16 you feel trapped into being a jockey. It's relentless. There is no break. You're always on call. If you decide not to go to Sligo for one ride on a 33-1 shot you're called a lazy f***** for not getting up off your arse and going. And, I've been called that many times. I had disagreements with my agent over it. He would get annoyed and I suppose I can see where he was coming from.
"I'm not saying there is anything wrong with going to Sligo or Ballinrobe or anywhere for one ride, and I've done it myself over the years, but I just found that as a jockey you were always on call and never got a break. I've been trying to figure out loads of different things to do, but when you're in the bubble it can be very hard to think outside of that bubble."
On his decision to leave the game now halfway through the jumps season, Mullins said: "I was definitely going to retire at the end of this season, but it would have been unfair to owners and trainers if I continued to ride on any longer when my heart wasn't in it.
"There was always an excuse if things didn't go well. You'd have it in the back of your mind: 'ah, sure it doesn't really matter because I'm retiring at the end of the season anyway.' I know people will say that it's a stupid time to retire but, when my decision was made, there was no point in continuing."
Mullins was not just any run-of-the-mill jockey who was getting winners here and there. His CV is jam-packed full of big-race victories.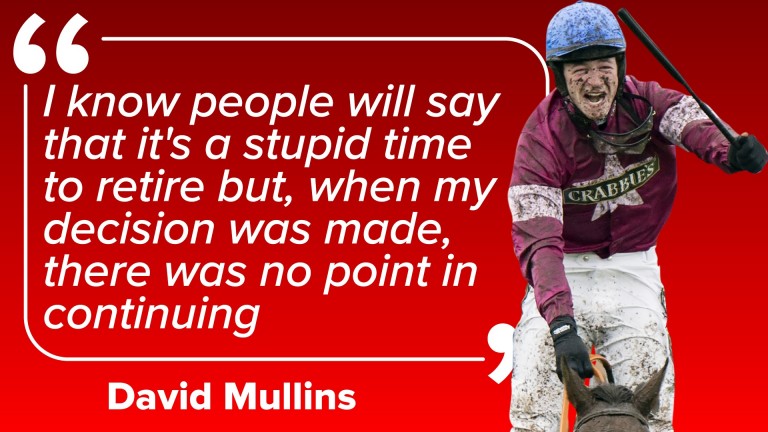 He was only 19 when inflicting a first defeat on Faugheen in the 2015 Morgiana Hurdle at Punchestown, where he delivered a masterclass from the front on Nichols Canyon to win his first Grade 1. He has added eight more since and has won 40 Graded races in all. Indeed, an impressive 19 per cent of his total winners in Ireland were in Graded races.
He rode 44 winners during his best ever season in 2016-2017 and has a total of 211 winners to his name in Ireland. He won four Grade 1s in 2018, and among them were victories on Al Boum Photo in the 2018 Ryanair Gold Cup at Fairyhouse and Faugheen in the Champion Stayers Hurdle at Punchestown.
Mullins said: "The bad times definitely outweighed the good. There were times when I might ride a winner, but I would come home depressed because the other three didn't win."
"The money is good if you're riding plenty of winners and every jockey out there is fully entitled to every penny they earn because it's not easy. But, at the end of the day, there is not much job or financial security. I didn't want to end up being 35 years of age and having to start up something from the bottom. I'd rather be 24 and doing that.
"Court Maid is the only horse I could definitely put my name to. She is the only horse out there that I know for certain I would be riding wherever she runs. Unless Paul [Townend] got injured, I would have very little rides between Punchestown in April and Galway in August.
"I put all my eggs into the one basket with Willie [Mullins], although I ride a few for my Dad [Tom Mullins] as well, but I would probably have ten rides for Willie at most in those months unless something were to happen to Paul. There are plenty of lean months. I could have great second or third strings for Willie at Punchestown but then go for four or five months with very little. There is not much job or financial security in that."
Mullins was air-lifted to hospital after a horror fall from Lean And Keen at Thurles back in October of 2019, an incident which he was lucky to come away from alive when he suffered a fracture to his clavicle and his T12 thoracic vertebrae.
Such an incident could have permanent mental scars, but he said it had nothing to do with his decision.
"I was 23 at the time and that didn't bother me at all. Bones heal. I think anybody in racing who knows me will know that it wasn't the main motive behind my decision," he said.
As regards his future, Mullins is hoping to become a more frequent visitor to the sales.
He said: "I love the sales and I really enjoy going to Goffs or Tatts and buying and selling horses. I like judging horses and trying to figure out what they might make. I'd be keeping an eye on that all the time. But, when you're on call as a jockey there is not much time to get to the sales and do what I like to do.
"I have a nice few horses of my own at the moment, including a few show-jumpers. I'd love to buy a few more. I bought Court Maid for very small money and she didn't turn out too bad, so the buying and selling of horses is something I would definitely hope to get more involved in. I get as much of a buzz out of that as I did riding winners."
What will he miss most about being a jockey? "I'd say you'll have to come back to me in a year's time with that question when I have spent all my money on horses and have none left, and I will probably say money!"
---
---
Get clued up with the latest Cheltenham Festival tips and odds with our free microsite. The best Cheltenham betting advice and exclusive free betting offers all in one place.
---
There were times when I might ride a winner, but I would come home depressed because the other three didn't win