Nosebands, non-runners and new sires: Racing Post experts answer your questions
Why is the use of cross nosebands so prevalent today?
Camilla Church, Uckfield
Peter Thomas answers: The cross noseband, figure-of-eight or Grakle was developed for, and brought to prominence by, the 1931 Grand National winner The Grakle, a hard-pulling creature who was encouraged by the use of this tack to settle better in his races.
A Grakle (often spelled Grackle) consists of two straps that cross each other diagonally, high up on the nose (with a sheepskin pad underneath for comfort) and are fastened with a buckle under the chin. It is designed to stop the horse from crossing its jaw and opening their mouth to evade the corrective action of the bit, thereby giving the rider greater control.
Frankel – famously feisty as a youngster – wore one, and in recent years the blessing of Aidan O'Brien seems to have played its part in sparking a fashion revival, with his application of a cross noseband and tongue tie to champion two-year-old Air Force Blue in the 2,000 Guineas of 2016 being a case in point.
O'Brien explained that this combination can make a horse "slow down and back off a little bit", and plenty of trainers seemed to take the hint. He later admitted that in this instance it was 'a dramatic failure', but the trend was already set.
How do handicaps work, and how can you tell if a horse is well-handicapped?
Kevin Clarke, Coventry
Pricewise Tom Segal answers: The official handicappers of the BHA will put a rating on every horse Kevin by studying their previous performances – the better the performance, the better the rating. Every handicap race will then be framed around those ratings with those rated higher having to carry more weight than those allocated lower ratings. For example if horse A has an official rating of 80, he/she will have to give 2lb to a horse B rated 78, the aim being to give every horse an equal chance of winning.
If I knew the answer to the second part of the question I would currently be sunning myself in the Bahamas. However official ratings are only one person's opinion and by watching lots of races and studying the form closely, you can make your own assessment as to whether you think a horse has too much weight or too little. Basically it's down to hard work.
What is a conditions race?
Philippa Phillips, Tillingham
Peter Thomas answers: Unlike handicaps, where the weights to be carried are determined by the handicapper's assessment of the relative merits of the participating horses, a conditions race is one in which the weights to be carried are determined by the stipulated 'conditions' of the event, which may include allowances for lower achievers racing against those who have won higher-grade races, for horses who fetched lower prices at public auction or whose sire's offspring fetched lower prices. For some major races, geldings may be excluded, along with horses below a certain rating or horses that have never run.
According to the BHA: "A flat race is a conditions race if it is a Flat race which is none of the following: a handicap race or a novice race, a race restricted to maiden horses, or a race governed by selling or claiming provisions."
What is the difference between a heinz and a permed patent?
Rob Batterham, London
Richard Birch replies: A heinz is a bet combining six selections in different races in 57 bets – 15 doubles, 20 trebles, 15 fourfolds, six fivefolds and one sixfold. A permed patent involves between four and six selections, with the patent comprising all the possible combinations of three different selections. The permed patent would be 28 bets (four individual patents).
Which stallion's progeny are you most excited to see in the upcoming yearling sales?
Juliet Darwin, Harrogate
Mark Scully, bloodstock editor replies: There are some high class horses with yearlings heading to the sales for the first time this year. The 2,000 Guineas winner Gleneagles is a beautifully-bred son of Galileo, while it will be interesting to see what type of horses Muhaarar produces. There are good vibes about another Newmarket Classic winner Night Of Thunder's first crop but I cannot get enough of the Golden Horn hype.
It is a shame that it takes more than outstanding good looks to make it as a stallion, because Golden Horn is an absolute stunner. Any yearling who has inherited even a fraction of his appearances has more than a fighting chance of making very decent money. His sole offering at the Select Yearling Sale in Japan earlier this month made almost £250,000 it is was interesting to hear from Darley's Sam Bullard, whom I interviewed last week at Dalham Hall Stud, that Jenny and Liam Norris have a Golden Horn yearling to sell they are excited about. Given the Norris Bloodstock team have sold yearlings for 4,000,000 guineas and 2,600,000 guineas at Book 1 in the last two years, they should know a good one when they see it.
Cape Cross, who died last year, has already provided one outstanding sire son in Sea The Stars and hopes are high that his other Derby-winning son can now step up and carve out his own place in the upper echelons of the stallion ranks.
Can you tell me the meetings that comprised the "Sussex Fortnight" and in what order? I have seen different versions mentioned online and in books.
Liam Burke, Chester
Racing Post historian John Randall replies: Sussex Fortnight was the period when the three Flat racecourses in Sussex – Goodwood, Brighton and Lewes – all staged their biggest meetings of the year.
The order and spacing of the three meetings varied over the years. In the 1950s they started on the last Tuesday in July, when the Stewards' Cup card kicked off the four-day Glorious Goodwood meeting. A three-day Brighton fixture usually started the next Tuesday, featuring the track's big handicap, the 1m4f Brighton Cup. Lewes raced the following Friday and Saturday, climaxing in the 1m4f Lewes Handicap.
The Lewes meeting was gradually downgraded – reduced to one day, transferred to the Monday before Goodwood, and its big race discontinued – until Lewes racecourse closed in 1964.
How and why did racing on dirt originate? And why are US racetracks so uniform?
Maurice Glynn, Galway
Peter Thomas answers: Many historians believe that the US practice of running all races on flat, left-handed oval tracks came about as a deliberate rejection of the 18th-century colonial habit of running all races in the US – principally in Virginia – on right-handed tracks, as was the custom of the day back in Britain. The American War of Independence, beginning in 1765, encouraged strong anti-British sentiment. One of its staunchest advocates, the pioneer settler Colonel William Whitley, keen to shake off the elitist image of a sport run by and for the British ruling classes, established a left-handed dirt track at Sportsman's Hill in Kentucky that he viewed as a democratic alternative. There is a monument on the site describing it as "the racetrack that changed the direction of horse racing in the US".
The more pragmatic aspect of left-handed, dirt oval racing has long been reinforced by American gamblers, and those wishing to encourage Americans to gamble on horses, who favour uniformity of courses as the best means of ensuring consistency of form. Dirt tracks are often viewed as being easier to maintain and less susceptible to the intervention of the weather, although controversy continues to rage about their safety record. Flat ovals also make for good, unobstructed, all-round viewing.
How does a jockey prepare when they're riding at a course for the first time?
Sarah Randall, Coventry
Jockey Tom Eaves answers: The first thing I would be doing is watching races from previous meetings to see if there are any indicators, like which side is more favourable on different grounds and things like that. Anything that could give me a potential edge and any sort of information which could help me adapt as quickly as possible. If I can I would also watch the races on the day to try and get a feel for what it is like.
I would sometimes speak to other jockeys to see if they had any hints or tips, but I try to focus on finding things out myself. I normally walk the track of every racecourse I ride at, but I always make a point of walking it at a place I have not been before.
With warm weather and little or no rainfall this summer, almost all the Flat courses staging racing describe their ground as good to firm after lots of watering, yet nearly all the National Hunt meetings are taking place on what is described as good ground. Why can they achieve good ground when their Flat counterparts apparently can't? Or are there two going descriptions with different connotations?
Marten Whittaker, Middleham
Lingfield clerk of the course George Hill says: You're correct Marten, what we call good on the Flat is on a different scale to what we call good over jumps – although they have the same description, good jumping ground is probably good to soft on the Flat. The BHA rules of racing state Flat tracks should aim for good to firm, while jumps should aim for good (which is obviously difficult in winter due to rainfall).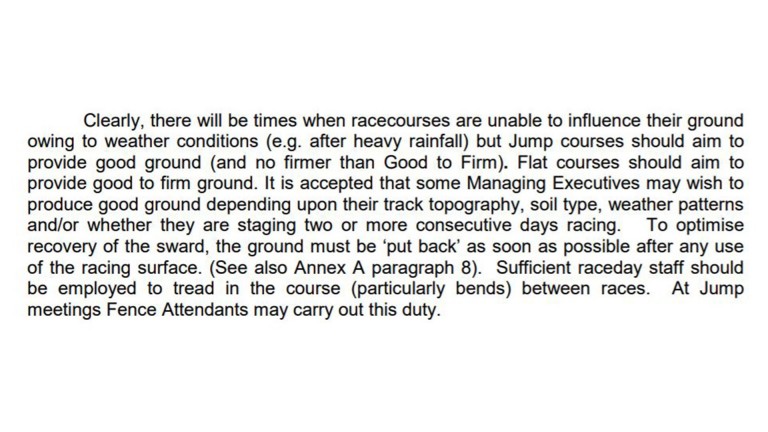 A lot of jumps tracks water using towlines, long metal pipes running down the centre of the course with sprinklers along their length. You can have maybe eight or ten connected together and get a lot of water on the track very quickly, but we use a Briggs irrigation boom. It only allows you to water a furlong at a time and it's a slower process (it takes 21 hours to do both the straight and round course at Lingfield) but it's much more accurate – exactly 8mm or exactly 10mm.
When betting ante-post and taking best-odds guaranteed, what happens to your odds if a non-runner triggers a rule 4 deduction?
Tony Buss, Bristol
Betting editor Paul Kealy answers: This is a very rare concession and one almost certainly governed by individual bookmaker rules rather than an industry-wide standard. I would say, however, that if a bookmaker offers ante-post and BOG they are aware of the possibility of non-runners and would likely not be prepared to make a Rule 4 deduction unless there was a late withdrawal and no market was reformed.
Where do you begin when trying to find the winner of a big handicap like the Stewards' Cup or Grand National?
Ben Sparks, Sunderland
Pricewise Tom Segal says: Every punter has their own method Ben and there is no best way, although nothing beats hard work. Watch as many of the lead up races as possible, study the form and then add the little tweaks that suit your own personal temperament, whether it be speed figures or jockey etc. The Grand National is still a horse race, albeit a very hard one to solve, and should be treated no differently than any other.
First published July 19, 2018
---
Got a question for one of our experts? Email editor@racingpost.com
---
It is a shame that it takes more than outstanding good looks to make it as a stallion, because Golden Horn is an absolute stunner