Gambling review may be 'bullet between the eyes' for racing, warns John Gosden
Four-time champion trainer John Gosden has warned the government's gambling review threatens to be "a bullet between the eyes" for British racing, which he says is already suffering from poor field sizes and has been reduced to a nursery for world racing.
Gosden's comments come as the review of the 2005 Gambling Act nears completion and amid concerns that some of the changes being urged on the government by campaigners, including affordability checks on customers losing £100 or more a month, could have a hugely detrimental effect on racing's annual income through the levy.
Financial modelling has estimated stringent action around affordability checks, advertising and sponsorship following the government's gambling review could cost the British racing industry more than £100 million a year.
Speaking at the launch of this year's World Pool collaboration between the UK Tote and the Hong Kong Jockey Club, Gosden said that without an increase in the internationalisation of betting revenues, British racing was in danger of "withering on the vine".
Gosden spoke of Britain being relegated to nursery status unless more was done to entice owners to keep their emerging talent at home rather than selling abroad. "The problem with our racing now is we have become a nursery for horses to go elsewhere in the world," he said. "Anything rated 95-plus is bid on or gone right after Ascot. They're not there the following year.
"So we talk about field sizes, which is right; how do you get the depth of field in the Prince of Wales's Stakes, which averages about six or seven runners? We have that problem. But without internationalising we're going to go nowhere."
Gosden said he had no personal interest in betting but stressed the health of racing's finances needs to be at the forefront of the minds of those at the Department of Digital, Media, Culture and Sport when the government's white paper is issued in the coming weeks.
He said that earning revenue for the sport on bets struck around the world on the biggest British meetings was a crucial part of the equation in preventing the drain of talent to jurisdictions with better prize-money.
"We have a gambling review white paper coming right down the road like a bullet between the eyes," said Gosden. "To me, I'm not interested in gambling. But without it, we don't exist.
"We've become quite parochial here, quite pleased with ourselves. And unless we internationalise the betting industry rather than selling or sending our best horses around the world, we will just wither on the vine."
In 2021 the World Pool collaboration saw British and Irish racing benefit from a share of £363m wagered internationally on some of the sport's biggest days on the Flat.
Fellow Newmarket trainer William Haggas said it was "essential" for racing to get behind the World Pool, which will now include Cazoo Oaks day at Epsom.
He said: "There's no doubt that British racing is sliding. I can't think of anything more exciting happening in the latter stages of my training career than this and I think it's essential we all get behind it.
"We all have to be looking internationally. I know that when we had those horses in Australia it generated enormous excitement and then when Addeybb won the Champion Stakes I got lots and lots of texts from Australians saying, 'He's our horse'.
"That is what can happen here. These pools are going to be absolutely fantastic and the more money that's in there, the more we'll all benefit."
Haggas was invited on to a panel to discuss details of the tie-up between the UK Tote and Hong Kong, which is now entering its fourth British Flat season and which not only includes an expanded calendar in 2022 but two additional pool bets in the exacta and the treble.
In addition there will be £50,000 worth of cash prizes for stable staff connected to the the horse nominated for 'World Pool Moment of the Day' on each of the cards.
Tote UK chair John Williamson echoed Haggas's call for connections to back the meetings, adding: "We hope many more owners and trainers will support World Pool events. Providing healthy field sizes of at least seven runners facilitates a full suite of bets for racing fans on each raceday and will surely increase the financial return from these meetings."
HKJC chief executive officer Winfried Engelbrecht-Bresges said: "I have been advocating for international commingling since 2007 so the positive response from bettors and racing jurisdictions to this important innovation in pool betting has been beneficial for all involved, resulting in greater exposure for British and Irish racing and their major race meetings."
---
Read more on this subject:
MP concerned about 'confusing situation' of government's gambling review
Minister acknowledges racing's serious concerns over affordability checks
'It would be a massive concern' – trainers add voice to gambling review fears
---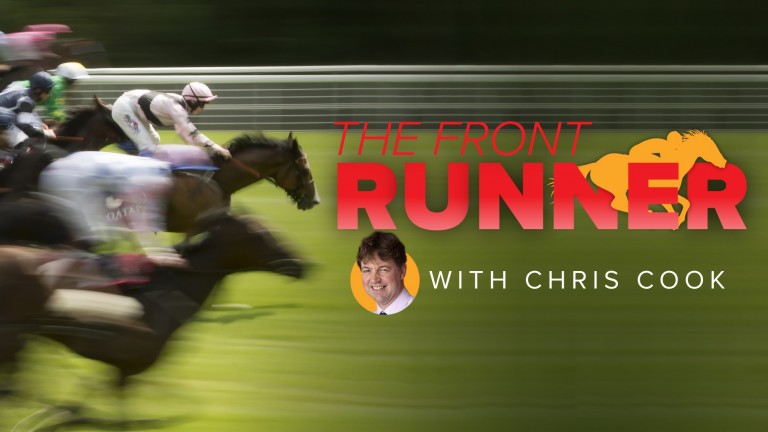 The Front Runner is our latest email newsletter available exclusively to Members' Club Ultimate subscribers. Chris Cook, a four-time Racing Reporter of the Year award winner, provides his take on the day's biggest stories and tips for the upcoming racing every morning from Monday to Friday
---
Unless we internationalise the betting industry rather than selling or sending our best horses around the world, we will just wither on the vine