Festival very much the plan but we're heading for decent pot at Fontwell first
Andy Smith is co-owner of Lil Rockerfeller, the gutsy chestnut who finished runner-up in last year's Sun Bets Stayers' Hurdle. This year the aim is to go one better in the same race, but there's another plan afoot
It's just over three weeks to go until 'Rocky' has another go at winning the Stayers' Hurdle – after last year's second to Nichols Canyon – but we've got other plans even before that.
His work on Wednesday morning at Neil King's yard on the Marlborough Downs in Wiltshire was very good. He schooled a couple of times, left the ground eight times in all and did a nice piece on the five-furlong gallop. Trevor [Whelan, his regular rider] and Neil were very pleased, so we sat down over a nice breakfast and decided we'd go to Fontwell on Sunday for the Totepool National Spirit Hurdle, a race he won two years ago.
There's an 18-day gap between that and Cheltenham, so we don't think the run will be a hindrance to his festival chances, especially as he's had a good break since his last outing just before Christmas. He's had a fairly quiet time over the winter with just three runs, which we think is a proper Cheltenham preparation, and there's excellent prize-money for the Fontwell race, which you have to consider.
Let's say it tipped down with rain for a couple of weeks before Cheltenham, it went very soft and you're suddenly in a position where you're half thinking about not running him – you'd wonder why you hadn't gone for the National Spirit. And I know it's looking a bit too far ahead, but they're saying we're in for a real cold spell, with temperatures down to -7 or -8, even up to Friday week, so we've made our minds up that a run for a nice pot is better than going to Cheltenham completely fresh but not knowing what we're going to find there.
I think he's at his best on decent going. Last year at Cheltenham it was lovely ground and that was easily his best run of the season. He got away with deep ground in handicaps off lower marks but, when you're up against the best you need everything in your favour, so Fontwell on good to soft looks the right option. Neil and Trevor are happy and I always listen to them, and all the owners are in agreement, so that's the next port of call, although Cheltenham is very much in our minds.
Getting beat at Ascot last time was disappointing, especially after his win at the same track the time before, but Trevor said he never travelled at all on what was very tacky ground and after the race we had him scoped and there was a lot of mud down his throat, so let's put it down to that and be happy we're in good shape for this weekend.
---
Read exclusive tipping, interviews and comment when you join Members' Club Ultimate. Enjoy your first month free when you subscribe using promo code FREETRIAL. Find out more here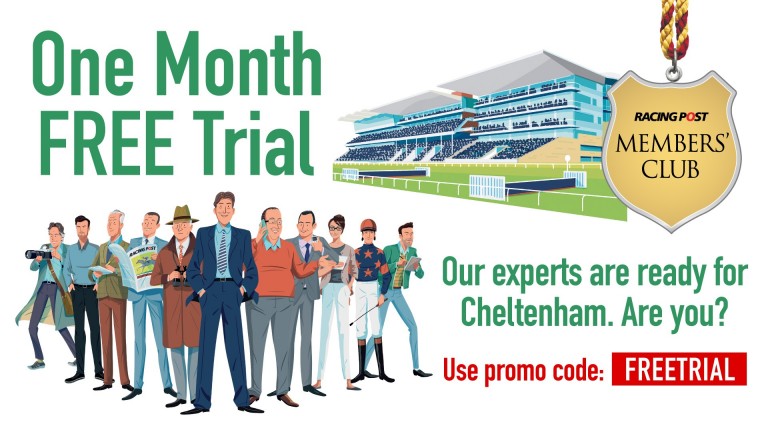 If it tipped down with rain for a couple of weeks before Cheltenham, you'd wonder why you hadn't gone for the National Spirit