How a soggy night at Carlisle ten years ago showed racing's direction of travel
The Front Runner is Chris Cook's morning email exclusively for Members' Club Ultimate subscribers, available here as a free sample.
In Monday's email Chris reflects on the tenth anniversary of Carlisle's first all-female racecard – and subscribers can get more great insight, tips and racing chat from Chris every Monday to Friday.
Members' Club Ultimate subscribers who aren't yet signed up for The Front Runner should head to the My Account area and under Email Communication opt into 'All members-club only emails' to start receiving The Front Runner and more great exclusive email content!
Not a Members' Club Ultimate subscriber? Click here to join today and also receive our Ultimate Daily emails plus our full range of fantastic website and newspaper content, including tipping from the likes of Pricewise and Paul Kealy, all the big interviews and features, daily comment and news analysis.
---
Goodness, it's the tenth anniversary of that soggy night when Carlisle racecourse made history by staging a race meeting restricted to female jockeys. It had never happened before anywhere in the world, or so it was claimed at the time and I haven't heard any contradictions.
It was an interesting idea, dreamed up by John Baker before he moved on to Aintree. I remember some official nervousness about whether owners and trainers would support the card, but shortage of runners was not a problem that day or in subsequent years.
Other stumbling blocks were only noticed at a late stage. Hours before racing began, 25 stone in lead slabs had to be driven up from Haydock because the average weight of the jockeys taking part was so much lower than usual. A staffer was dispatched to Marks & Spencer for 20 dressing gowns; the track had made do with just a dozen to that point because, they told me, male jockeys don't use them.
The crowd was over 10,000, really impressive for a wet Monday. Yes, the fixture was already established as a 'ladies' night' and therefore popular in any case, but the female riders 'gimmick' doubled advance ticket sales.
It was an interesting time for those paying attention to the very gradual rise of female jockeys. Just three weeks before, Hayley Turner had become the first woman to win a Group 1 outright, on Dream Ahead in the July Cup. She skipped Carlisle, being too busy riding elsewhere, and won the Nunthorpe on Margot Did a fortnight later. She was punching through.
At the end of 2011, there were six women in the top 100 Flat jockeys in Britain, judged by number of winners across the whole year. As well as Turner, there was Cathy Gannon, Kirsty Milczarek, Julie Burke, Amy Ryan and Lucy Barry.
A decade later, it could be said that women are doing twice as well, since there are 11 in the top 100: Hollie Doyle, Laura Pearson, Turner again, Joanna Mason, Saffie Osborne, Ella McCain, Grace McEntee, Josephine Gordon, Jane Elliott, Nicola Currie and Mollie Phillips. Faye McManoman sits in 101st place.
Remarkably, Doyle has had more winners than any other jockey so far this year. That has a lot to do with the fact she has had more rides than anyone else but even that fact shows how things have changed. Before Turner came along, it would have been really hard to anticipate a woman being Britain's most employed jockey.
In jump racing, the picture has changed more dramatically. Only Rachael Green cracked the top 100 at the end of the 2010-11 season, in 88th place. Seven female jockeys did so in the latest season: Bryony Frost, Page Fuller, Lily Pinchin, Millie Wonnacott, Bridget Andrews, Charlotte Jones and Rachael Blackmore.
Frost won the King George, Blackmore won the National. The expectations for what female jump jockeys can achieve has gone through the roof. Again, individual graft has had plenty to do with it, Blackmore having had more rides than anyone else in two of the last three seasons in Ireland.
Racing seems a sport increasingly willing to give chances to women, a trend which the Carlisle event harnessed and did its small bit to encourage. It is a precarious trend, because of the small number of people we're talking about, which means an unlucky injury can have a significant impact; Cathy Gannon lost what should have been fruitful years at the end of her career.
Still, I reckon if we have this conversation again ten years hence, there will be more female jockeys in the top 100 than there are now. I'm so pleased that all that loose talk of a weight allowance for women has trailed away to nothing. It would have entrenched the idea that women can't actually compete on level terms. Instead, we're on our way to finding out what they can do, with a long way yet to travel and much still to learn.
Monday's picks
Pick of the Carlisle card could be the aptly/provocatively named One For The Ladies (7.00), who really should have scored at Beverley last time. In front for the first time in her life, more than a furlong from home, she pricked her ears and didn't do a tap, getting passed on the line by a rival finishing so fast and so wide she can't have seen him.
One For The Ladies could have been raised for that but gets another chance off the same mark and appeals at 100-30 or so. Joanna Mason will be leaving her challenge as late as she dare, so some bravery will be required.
Roger Charlton has a fine record with three-year-old handicappers and his Big Boy Bobby (4.12) is interesting as he takes on older horses for the first time at Ripon. He looked green when getting shoved across the track by a narrow winner at Nottingham last time but it was only his second start of the year and his first since early May. The cheekpieces are understandable but risky on a horse who took a keen hold last time.
Members can also click here to read Graeme Rodway's best bets for the day.
Three things to look out for on Monday...
1) The day's most fantastically well-bred newcomer is Natasha, a Frankel half-sister to Almanzor, who won the French Derby, the Irish Champion and the Champion Stakes, beating Found on the latter two occasions. From the Gosden yard, Natasha holds no fancy entries and Rab Havlin takes the ride, which might be seen as indicators that she'll need this first run at Kempton. Meanwhile over at Naas, Aidan O'Brien sends out The Algarve, the 13th foal out of Imagine and an American Pharoah half-sister to Horatio Nelson and Van Gogh among others. She's in the Moyglare next month.
2) William Buick took a day off to get married on Sunday, so hopefully that all went well. Surely there will be an expensive honeymoon at some point but for now he has a first title to chase, so he'll be at Kempton on Monday afternoon with a ride in all seven races, including Vertiginous, a likely favourite in the opening novice race after running fifth at big odds in the Queen Mary.
3) Readers will be aware by now that the Front Runner tends to fret over long-established jumps trainers increasing their interest in the summer game. Imagine our feeling, then, on noting that the great Venetia Williams has actually added to her Flat string, sending Fort Denison to make his debut for the yard at Windsor on Monday evening. She's even booked Oisin Murphy! The horse has not been seen since November but if he somehow scores, this will be Williams's best ever year on the Flat.
---
One story you must read on Monday
Thrilling times at Shadwell as a campaign is mapped out for Baaeed (Members' Club).
---
Read more of the day's top stories:
Shergar Cup, Racing League and Sunday Series feature in another busy week
The Samcro show goes on as O'Leary insists retirement is not on the agenda
'There has been a mix-up' - Wonderful Tonight's trophy goes missing at Goodwood
---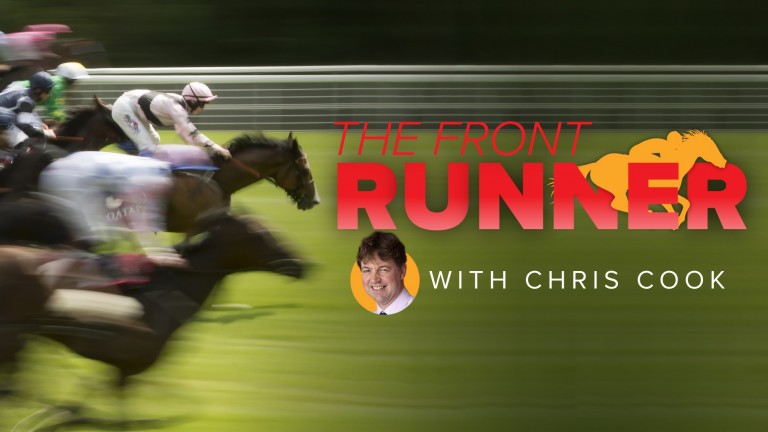 The Front Runner is our latest email newsletter available exclusively to Members' Club Ultimate subscribers. Chris Cook, a three-time Racing Reporter of the Year award winner, provides his take on the day's biggest stories and tips for the upcoming racing every morning from Monday to Friday
---
I reckon if we have this conversation again ten years hence, there will be more female jockeys in the top 100 than there are now