Early stats suggest data can be useful – but question remains how to use it?
One of the trainers to have recently been successful with a horse running for the first time after wind surgery has argued that while some animals do improve for a breathing operation, that progress is often not seen on the first outing following treatment.
A month after it became compulsory for trainers in Britain to declare when a horse is reappearing after a new wind operation, Racing Post data shows that, to the end of racing on Friday (February 16), 12 horses had won, with 17 placed, from a total of 84 starters.
That equates to a 14 per cent strike-rate, with a -22.1 per cent profit on investment, making the wind surgery data second only to last-time-out beaten favourites in the Racing Post's daily Story of the Symbols table.
Of the 12 wind op horses who won so far, two were racing for Colin Tizzard, with the others representing ten different trainers.
Tim Vaughan won with one of his three wind surgery starters over the month.
"It's a hit and miss thing," said Vaughan. "It improves some horses and others it doesn't.
"There's no doubt in my mind some horses definitely benefit for wind surgery, but that isn't necessarily on their first run back from the operation.
"Plenty do win on that first outing, but for other horses it's more about regaining their confidence. Once they discover their wind really doesn't hurt any more they produce a better performance, but that can be on their third, fourth or fifth run after treatment."
Of the 84 runners in the four weeks since wind operations were first denoted on racecards, 22 showed improved form on Racing Post Ratings of between 2lb and 51lb, the average improvement being 12lb. However, 37 horses were in the range of 4lb to 76lb inferior. Two horses performed to the same level, while the remaining 23 either failed to complete or were without a previous RPR for comparison.
Nicky Henderson, who produced Betway Queen Mother Champion Chase favourite Altior to win on his first outing after surgery earlier this month, said: "I don't think you can say it improved him – he was very good already!
"My only problem with the system, and it has been my issue since day one, is the BHA doesn't distinguish between hobdays and soft-palate cauterisations. The hobday issue can be hereditary, whereas I don't think that's the case with the soft palates. By including soft palates in this all-encompassing rule I fear we're needlessly littering the stud book, which is potentially dangerous."
Inevitably at this time of year, most of the assessable horses have been jumpers. On the Flat, two of the four three-year-olds to have run won, with another finishing second and all three showing improvement of between 2lb and 14lb. The fourth of the three-year-olds was a 200-1 shot.
---
Four weeks of winds ops
84 runners
64 runners over jumps
20 Flat runners
12 wins
17 places (second or third)
62 trainers with runners
11 trainers with winners
22 runners who showed improved form of between 2lb and 5lb
37 runners performed to between 4lb and 7lb worse
2 runners who ran to same level
23 runners who failed to complete or had no previous RPR for comparison
9 winners who started at 3-1 or shorter
7 winners who started at 3-1 or shorter and price contracted from opening show
2 winners from just four three-year-old runners
1 winner from 21 nine-year-old-plus runners
---
Members' Club Ultimate subscribers can read our guide to Nicky Henderson's festival team exclusively online the night before publication in the paper. Not a member? Enjoy your first month free when you subscribe using promo code FREETRIAL. Find out more here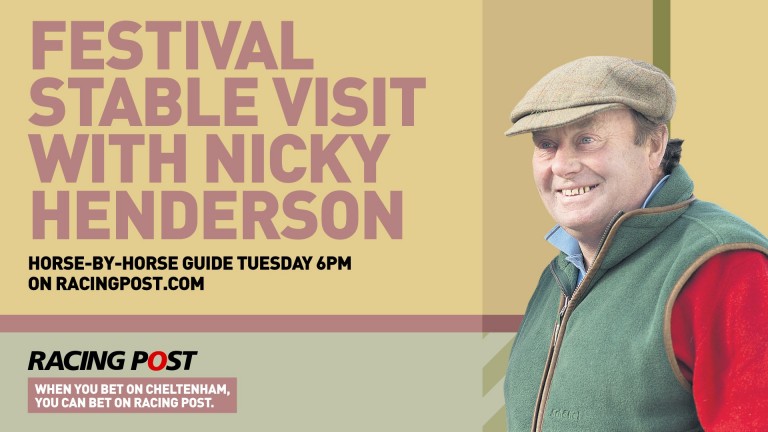 ---
There is no doubt in my mind some horses definitely benefit for wind surgery, but that isn't necessarily on their first run back from the operation