Lisnagar Oscar propels Rebecca Curtis back to the big time with Stayers' shock
The Welsh Dragon was flying at full mast over Prestbury Park after Lisnagar Oscar, an unheralded 50-1 chance trained in tranquillity on the Pembrokeshire coast by Rebecca Curtis, sunk reigning champion Paisley Park in an unfathomable running of the Paddy Power Stayers' Hurdle.
Leading home 20-1 runner-up Ronald Pump and 33-1 shot Bacardys to deliver a tricast dividend nudging National Lottery proportions, Lisnagar Oscar strained every sinew to keep his rivals at bay and propel Rebecca Curtis back into the big time after a spell in the training wilderness.
While it was heartbreak for connections of last year's hero Paisley Park, sent off the 4-6 favourite to join the immortals of the staying hurdle division by winning the race in consecutive seasons but coming up short in seventh, the eight racing-mad friends who own the winner in the Racing For Fun partnership were left on the ultimate high.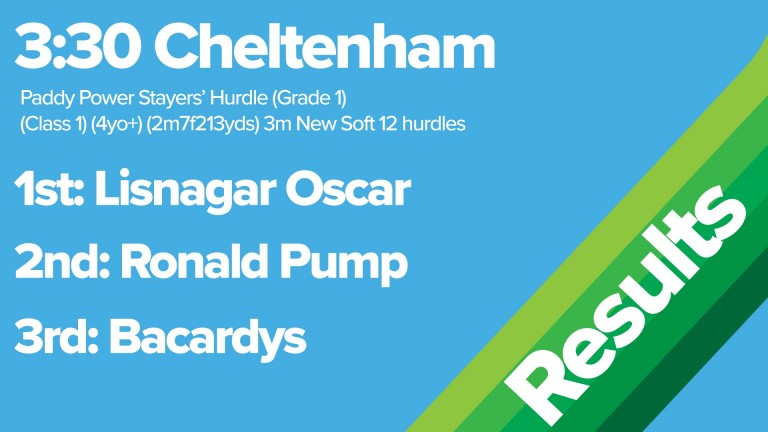 Victory provided Curtis with her fifth festival triumph and time may tell that this was the most significant of them all.
From 2012, Curtis stood in the winner's enclosure at Cheltenham in March for four consecutive years, making training festival winners look like child's play as her infant training career took flight.
But with just 20 winners in the last two seasons combined and a festival blank since Irish Cavalier's 2015 handicap success, she has been rowing against the current to regain her standing, something that victory in one of the week's championship contests can do little harm to help.
"It's come at a time when I really needed it," said the trainer, who had to hand over 14-week-old daughter Reeva to her auntie before stepping back into the festival spotlight.
"I'm trying to rebuild the yard and get some nice young horses which I'm desperate for."
At its peak, almost 60 heads were poking over the stable doors at her scenic yard. A more modest 22 reside there at present but that could be about to rise.
"I hope I've proved I can do the job and it would be nice if I was sent a few now," she added. "I'm really looking forward and hopefully we can build things back up.
"It was tough but we've worked hard and kept going and it's hopefully coming back."
Stamina was the key to victory, with Apple's Jade – running her last race – going out on her shield from the front. Trapping from the start, she turned it into a test of attrition, which made the winner's performance all the more merited as he was the one who picked up the baton from the leader turning in and clung on to it for dear life.
"They called his last run a fluke but I knew it wasn't and I thought 50-1 was a massive price," added Curtis. "I didn't think we'd beat Paisley Park but I was confident we'd run into a place.
"We tried chasing with him but he's quite small and I think that put him off racing a bit. We got him back, treated him for ulcers and to see him improve that much, I'm just delighted."
Adam Wedge, riding Lisnagar Oscar for only the second time, capped what has already been a breakthrough year, including a first Grade 1 in December, with his first winner at the festival and looked a little shell-shocked having played the giant-killer.
"I'm having my best season and to come here and do that is the cherry on top," said the rider. "I thought we had an each-way chance but that was never expected.
"He wore his heart on his sleeve and he's pulled out all the stops for me today."
Shock was also the overwhelming emotion for Chris Trembath, among the winning owners standing tall on the podium.
"It's come as a tremendous surprise," he said. "Becky [Curtis] said he'd been going really well and he ran really well in the Cleeve but this is beyond everyone's wildest dream. I'd say we'd be celebrating later."
---
For all our exclusive free bet offers and must-have daily promotions for Cheltenham tap the free bets button or go to racingpost.com/freebets
---
I hope I've proved I can do the job a bit and it would be nice if I was sent a few now. Hopefully we can build things back up