'Who the hell's this guy?' – Matt Chapman vows to convert Dancing On Ice critics
The return of Dancing On Ice to ITV's screens on Sunday night led to thrills and spills in front of the cameras, but it was also a bumpy ride for Matt Chapman in his new commentating role.
Chapman is used to being on camera as part of the ITV Racing team, but he has taken on a different position for the reality show, commentating on the 12 celebrities as they attempt to master increasingly difficult routines week-by-week.
His outspoken style divides opinion within racing and, exposed to a much larger audience, there was much adverse reaction on social media to Chapman, who has taken over mic duties from the late Tony Gubba.
One viewer, Marion Criswell, tweeted: "Please stop that awful commentator shouting. Absolutely awful. Spoiling the show."
Michael Morgan also tweeted his displeasure: "Is it just me or does Matt Chapman need to go from Dancing On Ice. So annoying."
During his time on the show, which returned on Sunday after a four-year absence, Gubba's commentary was only ever a voiceover role, whereas Chapman was on camera for a chat to hosts Phillip Schofield and Holly Willoughby during the two-hour programme.
'My job is to say what I believe people would be thinking'
Speaking on Monday, Chapman was not surprised to have come under fire but was keen to emphasise his position within the show.
"I think it's a bit unfair to compare it with Tony," he said. "It's a completely different role. The idea was to have a Team Dancing On Ice – that's the feel the producers wanted to get. As with the set and production, that's very different to what Dancing On Ice was four years ago.
"I basically said what was going on and tried to give as much encouragement to the performers as possible. One of the things that's thrown at me is, 'Is that guy a skating expert?' But I don't quite understand that as there are four expert judges on the show. I'm not meant to be a skating expert, otherwise I'd be sitting on the judges' panel.
"My job, as far as we've rehearsed and I'm aware, is to simply say what I believe people would be thinking and saying at home in a tasteful and nice way."
---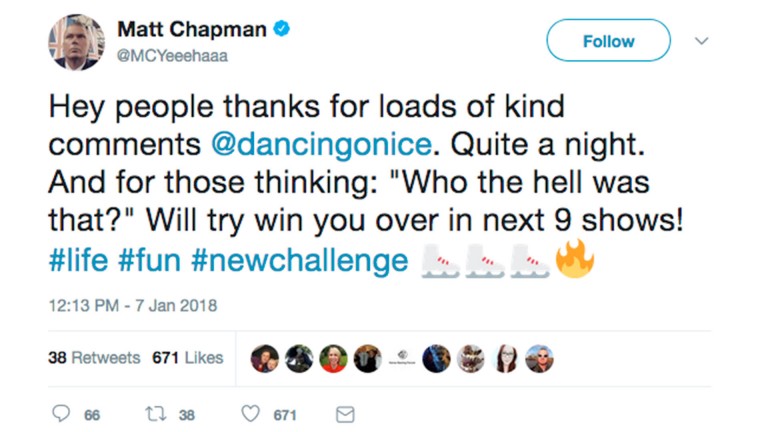 ---
Despite his Marmite persona, Chapman's knowledge and passion for racing always shines through and he has converted doubters during his career, having won the Horserace Writers & Photographers Associations's Broadcaster of the Year Award in 2010.
Now he is looking to win over a much larger audience – the average viewing figure on Sunday was 7,500,000, with a peak of 8,600,000, up on the launch programme in its previous series in 2014 – and he continued: "Outside of racing, no-one knows who I am. If you're with Phillip Schofield, Holly Willoughby, Torvill and Dean, and Ashley Banjo, it's fairly obvious out of that group people will be saying, 'Who the hell's this guy?'
"Not everyone's going to be a fan and I've got nine shows left to win them round."
It was not all negative reviews for Chapman on Twitter, and his ITV Racing colleague Ed Chamberlin was among those to tweet his support.
Like Chapman, Chamberlin knows the pressures associated with taking on a new position having become the frontman for the sport's terrestrial coverage in Britain at the start of 2017, having previously anchored Sky's football coverage.
---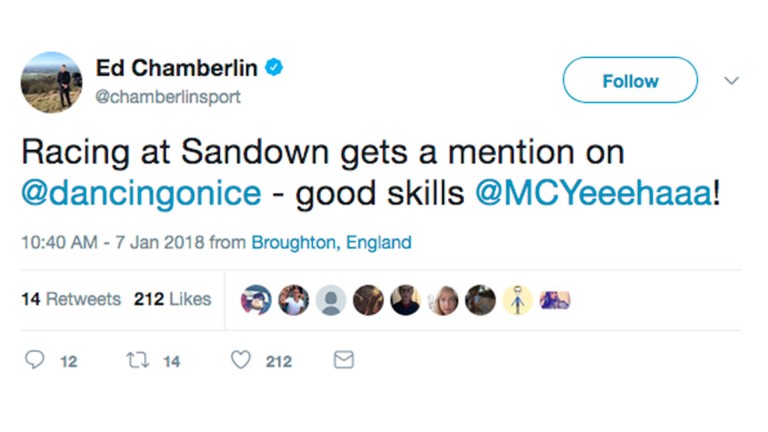 ---
"People don't like change, particularly in television, so it was kind of inevitable," Chamberlin said on Monday. "I'm no expert on Dancing On Ice but I liked Matt's references to racing, which can do the sport no harm whatsoever.
"He promised me he'd get the Grand National in, so that's going to have to wait for another week. I'm 100 per cent behind him."
Sporting a sparkly set of headphones, Chapman certainly got into the glitzy spirit associated with Dancing On Ice, and that looks sure to increase.
"The producers said to me there are themed weeks, do you mind if we dress you up, and I said do whatever you want," said Chapman.
"It's meant to be a fun experience so I'm game for anything. I think there's a disco week and I fully expect to be wearing something disco-esque."
Behind the scenes a lot of work goes into a live production, and Chapman has been putting in the hours getting to know the 12 contestants, which this year include Coronation Street actors Brooke Vincent and Antony Cotton, and Love Island star Kem Cetinay.
"I don't just turn up in the evening," he added. "I was at the studio from 9am to 11pm on Friday, and on Sunday I was there from 10am for a show that starts at 6pm.
"I'm constantly talking to all the celebrities, getting to know them, as you might get one line that no-one knows about them at home.
"It's a challenge as a broadcaster – there's a lot going on in a short space of time. As an experience it's great fun, and meeting the celebrities and dancers is really interesting."
---
If you are interested in this, you might also like to read:
Matt Chapman gets his skates on to become voice of ITV's Dancing on Ice
'I'm willing to shut up' – loudmouth Chapman pledges charity silence
No explanation from Epsom after Derby axing of Matt Chapman
---
Members can read the latest exclusive interviews, news analysis and comment available from 6pm daily on racingpost.com
---
I'm no expert on Dancing On Ice but I liked Matt's references to racing, which can do the sport no harm whatsoever