Bigger trophy cabinet needed for growing awards collection
Brightening your day with turf tales from beyond the tracks
The National Heritage Centre for Horseracing and Sporting Art has been awarded the 2017 Suffolk Museum of the Year award. The centre, which opened last year at the newly renovated Palace House Stables in Newmarket, has already attracted more than 28,000 visitors and was shortlisted for the prestigious Art Fund Museum of the Year award.
Director Chris Garibaldi said: "We are absolutely thrilled to have won, it is validation of so much hard work on the part of our staff."
The museum also hosted a coffee morning for 85 retired racing staff on Tuesday as part of a Racing Welfare event in aid of World Mental Health day.
Right You Are is right up there on RoR success scale
Nominations for the 2017 Retraining of Racehorses Horse of the Year award have been unveiled, including 2016 National Championship winner Beware Chalk Pit.
The shortlist comprises nominees from across the RoR's 11 regions, from Jive Master in the south west to Scottish contender Blue Thor.
Also making the final line-up is Right You Are, who after retiring from racing found himself in need of welfare care before bouncing back to full health.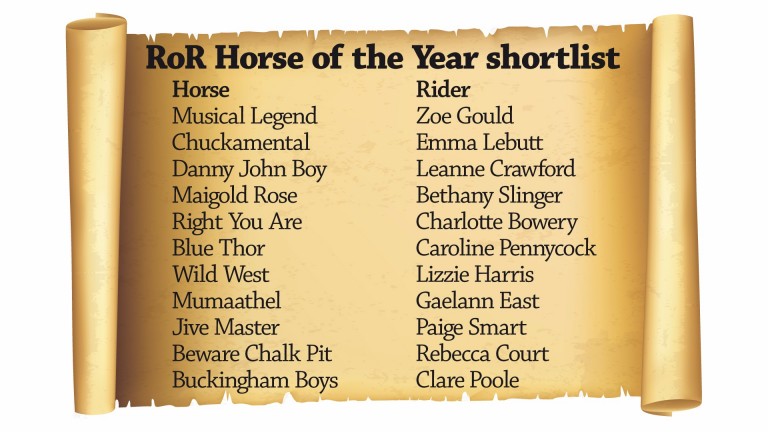 "I feel Righty deserves recognition because his journey has been far from straightforward and he has overcome many physical and psychological issues," says his rider Charlotte Bowery.
The ceremony, which takes place at the Jockey Club Rooms in Newmarket on Monday, December 11, will be hosted by RoR patron Clare Balding. The awards celebrate the versatility of former racehorses, with prizes awarded to winners in dressage, polo, eventing, endurance and showing.
Rummy day returns
It is hard to find something that says jump racing more than Red Rum, and Carlisle will celebrate the three-time Grand National hero with its annual Red Rum day on Thursday.
The meeting plays host to the Windermere Handicap Chase, a race Red Rum won before each of his Aintree victories.
Looking to follow in the legendary chaser's footsteps is local runner Carrigdhoun. The grey, trained by Maurice Barnes, won the race 12 months ago and will be bidding for his fourth consecutive victory at the course.
.
Barnes, who won the 1979 National on Rubstic, says: "Touch wood he's in good heart, good form. They have to stay. Two miles there is more like two and a half anywhere else. That four furlongs to the finish is quite steep. It's definitely a stayer's track."
News Flash
A date for your diary – November 7 marks the opening of a joint exhibition of clay sculptures by Susan Leyland and charcoal drawings by Patsy McArthur at the Osborne Studio Gallery in London. Both grew up with horses and later travelled extensively but have now come together to put on a show of equine excellence. The exhibition runs until November 25.
Got a good news story? Get in touch via rpsunday@racingpost.com
I feel Righty deserves recognition because his journey has been far from straightforward and he has overcome many physical and psychological issues