BHA warns owners against using cash-out - five years after report raised issue
The Front Runner is Chris Cook's new morning email exclusively for Members' Club Ultimate subscribers, available here as a free sample.
In Monday's email Chris gets the latest from the BHA on whether it sees owners using cash-out facilities as an integrity issue – and subscribers can get more great insight, tips and racing chat from Chris every Monday to Friday.
Members' Club Ultimate subscribers who aren't yet signed up for The Front Runner should head to the My Account area and under Email Communication opt into 'All members-club only emails' to start receiving The Front Runner and more great exclusive email content!
Not a Members' Club Ultimate subscriber? Click here to join today and also receive our Ultimate Daily emails plus our full range of fantastic website and newspaper content, including tipping from the likes of Pricewise and Paul Kealy, all the big interviews and features, daily comment and news analysis.
---
Racing's ruling body is taking time to consider whether the cash-out facility offered by bookmakers could pose a threat to the sport's integrity. Specifically, the BHA is concerned about the risk an owner may use it as a way to generate profit from bets placed on a horse they own.
The subject arose at the end of May, following publicity around the Near Kettering disciplinary hearing, when a letter-writer to the Racing Post specifically asked whether owners were allowed to cash out bets on their horse. In the letter-writer's eyes, it could be seen as similar to some of the laying activity which led to a one-year ban for Near Kettering's owners, who sought to ensure they would recover their stake if their horse lost.
Concern was expressed about the potential for market manipulation, since, in order to profit, an owner would need their horse to shorten significantly in price after they backed it.
The BHA did not want to address the cash-out question directly at the time, while there was still the chance of an appeal in the Near Kettering case. However, that possibility expired last week.
A BHA spokesperson has since told the Front Runner: "Our investigative teams work closely with betting operators, who bring to our attention for our consideration any betting activity that is potentially a risk to the integrity of racing. This could include the use of the cash-out function by an owner, conduct that may be considered prejudicial to the integrity, proper conduct or good reputation of horseracing in Britain.
"The position is being considered further and any potential changes to the rules of racing will be communicated appropriately.
"The BHA's advice to owners has been that they should only place back bets on horses in their ownership, the importance of which we again reiterate and will communicate with owners following the conclusion of this case [Near Kettering]."
---
One-year ban for Near Kettering owners over lay bets placed against their horse
---
The BHA will surely be consulting with the Racehorse Owners Association, which was taken by surprise last month when learning that cash-out had become a subject of integrity concern. Bookmakers, whose co-operation would be needed to enforce any new rule against owners using cash-out, said the issue had not been raised with them by the regulator at that time.
If action is ultimately judged to be necessary, it will be reasonable to ask why it has taken so long, since cash-out has been around for years. Indeed, it appears the BHA's integrity department was warned that regulatory intervention would be wise, exactly five years ago.
The Front Runner has seen an intelligence report dated June 28, 2016, which starts by noting that some bookmakers had been withdrawing the cash-out option from a handful of punters who were using it to make regular profits. "Some significant sums have been made in this way," the report says, "and it begs the question as to why these punters would not be laying their bets on a betting exchange . . . rather than taking the financially less worthwhile option of cashing out.
"Perhaps a brief glimpse at the identity of those people the bookmakers consider to be too hot to offer cash-out to, might be in order. We may well discover a few owners who believe cash-out does not constitute laying."
---
The cash-out phenomenon: 'Go with your gut feeling – you're not a mug if you take the money'

---
One story members must read today
What the Irish Derby told us about the rise of the Super Stables and the rules on interference
---
More of the day's top stories:
'I always thought it would make a great film' – Barney Curley coup comes to TV
Jessica Harrington addresses Jim Bolger's drug cheats claim in Irish racing
What's on this week: quality action builds up to Coral-Eclipse showstopper
---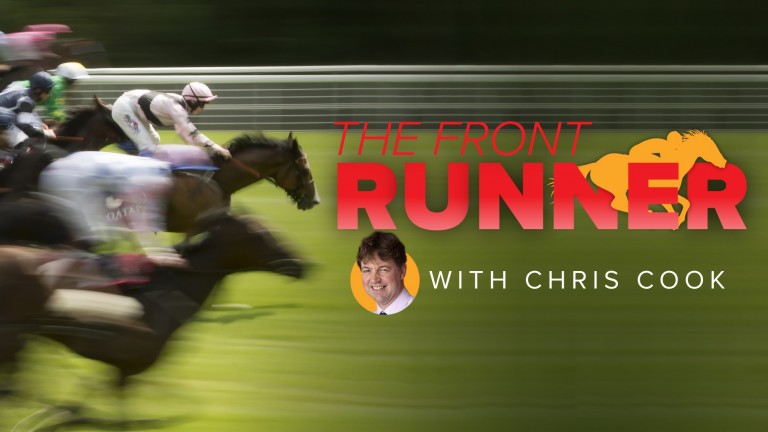 The Front Runner is our latest email newsletter available exclusively to Members' Club Ultimate subscribers. Chris Cook, a three-time Racing Reporter of the Year award winner, provides his take on the day's biggest stories and tips for the upcoming racing every morning from Monday to Friday
---
The BHA's advice to owners has been that they should only place back bets on horses in their ownership, the importance of which we again reiterate