Ascot aiming to improve prize-money to compete with international rivals
The financial pressures facing the wider British racing industry will not stop Ascot from aiming to improve prize-money to compete with international rivals, the track's chief executive Guy Henderson has said.
His comments came as the course unveiled its financial results for 2018, which included a ten per cent increase in prize-money to a record £13.45 million last year, excluding Qipco British Champions Day.
British racing is facing the prospect of falling income from betting shop media rights and the levy, but Henderson said increasing prize-money was vital for Ascot's future in order to compete on the international stage.
"I think we're confident about being able to maintain our prize-money levels," Henderson said. "We aspire to be able to improve them, particularly around the Group 1 races at Royal Ascot.
"There are no extravagant promises at this stage, but for long-term sustainability, our prize-money needs to be genuinely competitive on the international stage and there is scope for significant improvement on that front."
Turnover at Ascot rose 6.9 per cent to £91.3m due to a strong performance from admissions and fine dining at Royal Ascot, improved returns from boxes and increased income from sponsorship and official supplier agreements.
In addition to greater prize-money there was increased investment in facilities, up 15 per cent to £5.4m, while £10m of the course's bank loan was repaid during the year – £3.4m more than the mandatory payment – reducing net debt to £50.6m from £59.8m by the end of the year.
Henderson said: "Against generally difficult and uncertain economic times and with some challenges with the industry we are very pleased to be able to deliver a robust set of results. Managing our finances is all about a sustainable and balanced journey.
Pre-tax profits of £6.1m were down slightly against the £6.2m made in 2017, but Henderson said that was of no concern.
He added: "Ascot is a racing trust and we are not trying to make profits to distribute as dividends, what we are trying to do is build a sustainable business and to invest in the business."
Henderson said international engagement around media rights was vital for the course, pointing to areas such as the televising of the royal meeting in the United States by broadcaster NBC.
He added: "International engagement has huge potential for us and is an important theme in our role in the industry, improving the profile, prestige and popularity of the royal meeting which helps drive international investment and engagement with British racing as a whole."
Ascot last year launched its own pool betting project Bet With Ascot in association with Totepool, which Henderson described as having been "solid" so far.
That will have an international aspect at the royal meeting this month with the launch of the World Pool partnership with Totepool and the Hong Kong Jockey Club.
Around 30 individual pools from ten countries are expected to bet into what has been described as the world's first ever worldwide pool betting collaboration.
Henderson said: "It's the first year. It's potentially very exciting. I think what will be of interest to people who want to bet on the races is just being part of something that is really big. Internationally for us what's interesting is the whole level of engagement with our races, so we shall see."
---
Ascot prize-money (excluding Qipco British Champions Day)
2018 £13.45m
2017 £12.2m
2016 £12.4m
2015 £11.2m
2014 £10.6m
---
Ascot said trading in 2019 had been in line with expectations and that any uncertainty over Brexit had not had an effect on hospitality and box business at Royal Ascot, which Henderson said was "very strong and significantly ahead of last year".
He added: "Tickets are very slightly behind, but there is a macro trend of people booking later and things are catching up."
---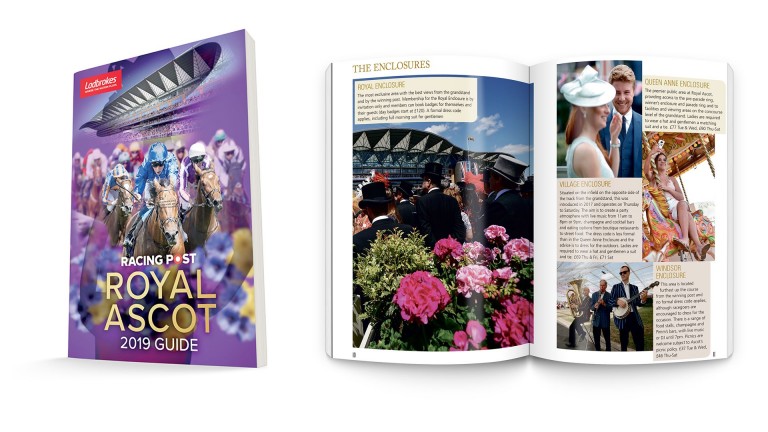 The Racing Post Royal Ascot 2019 Guide, featuring the must-have info for the biggest five days in the Flat racing calendar, is available to buy now! The 208-page book contains profiles of the leading big-race contenders plus key trainer and jockey lowdowns, punting pointers and in-depth guides to all 30 races. Buy your copy, priced at £12.99, from the Racing Post Shop here
---
For long-term sustainability our prize-money needs to be genuinely competitive on the international stage