Ascot the last course up for grabs after RUK agreements
Racing UK's parent company said on Tuesday that 34 British racecourses had renewed their pay TV rights with the group, leaving Ascot as the last course up for grabs between them and rival Sky Sports Racing.
On Monday it was revealed that At The Races is to relaunch as Sky Sports Racing in the new year, with Chester and Bangor joining them from RUK in March.
Their recruitment is a boost to the channel, which is set to lose Ireland's 26 courses and Chelmsford City to RUK at the end of the year, and it is also trying to tempt Ascot away from RUK (which it joined in 2014 from ATR – see Racing Post front page when news of the switch broke in 2012 below), which has the rights to the track until next March.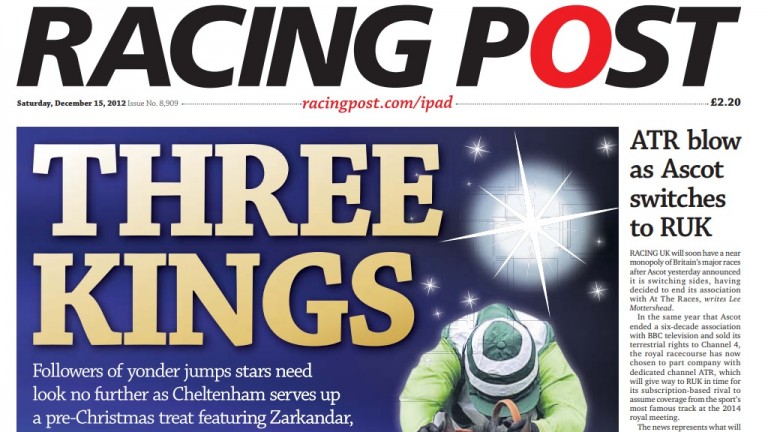 ATR chief executive Matthew Imi had said they were open to talking to any course which wanted to join them.
However, Racecourse Media Group chief executive Richard FitzGerald said: "We are delighted that 34 racecourses so far have recently renewed, a number of them having evaluated the Sky option.
"Our racecourses are collectively in a strong position to benefit from further commercial developments. We look forward to working closely with them in maximising their media and data rights revenues in the years ahead and continuing the success story of RMG.
"We are hugely looking forward to 2019, when our racecourses' rights, alongside the rights to all 26 Irish racecourses, plus Chelmsford City, will be packaged and positioned to tell the full story of the jumps and Flat seasons."
FitzGerald said that, based on this year's fixture list, RUK would have 95 per cent of all Group and Graded races in Britain and Ireland.
"It's a wonderful package of racing for our members and clients," he added.
FitzGerald said the group would continue to work with Chester and Bangor through their betting shop pictures deal, as well as for the remainder of the ITV contract.
"We wish Chester and Bangor well with their new media rights ventures," he said. "We look forward to continuing work with the two racecourses on their LBO [licensed betting office] rights, which form part of RMG's distribution agreement with SIS from 2018 to 2023 and deliver very significant revenues for 37 racecourses.
"In addition, we will continue to work closely on the ITV contract, which offers the sport a fabulous shop window with ITV reaching nearly 40 million viewers a week.
"There's an awful lot to look forward to and we will be announcing record licence fee payments to racecourses tomorrow as we continue to be a major provider of funding for racing."
---
Read The Briefing from 8.30am daily on racingpost.com with all the day's latest going, weather, market moves and non-runner news
---
We are delighted that 34 racecourses so far have recently renewed, a number of them having evaluated the Sky option