Yutaka Take sweet on Do Deuce chance as legendary rider chases Arc dream
Titleholder may be the Japanese contender to have attracted most market support for Sunday's Qatar Prix de l'Arc de Triomphe but legendary jockey Yutaka Take has warned his compatriot Do Deuce should not be overlooked.
Take will be riding in his tenth Arc on Sunday and will be back aboard the brilliant Japanese Derby winner, three weeks on from a defeat in the Prix Niel.
Take was an interested spectator on Les Aigles Wednesday morning as Do Deuce went through his final turf breeze and afterwards said it would be a mistake to read too much into his three-and-three-quarter-length defeat behind Simca Mille.
"Just after the Derby I sat down with the owner and the trainer and we decided to run him in the Arc," said Take. "I think he's the right horse for the race.
"In the Prix Niel he went well until we got into the straight and then he just tired in the last 100 metres or so. But he was still in preparation phase. I watched him work this morning and he went well. His movement was very good and he has definitely come forward."
Do Deuce is a best-priced 40-1 but the Yasuo Tomomichi-trained three-year-old is a general 25-1 chance, and Take's confidence could lead to those odds contracting.
The 53-year-old has been associated with some of Japan's biggest hopes heading into the Arc, notably Deep Impact in 2006 and Kizuna – like Do Deuce a Derby-winning three-year-old – in 2013 and while both he and his compatriots have yet to land the prize, he feels his ride this year stands comparison.
"I've ridden some very good horses in the Arc and I think Do Deuce will be among them," said Take. "He's three years old and still has more progress in him. To win the Arc has always been a dream of mine. I've been trying for a while now and it remains a big part of why I keep riding."
All four Japanese-trained Arc contenders went through their final major piece of work in Chantilly on Wednesday, with Titleholder completing his preparations under jockey Kazuo Yokoyama away from most of the media across town in Coye-La-Foret.
Asked why he had eschewed the traditional outing on Arc trials day and is going straight to the big race off a 98-day break, trainer Toru Kurita said: "It was the owner's choice after we discussed it together. The trials are quite close to the race and even though he had a long break over the summer, he arrived here with a good base to his preparation.
"This morning he followed two lead horses and it was important that he was in a good rhythm and he adapted well to the heavy ground."
Asked by one Japanese journalist if he could compare Titleholder's condition to how he was when winning the Tenno Sho and Takarazuka Kinen earlier in the season, Kurita replied: "It's difficult to put a number on it with the unknowns about how the ground will ride. But he is getting better and better, he's coming just right for the race."
Titleholder has established a reputation for a relentless front-running style, but Yokoyama said he felt no pressure to lead on Sunday.
The 29-year-old, who flew to Paris for 24 hours to get a feel for riding Longchamp this month, said: "You had better ask the horse. It will be how he feels the rhythm of the race and I will just adapt accordingly."
Deep Bond and Stay Foolish both enjoyed swinging canters on Les Aigles. Stay Foolish has won over around two miles in Saudi Arabia and Dubai this year and jockey Christophe Lemaire said: "I found him very at ease on the soft ground this morning, he seems to be in the same shape he was before winning in Saudi. It was important for me to reconnect with him and feel him switch on."
Deep Bond finished last in the Arc 12 months ago but trainer Ryuji Okubo feels he learned plenty from that experience. "His preparation has gone flawlessly and I feel Deep Bond is in better condition than he was before the Arc last year," he said.
---
Read this next:
Japan in the Arc: 'It was a terrible moment' – the holy grail that has brought 23 years of hurt
---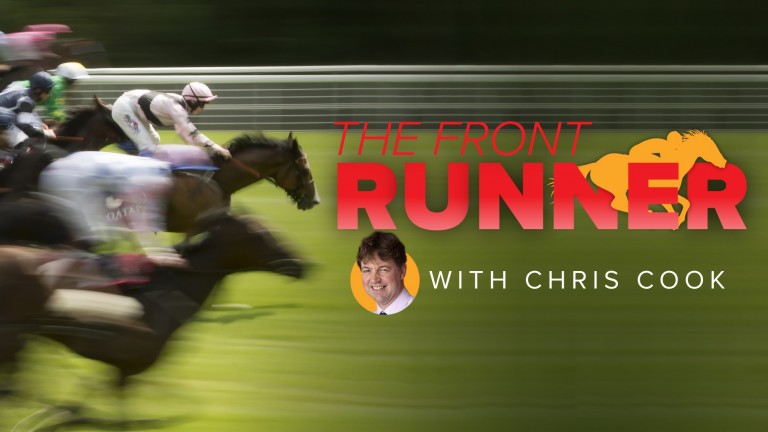 The Front Runner is our latest email newsletter available exclusively to Members' Club Ultimate subscribers. Chris Cook, a four-time Racing Reporter of the Year award winner, provides his take on the day's biggest stories and tips for the upcoming racing every morning from Monday to Friday. Not a Members' Club Ultimate subscriber? Click here to join today and also receive our Ultimate Daily emails plus our full range of fantastic website and newspaper content
---
I've ridden some very good horses in the Arc and I think Do Deuce will be among them