82-year-old Milton Bradley fires in 1,121-1 treble after driving the horsebox
Milton Bradley is a little unsteady on his feet these days but the 82-year-old proved he still possesses a sure grasp of training as he pulled off a 1,121-treble at the day's only meeting.
Up at 5am to feed his 25 horses, he was behind the wheel of his horsebox by 6am to drive his team from his Chepstow base for an 11.30 start at Lingfield 149 miles away.
It is part of a regular routine for Bradley. What is not so regular is that three of the four occupants in the rear went on to win as Indian Affair set the narrative which Compton Prince and Temple Road then followed.
"I said to my wife, 'You did put that £100 on the three didn't you?'," said Bradley. "She said, 'You liar – you didn't ask me!' It would have come to a bit, wouldn't it?
"I'm an old magician if I am one. I was up at five this morning feeding. I must be off my head."
Indian Affair gave Bradley's 19-year-old apprentice Kerrie Raybould her first win before Tom Marquand took over to secure a double on Compton Prince and Temple Road, who cut through the pack to score for the eighth time at Lingfield.
---
Golden oldies
54-year-old Lester Piggott wins on Royal Academy at the Breeders' Cup
45-year-old Brian Close takes on a ferocious West Indies attack
58-year-old Nick Skelton wins showjumping gold in Rio
60-year-old Fumio Matoba rides 7,000th winner
---
Bradley said: "I have had a good many trebles but the last would have been ten years-plus back when I had a lot of horses. I did have 90 at one time, now I have 25."
Bradley has no plans to put his feet up. "You die when you retire. People I have known my age who retired are buried so I refuse to go. The old legs and hips are not very good but myself I feel a hundred per cent.
"I drove down here today and I will drive back another three and a half hours. It won't worry me a bit. I'm not racing tomorrow but I would have if I'd known Wolverhampton was on. It's been a nice day."
Wrapping up the year well
Emenem, a winner on the all-weather back in January who gave his connections days out at the Derby and Glorious Goodwood, is wrapping up the year strongly and gained a deserved victory in the 1m2f handicap under Adam Kirby.
"He is definitely going the right way," said trainer Simon Dow. "It's a big ask for a three-year-old to have three runs in four weeks but he was a bit unlucky first time after a little break, getting caught a bit wide, and last time he got stuck down the back straight at Wolverhampton.
"He has been knocking on the door in these Class 2 and Class 3 races and really deserved one. He needed the line badly in a slowly run race but we had the right man on.
"There is a Class 2 race at Wolverhampton on Boxing Day which we won last year with a much older horse and that would be a potential race for him. I've been quite keen to try him over a bit further. He's a young horse very much to keep on the right side of."
Feeling less Blue
Bill Turner has endured his leanest year since 1991 on the Flat but had his spirits raised by Little Boy Blue's victory in the novice stakes.
"I bred him and own him, the only thing I didn't do was ride him," said Turner, who had a winner over jumps last week. "We had a bad run. Everyone was writing me off. If you let it get to you you would be desperately depressed."
---
THE BUZZ
Ray of sunshine
Kerrie Raybould, 19, whose father Ian trains under a permit in France, repelled all-weather ace Adam Kirby to secure the first win of her career on Indian Affair.
"It's a bit overwhelming," she said. "I've only ridden 15 times in England but I have raced as an amateur in France. I am English but have lived my whole life in France."
Top of the pops
There was a bit of a musical theme at Lingfield where Feargal Sharkey, former lead singer of The Undertones was enjoying a day out, perhaps to see Emenem.
Quote of the day
"If Temple Road was a person he would be on the dole because he is in and out of work."
Trainer Milton Bradley on the nine-year-old sprinter
---
Thought for the day
Show Stealer beat Marsha at Newmarket last year so was probably a bit of a steal dropped two classes by Rae Guest in the 6f fillies' handicap. She could win again.
---
Lingfield results and analysis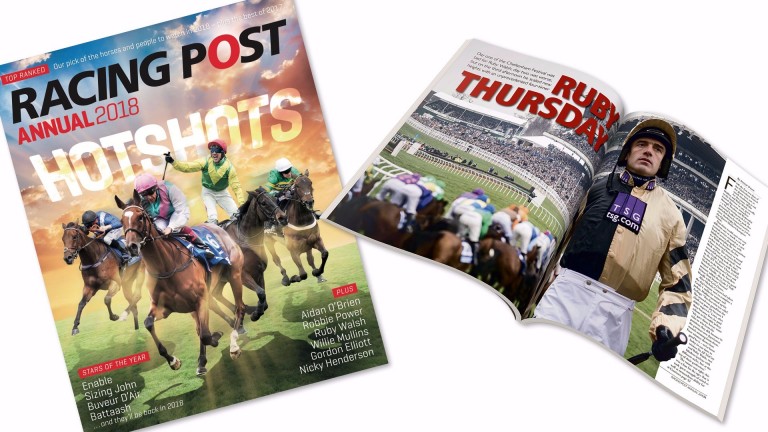 ---
Look back on the best Flat action of the year in the new edition of the Racing Post Annual. Order now at racingpost.com/shop or call 01933 304858
---
I said to my wife, 'You did put that £100 on the three didn't you?'