40-1 down to 16-1: the curious case of the Derby winner's Epsom starting price
The Front Runner is Chris Cook's new morning email exclusively for Members' Club Ultimate subscribers, available here as a free sample.
Wednesday's email covers the dramatic late market move for Derby hero Adayar – and subscribers can get more great insight, tips and racing chat from Chris every Monday to Friday.
Become a Members' Club Ultimate subscriber today and also receive our Ultimate Daily emails plus our full range of fantastic website and newspaper content, including tipping from the likes of Pricewise and Paul Kealy, all the big interviews and features, daily comment and news analysis.
For a limited time, enter code ASCOT21 to get 50% off your first three months. Cancel anytime. Read more here.
Already a Members' Club Ultimate subscriber but not yet signed up for The Front Runner email? Head to your My Account area and under Email Communication opt into 'All members-club only emails' to start receiving The Front Runner and more great exclusive email content!
---
One of the intriguing aspects of Saturday's Cazoo Derby result was the late move for the two Godolphin back-up runners, which, of course, included the eventual winner. One Ruler started the day at 28-1 with one firm, while you could get Adayar at 50-1 if you had an account with the right bookie, but both ended up a lot shorter.
One Ruler opened at 11-1 on the show and was returned at a starting price of 17-2. Adayar's move was more dramatic still. He was 40-1 only minutes before the race but was returned at just 16-1.
Phoning around on Tuesday, it was interesting to see how narrowly focused the support was for the eventual winner. If you're an old-timer like me and therefore susceptible to old ways of thinking, you may have noted the odds shortening in the TV betting shows and imagined the big high street firms had been filled in.
But David Stevens of Coral told the Front Runner: "We didn't see anything of note on Adayar late on, and certainly not enough to prevent his win being the best result in the book for us. Wherever he was being backed, it wasn't with Coral. No complaints from this quarter!"
Adayar was also the best result in the book for Ladbrokes, whose Nicola McGeady told me: "From a Ladbrokes perspective, we didn't see much of a late move at all. It feels like it was an exchange-inspired move."
---
'It's mad, it's crazy' – Adam Kirby revels in breakthrough Classic on Adayar
---
So I went to Rupert Adams at William Hill and asked if the Adayar money had landed there. "In all honesty, no," he said. "Adayar was the second best result in the book, after Mojo Star. The Derby was our best result of the day, full stop. We couldn't have been happier. There wasn't a particularly big move with us."
Simon Nott's enjoyable betting report says that Star Sports also missed the gamble. A trader told Nott the only significant action on Adayar had been £75 each-way at 33-1 on Friday night. Meanwhile, Star reportedly stood a single bet of £400,000 to win £600,000 on Bolshoi Ballet.
At Paddy Power, Paul Binfield reported some late each-way support for One Ruler and Adayar, which he thought may have been because his firm were paying four places. "Adayar was a good enough result for us," he added. "Mac Swiney finishing fourth took the cream off the top a bit."
Of Adayar, Binfield added: "It takes a bit of money to shorten a horse like that in a Derby. It's quite a serious move."
Indeed it is and you'd like to imagine it would take serious money to shift a horse from rank outsider to a position on the tails of the fancied horses in the last ten minutes before one of our biggest races. But in the new world of betting, I'm not sure that is any longer the case.
From what I gather after shooting the breeze with various interested parties, the action on Adayar was focused on the exchanges. As his odds shortened on Betfair, bookmakers seemingly shortened their odds, not to reflect mounting liabilities but to keep in line with the exchange.
The theory seems to be that firms are determined to avoid creating an arb, whereby a horse can be backed with them and immediately laid at shorter odds on Betfair, generating a risk-free potential profit for the gambler. In fairness, it wouldn't seem to make much sense to continue offering a horse at X when people are laying him at X minus five elsewhere.
Betfair reported £5m traded in their day-of-race win market on the Derby, of which just under £300,000 was matched on Adayar. As ever with Betfair figures, that number reflects the investments by both backer and layer, so we're really talking about £150,000 staked on Adayar through the exchange.
Surely a chunk of that Adayar sum was traded before 4pm on Saturday, the market having been open since Thursday. So unless I'm missing something, it means that a really impressive-seeming contraction of a Derby runner's odds can be affected for less than £150,000 shoved through Betfair.
---
The dramatic moment when Adam Kirby and brave Adayar secured Derby glory
---
Well, it's a smaller figure than I would have guessed. Bookies were reportedly taking more than that in single bets on the favourite.
As to who was behind the support, we are in the dark, as ever. Perhaps there was an element of snowballing, of people following the money, though the Adayar move came so late that that was surely not a major factor.
Given the sums involved, it really could have been just one Adayar enthusiast, who is now presumably on excellent terms with themselves. Was it you, in fact?
---
Read more from Chris Cook:
The Cook Review: size is everything after all as Snowfall and Adayar shoulder their rivals aside (Members' Club)
Ghost gambles: what's behind the punts that scare bookies and anger trainers? (Members' Club)
Owners could be in breach of rules if using cash-out for bets on their own horse (Members' Club)
---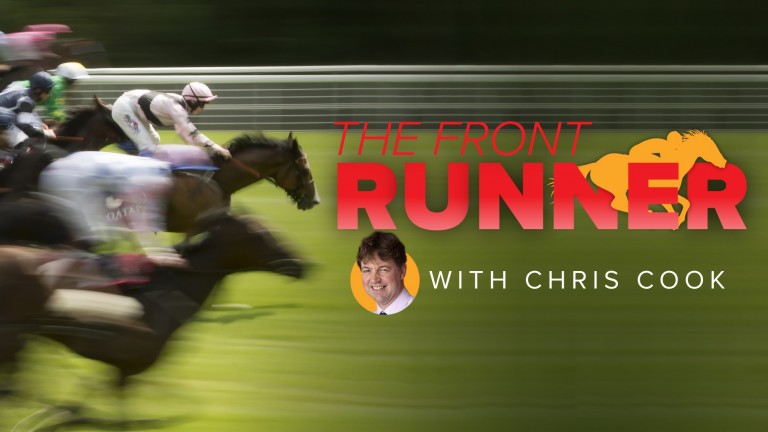 The Front Runner is our latest email newsletter available exclusively to Members' Club Ultimate subscribers. Chris Cook, a three-time Racing Reporter of the Year award winner, provides his take on the day's biggest stories and tips for the upcoming racing every morning from Monday to Friday
---
It takes a bit of money to shorten a horse like that in a Derby