'The most nerve-racking race I've watched' - Mullins relief as Monkfish scores
Willie Mullins was left patting his chest after Monkfish gave his trainer and legion of fans more than one scare before going on to maintain his unbeaten record over fences in an eventful Brown Advisory Novices' Chase.
Already heralded as a Cheltenham Gold Cup winner in waiting, Monkfish was sent off at 1-4 but did not jump with any of the fluency he had shown in two slick Grade 1 wins on his latest starts in Ireland through the early stages and did his best to take the final fence with him as he bulldozed through the last.
In fairness, he never looked like coming down and may well have been distracted by the riderless Eklat De Rire sticking like a limpet to his side. Either way, the mistake failed to slow his momentum as he kept his Gold Cup dreams alive with a six-and-a-half-length success over 40-1 chance Fiddlerontheroof.
---
Brown Advisory Novices' Chase: full result and race replay
---
"I think it's the most nerve-racking race I've ever watched – 1-4 in a three-mile novice chase around Cheltenham is not good for the ticker, especially when he jumped the last the way he did," said Mullins, looking in need of a stiff drink.
"Chatting to Paul Townend, he said he was idling on the first circuit, watching the jeep with the camera and the men at the fences. Anything bar concentrating on his jumping!
"Once he started racing alongside Colin Tizzard's horse, things were better then but it was very nerve-racking."
Mullins, celebrating his 74th winner at the festival, added: "Once I got over my fright at the last, I was impressed how he pulled away to the winning post. I'm amazed at the amount of improvement he's made. He was very green coming from the point-to-point field and is learning all the time. He's very brave."
Only six lined up but the race was not short on talking points throughout, with Sporting John all but down at the ninth and Eklat De Rire unseating Rachael Blackmore at the following fence. Sporting John's race eventually ended with a fall at the second-last.
Untidy at several fences on the first circuit, Monkfish's jumping improved with The Big Breakaway for company and he took a clear lead from that rival after the third-last, only to take the last by the roots to leave his supporters in a cold sweat.
Winning rider Paul Townend reflected: "He wasn't foot-perfect today but he's got the job done. Early on in the race we just weren't on the same wavelength, I suppose. I think, because he does things so easily and is still maturing, he takes everything in and there's plenty to look at out in the country. He just looks at everything and is still growing up and maturing."
Despite a performance that fell some way short of expectations, Paddy Power took the scissors to Monkfish's odds for Gold Cup glory next year, trimming the Rich and Susannah Ricci-owned winner to 9-2 (from 7) and all roads lead to the big one according to Mullins.

"I imagine that will be his aim," said the trainer. "The lack of concentration, I think, was down to the lack of runners in the race and once you go into a Gold Cup field they'll be going much faster and they'll be racing. Paul just felt he wasn't racing for the first circuit today and that he thought he was just schooling.
"He certainly seems like a Gold Cup type, so we keep our fingers crossed that he remains sound and continues his upward curve."
---
Read more of Wednesday's Cheltenham Festival reports . . .
Sky Pirate strikes in Grand Annual to halt Irish domination on St Patrick's Day
'What a bloody legend' – Tiger Roll joins elite club with fifth festival win
Rachael Blackmore at her finest once again as Sir Gerhard wins from the front
Is Monkfish a Gold Cup winner in waiting? Our experts give their verdict
Condon brands Paul Hennessy 'a genius' after Heaven Help Us romps to victory

Rachael Blackmore flattens another Grade 1 field with brilliant Bob Olinger
---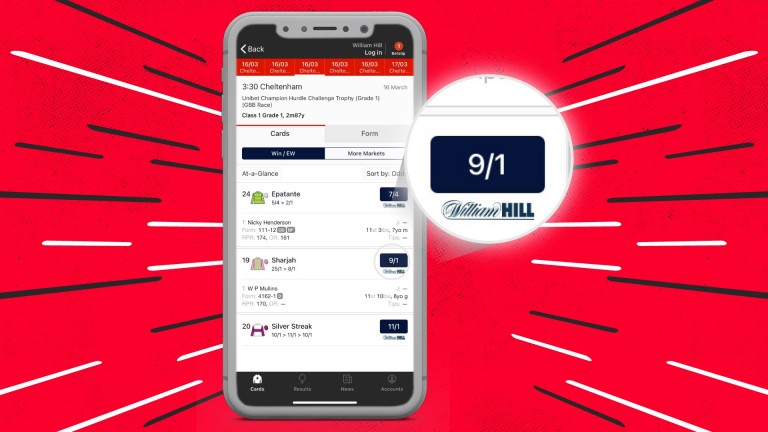 Did you know you can bet with your online bookmaker without leaving the Racing Post app? Simply sign in to your existing bookmaker account via the accounts button and tap the odds buttons on a racecard to place bets. Update or download the latest app here
---
Odds of 1-4 in a three-mile novice chase around Cheltenham is not good for the ticker, especially when he jumped the last the way he did