Winx: possibly the best ever?
A look at the major races to gauge her place in history
Is it possible to rank just where Winx sits among the great horses of Australian racing? Probably not, but we will attempt to nonetheless!
The numbers do suggest she may well be the best of the past 50 years, which happens to be within my memory span. And the numbers, at least cursorily, have her ranked very highly all-time. And, by the way, this is a bit of fun. I would be be delighted by critique but not abuse.
However the numbers do have a slight bias in her favour and I would be reluctant to declare she's necessarily better than Black Caviar.
Measuring the best by the number of Group 1 wins is misleading. The status changes from one decade to another. If tally of Group 1 wins were the only measure then you could well argue that Manikato is the greatest. Of his 29 wins, 25 came in races that currently have Group 1 status (but not necessarily at the time).
The best measure, I suspect, is wins in what I'd call bona fide major races but even this is not flawless (and obviously subjective). I define the 'majors' as Group 1 races which are a definitive target and generally attract most, if not all, comers. Winx can boast 13 such wins - three Cox Plates, three George Ryders, the Queen Elizabeth and George Main Stakes twice plus an Epsom, Doncaster and Caulfield Stakes. I'm not giving her three Chipping Nortons, the Turnbull or the Queensland Oaks (which make up her 18 Group One wins).
That tally exceeds that of Kingston Town on 11 with the same number of Cox Plates, the George Main and Caulfield Stakes twice along with a Rosehill Guineas, Tancred, AJC Derby and Sydney Cup.
I would argue that the top six horses of the past 50 years in Australia, based on 'major' wins (see list below) is pretty damn close to the mark. Of course, they're my assessment of the 'majors' and I understand those making a case for any one of those in the bottom half - especially So You Think - but each was generally more vulnerable than the top six.
I do also concede that virtually any major race list anywhere (for that matter) is weighted against the sprinters. There are simply more significant races beyond the sprint distance range. Therefore Black Caviar, Manikato and Vain are probably entitled to even more kudos than they're generally afforded.
Winx betters Black Caviar in major wins, overall Group 1 wins, number of wins and winning distance range.
However, Black Caviar obviously wins on strike rate being unbeaten and she has the international win on her resume. She remains the best-performed horse of all time. Read my lips - best performed. No other horses has been unbeaten as long at a serious level of competition.
In terms of competition faced I'd rank Black Caviar ever so marginally ahead of Winx with Sunline - also a winner overseas - a distinguished third. Black Caviar regularly embarrassed Hay List and you could virtually take it to the bank that Hay List would go out and win, and win Group 1s decisively, in her absence.
Black Caviar embarrassed Buffering, Star Witness and Ortensia who each performed with distinction internationally. Winx, similarly, can boast big-margin victories over Criterion, Highland Reel, Hartnell, Gailo Chop, Happy Clapper, Humidor and even Chautauqua.
These two mares are simply freakish, as was Vain. Their winning strike rates, perhaps the number which says it all, are unrivalled. It seems this number doesn't lie with only Winx, Black Caviar and Vain having a better than 80 per cent winning record among all the legendary names of the Australian Turf - compared to Ajax (78.2), Kingston Town and Carbine (73.1), Phar Lap (72.5), Bernborough (70.2) and Tulloch (67.9).
I don't think memory is playing tricks on us if we do rate Winx and Black Caviar above the recent greats.
Winx would arguably also lead an all time list of major wins but I'll concede the following list is really a guess given the difficulty of having a feel for what was really significant before my time. Winx - 13; Tulloch, Ajax and Sky High - 12; Kingston Town and Phar Lap - 11. This will require some further research.
My tweak to the list below would be to promote the disadvantaged sprinters and rank the top Australian racehorses of my era as follows: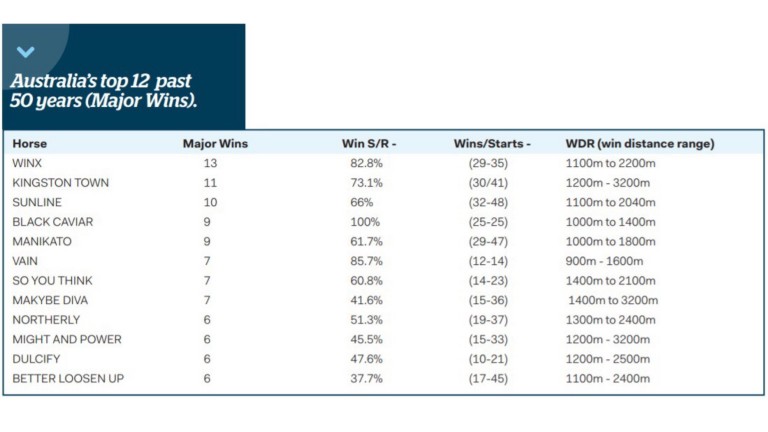 The majors*
Melbourne Caulfield and Melbourne Cups, Cox Plate, Cantala, Mackinnon, Caulfield Stakes, Derby, Oaks, Toorak, Rupert Clarke, Caulfield Guineas, Futurity, Australian Cup, Darley Classic, Newmarket, Lightning, Blue Diamond, Coolmore Stud.
Sydney Epsom, Doncaster, Derby, Oaks, All Aged, Chipping Norton, Sydney Cup, Ranvet, Tancred, Rosehill Guineas, T.J. Smith, Queen Elizabeth, Flight, Coolmore Classic, Ryder, George Main, Golden Slipper.
*Black Caviar, Sunline and Better Loosen Up's overseas wins included in their major tally and three of So You Think's five
northern hemisphere Group 1 wins. Vain is credited with Merson Cooper (forerunner to Blue Diamond); Ascot Vale Stakes (forerunner
to Coolmore Stud Stakes) and Craven A (Darley Classic).
I define the 'majors' as Group 1 races which are a definitive target and generally attract most, if not all, comers