Webster looking forward to Easter Yearling Sale at Riverside
Inglis boss Mark Webster reflects on events at Melbourne Premier
Inglis managing director Mark Webster is not dismayed, on reflection, with a slight downturn at this year's Melbourne Premier Sale and enthusiastic about the upcoming Easter Yearling Sale - the first at Riverside Stables - which begins a fortnight on Monday.
"There's a strong sense that everyone wants to be involved at the first Easter at Riverside," Webster said as the Warwick Farm complex continues to be fine-tuned following its opening with a record breaking Classic Sale in February.
Interestingly, those two factors - the Easter sale anticipation and the record outcome at Classic - and others may have impacted on Melbourne's Book One gross which fell from A$53,900,000 to A$50,900,000.
"There were a couple of vendors, who might have sold in Melbourne, who wanted to be part of the historic Classic sale and everyone wants to be at Easter where we have an extra 50 yearlings compared to last year," said Webster. "We didn't set out to have a greater number, it's simply that 50 more met the Easter criteria.
"Melbourne Premier had nine straight years of constant growth, at rates of up to 15 per cent. It continued to grow even when other major sales were flat. Maybe it got ahead of itself and perhaps it wasn't sustainable but there were other external factors which had an impact. The South African spend was down around A$2,000,000 in the fallout from the Markus Jooste situation.
"The Hong Kong Jockey Club, obviously, was absent and the Victorian spend was down against the backdrop of a lot of adverse, front-page racing news. There are issues which the Victorian racing industry certainly needs to address."
The absence of one lot might have also made a considerable difference. Premier's 2017 top lot was the A$1,400,000 I Am Invincible colt from Sooreena whose brother goes to Easter this year (Lot 370).
He is one of 37 siblings to Group One winners in the Easter catalogue and one of 180, more than 33 per cent of all lots, who are relatives to stakes-winners. There's also the progeny of 170 stakes winners which includes 30 Group One winners.
"The catalogue's strong with the hot stallions well represented and the numbers are up so we certainly expect an increase in the gross. That doesn't necessarily mean an increase in the average but we're optimistic," Webster said.
Webster said he expected the hype to build towards the sale which begins two days after day one of The Championships at Randwick and four days after the Chairman's Sale of Racing Prospects which will incorporate the Easter Sale welcome party.
That sale will be held at the Museum of Contemporary Art, in Sydney, with video footage of the horses and an announcement regarding likely entries imminent.
"There'll be plenty of fanfare that night and at Riverside for the opening day," said Webster who concedes the dress rehearsal of Classic has proved invaluable.
"We learned a lot in terms of general operations and logistics from streamlining all the horse precincts to improving facilities and procedures for loading, unloading and scanning horses.
"We've adjusted the fencing around the pre-parade ring to facilitate the safer movement of horses. In the auction ring itself we've realigned the speakers and adjusted the lightning to improve the acoustics and general ambience.
"It wouldn't be an exaggeration to say we had a list of 100 things that needed tweaking post-Classic. We had a lot of feedback from customer surveys and have responded to concerns people expressed about long delays with food and drink service and even the simple things like getting a coffee. It's all been reworked," he said.
The feedback has been good to the William Inglis Hotel which adjoins the sales complex.
"There's been very little negativity. Occupancy has been strong with 100 per cent on several nights this month (March) which has been driven by conferences. It's difficult to please everyone but I would hope people would understand that there will be very limited availability for one- or two-night bookings during the course of a major sale," he said.
---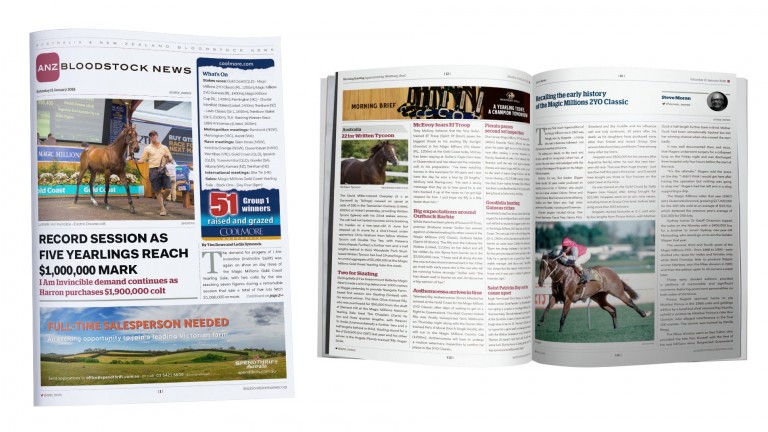 For complete coverage of racing and bloodstock in Australia and New Zealand, download ANZ Bloodstock News every day
There's a strong sense that everyone wants to be involved at the first Easter at Riverside,