Turf Showcase shelved after market response falls below expectations
The 2017 auction saw 74 yearlings sell for $5,035,000
Fasig-Tipton will not conduct the Turf Showcase in 2018 after the response to the auction, designed to showcase yearlings whose pedigree or conformational traits make them suitable prospects to compete on grass, was not deemed strong enough.
"We do not plan on conducting the Turf Showcase in 2018," Fasig-Tipton president Boyd Browning told the BloodHorse. "We saw the market response wasn't as strong as we hoped. I am little disappointed that it didn't do better. We try like hell, but ultimately the men and women who buy and sell horses with us are the judge and jury. Any time you try a new idea you never know how the market is going to treat it."
Staged on the eve of the Keeneland September Sale, the inaugural Turf Showcase saw 74 yearlings change hands for $5,035,000, an average of $68,040 and a median of $52,500. The sale was topped by a pair of Scat Daddy colts that fetched $250,000 apiece. Of the 145 lots through the ring, 71 went unsold.
---
View 2017 Turf Showcase results
---
Among the reasons Fasig-Tipton felt there was demand for a turf-orientated sale was the recent success of US-bred horses abroad, including the likes of Royal Ascot winners Tepin, Caravaggio and Lady Aurelia, as well as the wealth of grass racing opportunities in the US. In 2017 there were 188 Graded races staged on turf in the US, 41 per cent of all Graded stakes.
Additionally, there has been an increased number of racehorses that excelled on grass added to the stallion ranks in Kentucky in recent years including the likes of Kitten's Joy and Flintshire.
"I think reasons for the sale were valid and I think there are still tremendous opportunities available for turf horses in the US and I hope we increased the awareness of it," Browning continued. "We don't make the market; we just serve the market.
"I think one thing we learned on the buyer side is that it takes time to change behaviour," he said. "They came, they shopped, and some bought, but not as many bought as shopped. It does take time to change behaviour, and they wanted to come and see what the horses were like, and to get a feel for the sale and a feel for how the market was going to react to a lot of this.
---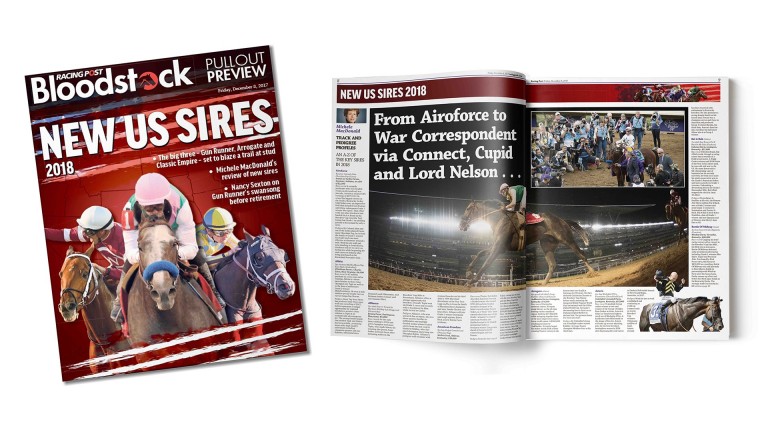 Download our special 16-page guide to the new US sires for 2018, headed by Arrogate, Classic Empire and Gun Runner
We saw the market response wasn't as strong as we hoped