Top of market sky high but vendors express caution about lower echelons
Trade at the National Broodmare Sale on the Gold Coast under the microscope
As the sales season in Australa nears an end after a long year, with just the Inglis Great Southern Sale to come this month, there is little question that the top-end of the market has never been stronger or had more depth to the buying bench.
At last week's Magic Millions Gold Coast National Broodmare Sale the average closed at A$150,431 (£85,240/€97,500), up on a remarkable 2017 sale, but it has not stopped vendors questioning the overall health of the breeding industry in the lower to middle brackets.
Tellingly, the median at last week's sale was A$70,000 (£39,700/€45,400), down A$10,000 on Magic Millions' 2017 sale despite an increased average, which is again an indication that while competition for the best mares on the market almost seems limitless, the number of buyers investing in lower tier mares has fallen.
The trend followed the Inglis Australian Easter Yearling Sale where vendors expressed concern about a weak middle market even though figures showed the market fell by just 2.3 per cent. The median of A$250,000 was down A$10,000.
The sentiment comes at a time when the racing industry has supposedly never been better, with record prize-money in New South Wales and Racing Victoria last week announcing it was boosting prize money next season by A$12.4 million to the highest levels ever seen in the state.
Mick Malone of Kitchwin Hills, who sold Listed winner Marianne in foal to I Am Invincible for A$1.1m at the Gold Coast last week, believes the bottom end of the market was plateauing.
"The lower end has been tough. You question where a lot of the breeders are because you can make money from that lower end," Malone said.
"Every year at the Inglis Classic sale and the lower end of Magic Millions they sell solidly. You can buy a nice mare, put her to a nice stallion and sell [the yearling] for A$150,000.
"The market has just missed those mares this year. From year to year it changes, but you can't change anything [you as a breeder are doing] except just load up and go again."
As another leading vendor last week asked, where were the Queensland breeders who normally underpin the lower end of the Magic Millions National market?
In 2017, Queensland buyers were responsible for buying 134 lots for a total spend of A$15,196,500 and this year, with 47 fewer horses catalogued, bought 132 race fillies and mares but at an average of $90,352. Last year's average was A$113,407. This was despite the phenomenal impact of first-season stallion Spirit Of Boom with his juveniles this season.
The clearance rate was 84 per cent, and it was also 85 per cent at Inglis' Easter sale, suggesting vendors are awake to the changing market and are prepared to lower their sights.
Willow Park Stud's Glenn Burrows flagged his concern about the lack of buyers on day two of the Magic Millions mares sale, but was still able to sell 49 of his 54 lots offered at an average of A$124,337.
"We've found the top end of the market to be very strong, however, there is extremely good buying to be had at this sale," Burrows told ANZ Bloodstock News at the time.
"Our inspection figures have been down from last year and, as a consequence, despite the strength at the top, there is terrific value to be found in the A$40,000 to A$100,000 bracket for commercial mares with no convictions.
"I'm just a little perplexed as to why there aren't more people taking advantage of the value and opportunities here."
Harry Mitchell, whose Yarraman Park Stud has been resurgent on the back of the rise of star stallion I Am Invincible and barnmate Hinchinbrook, remains unperturbed by the apparent changing market conditions.
"We have bought a few and sold a few and it is a very healthy market here and I think everyone should be very happy with the way it all went because it is certainly a vibrant market," Mitchell said at the conclusion of the Book One sale.
Belmont Bloodstock Agency's Damon Gabbedy, who bought 24 mares last week either outright or in partnership to go with a significant number of acquisitions at the recent Inglis Broodmare and The Chairman's sales, is another individual who is upbeat about the current market and was far from downcast.
"The demand for quality top-end items is insatiable and the amount of money being spent is extraordinary and the competition on those top ten lots was unbelievable," Gabbedy said.
"We were really happy with what we bought but there were a lot of horses on our list who went way over our budget and I probably had more money to spend, but you have to stick to your price and your budget."
The top end of the market has been underpinned by a diverse number of significant investors in recent years, with the likes of the China Horse Club and Jonathan Munz's GSA Bloodstock competing with international investors such as Yulong Investments for the most sought after bloodstock, seeing skyrocketing prizes.
Sir Owen Glenn's Go Bloodstock Australia has also been securing well-credentialled mares in recent years and last week spent A$4,635,000 on seven lots.
The highest-priced mare sold last week, Caulfield Cup winner Jameka, was purchased by part-owners Colin and Janice McKenna for A$2.6m.
For them, money was not the point - their emotional attachment to the Ciaron Maher-trained Jameka meant far more.
Outside the McKennas, the big players certainly dominated the buying board and there are no signs those large-scale investors will be turning their back on the industry, so the top end is set to remain strong.
However, some industry participants believe a correction of the market will occur; it is just a matter of when, not if.
But, if the Magic Millions Gold Coast National Weanling Sale is any indication, it will not be next year.
The weanling market was up ten per cent on 2017 and the pinhookers are the ones putting their opinion - and money - on the line at the earliest opportunity.
Another guide may well be this week's Magic Millions Gold Coast National Yearling Sale before the roadshow heads to Melbourne for the Inglis Great Southern Sale, where an indication of what next year's sales series holds may well be on offer.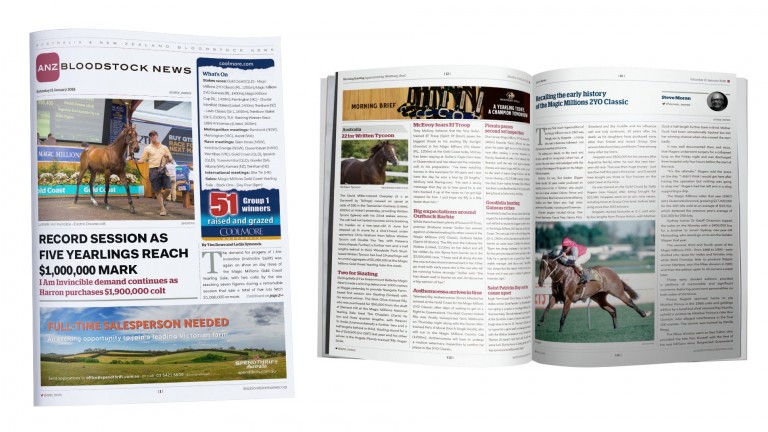 Read Monday's edition of ANZ Bloodstock News here.
Subscribe here to make sure you never miss all the updates from Australia, New Zealand and beyond and to have ANZ Bloodstock News delivered to your inbox every day.
I'm just a little perplexed as to why there aren't more people taking advantage of the value and opportunities here