Why the progeny of underwhelming sire Golden Horn could represent real value
Good Morning Bloodstock is Martin Stevens' new daily morning email and presented here online as a sample.
In his second despatch he assesses Golden Horn's stud career. While dispensing few niceties, he does pinpoint that for those looking for a certain type of performer, they could do a lot worse than seriously consider the Derby and Arc winner's progeny at upcoming yearling sales.
Subscribers can get more great thought-provoking comment and insight from Martin every Monday to Friday. All you need to do is click on the link above, sign up and then read at your leisure each weekday morning from 7am.
---
There's no nice way of saying this, so I might as well just come out with it. Golden Horn has been pretty disappointing as a sire.
Even his staunchest supporters would have to admit that one Group 3 winner and four Listed scorers are not really a good enough return from three sizeable crops of racing age bred off a fee of £60,000.
There is of course plenty of time for more high-class horses by Golden Horn to emerge, and he has lots of well bred youngstock still to come through the system, but it might just be too late for commercial breeders who want to see earlier signs of success on the track.
You might think it's poor form to say all this just as consignors are preparing to take members of the sire's fourth crop to the sales, but the point of this column is in fact to highlight that there could be considerable value in purchasing those yearlings of 2021.
The reason lies in the Racing Post's indispensable tables of sires ordered by percentage of progeny with RPRs of 80 and higher, 100 and higher or 115 and higher in Britain and Ireland each season.
Golden Horn, you see, boasts an excellent 53 per cent strike-rate of runners rated 80 and higher this year. That's the joint-seventh best figure of any sire, behind only Galileo, American Pharoah, Frankel, Dubawi, Kingman and Sea The Stars and tied with Night Of Thunder and War Front.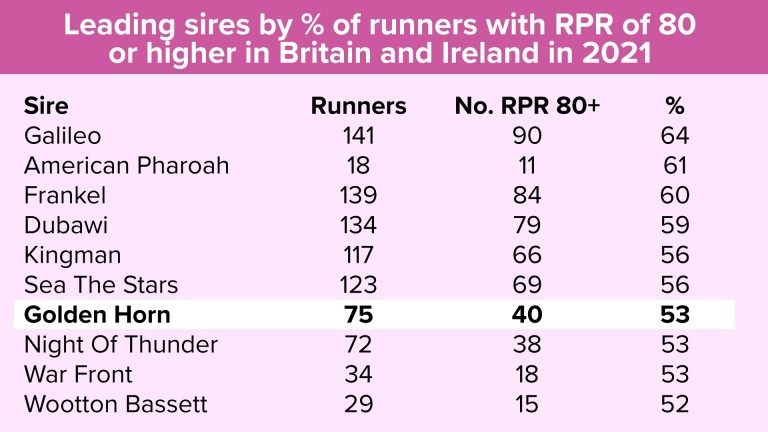 The problem facing the son of Cape Cross is neatly illustrated when you reorder the table. His mark of 13 per cent runners rated 100 and better sends him down into 19th position, and he is not even among the 41 names who have supplied at least one runner rated 115 and higher.
In other words, Golden Horn's progeny seem to have no trouble running to marks of 80 or so by winning maidens and novice stakes, or perhaps progressing through handicaps, but generally speaking they have struggled to achieve better figures when stepped up in class.
That might not encourage breeders to send mares to the stallion, at least not at a high covering fee; but owners and trainers on a budget would be unwise to ignore that high ratio of runners with 80-plus RPRs, at which point all-important resale value starts to kick in.
Golden Horn's yearling average in Britain and Ireland already dropped to around 57,000gns last year, from a high of 140,000gns for his first-crop offerings, and it will presumably slip again this year.
Bear in mind, too, that many of the sire's progeny going through the ring in the coming months will still be out of high-achieving mares, as they were conceived after his first crop had sold so well.
The message to bargain hunters at the yearling sales this season is ignore Golden Horn's drafts at your peril. Stats suggest they will contain lots of well bred yet affordable young horses who could generate profits after attaining respectable, if not roaring, RPRs.
Have your say
Are there any other sires who could be underrated by the market at the coming yearling sales? Let us know what you think by emailing gmb@racingpost.com
Don't miss today
There's plenty of first-season sire intrigue in the Prix Six Perfections and Prix de Cabourg and also Group 1 action in the Prix Rothschild. Deauville cards.
Pedigree pick
The Archie Watson-trained Siyouni colt Sweeping should go off long odds-on to win the 7f two-year-old maiden at Catterick (1.00) today, having finished fourth in the Chesham Stakes and fifth in a hot Newmarket contest on his last two starts. But I'll be making a small each-way investment on David O'Meara's newcomer Animato, as he hails from my favourite family belonging to owner-breeder Cheveley Park Stud. He is a Ulysses half-brother to the 100-plus rated Sainted and Telmeyd, and his dam is the Pivotal mare Blithe, one of a remarkable 14 winners out of Pious along with Group 2 scorers Penitent and Supplicant. View the racecard.
Must-read story
Overbury Stud's Simon Sweeting tells Kitty Trice that "Jack Hobbs has covered over 160 mares this year – an increase from the last two years – and I'm taking that as an endorsement from breeders," in an informative Q&A. Find out more.
Don't miss ANZ Bloodstock News
Rosemont Stud has entered into a historic partnership with Juddmonte Farms to race and stand this season's St James's Palace Stakes fourth Maximal, a stunning son of Galileo out of Frankel's half-sister Joyeuse. Read all about it in ANZ Bloodstock News - follow the link to download the latest newsletter and subscribe.
---
Good Morning Bloodstock is our latest email newsletter. Martin Stevens, a doyen among bloodstock journalists, provides his take and insight on the biggest stories every morning from Monday to Friday
Bear in mind, too, that many of the sire's progeny going through the ring in the coming months will still be out of high-achieving mares