Ten out of ten for Spirit Of Boom at Gold Coast March Yearling Sale
Sons and daughters made up the top ten lots during opening session
Spirit Of Boom fever came to the opening session of the Magic Millions Gold Coast March Yearling Sale yesterday, with five lots by the Queensland-based first-season sire sensation reaching A$200,000 and a filly topping day one at A$250,000 (£137,000/€156,000).
The March sale, traditionally a buying bench dominated by Queensland owners and trainers, saw prominent interstate and international participants converge on the Gold Coast in unprecedented numbers in a bid to secure horses by the Eureka Stud-based stallion.
The top ten lots sold on Monday were all by Spirit Of Boom, who had 21 yearlings sell in total for an aggregate of A$2.8 million and average of A$134,167, from a crop of yearlings conceived at a fee of A$11,000.
In comparison, at last year's sale, seven yearlings made more than A$100,000 and sold to a top of A$160,000 whereas after the first session this year, 15 yearlings have already made A$100,000 or more, such is the impact of interstate buyers at the sale.
Spirit Of Boom has made a remarkable start to his stud career, siring ten first-crop winners and four stakes winners so far this season, including leading Golden Slipper Stakes contenders Ef Troop and Outback Barbie, which has prompted demand for his progeny at this year's yearling sales.
That's the Spirit
The highest-priced Spirit Of Boom yearling sold yesterday was a grey Eureka Stud-consigned filly, who was bought by Gold Coast-based trainer John Morrisey for long-term client Gundaroo Stud after narrowly missing out a number of other lots by the stallion.
Catalogued as Lot 141, the filly is a sister to two-year-old filly Animal Spirit, who is Brisbane metropolitan-placed for trainers Bryan and Daniel Guy.
The Spirit Of Boom filly is the second foal out of the winning Royal Academy mare Regal Tier, a half-sister to the Listed winner Tierqualo and the stakes-placed Eminence Grise. She is also a half-sister to the unraced Zeditave mare Zedatier, who is the dam of the nine-time winner and stakes winner Flamboyer.
Morrisey told ANZ Bloodstock News that the filly would be given time to mature rather than pushed to be up and running early.
"It was more than we expected but at the end of the day we got her," said Morrisey. "The owner wanted to buy one by Spirit Of Boom and we got beaten on a couple, so we have finished up with her."
"The thing I like about her is that with the family the better horses are grey and the first one (Animal Spirits) is bay.
"I have spoken to Gary Doughty, who has had most of the family, and he said that most of them aren't really early goers. I will turn her straight out for a couple of months and go from there."
Boom sire
Morrisey admitted the sale had been stronger than he predicted despite the build-up and fanfare surrounding Spirit Of Boom.
"It's that sort of sale," he said. "The Spirit Of Booms are bringing twice what they are worth and the others are bringing half what they should be."
In total, Morrisey bought five yearlings yesterday for an aggregate of A$352,000 at an average of A$70,400, to be the leading buyer.
Eureka Stud principal Scott McAlpine said Spirit Of Boom's initial impact at stud from his first crop of two-year-olds had put Queensland thoroughbred breeding in the limelight with strong sale results this year continuing at yesterday's QTIS (Queensland Thoroughbred Incentive Scheme) sale.
"The stallion has proven himself as being fairly successful in producing racehorses and is recognised across Australia for that, which is the exciting thing for us," McAlpine told ANZ Bloodstock News.
"The majority of today's top sellers have gone south to some of the leading trainers. He sold well in Adelaide, at the Classic in January and these horses are certainly creating an interest.
"I am not sure if he can break any records, but the number of horses being sold for money one after the other, it would be a record for the QTIS sale.
"We are Queenslanders and this is where we have to sell our horses, but now the sale is being recognised across Australia."
The Darling Downs-based farm sold 25 yearlings yesterday for an aggregate of A$2,656,000 at an average of A$106,240.
Continued below . . .
---
Top ten lots Magic Millions Gold Coast March Yearling Sale
141
gr f Spirit Of Boom-Regal Tier
Eureka Stud → John Morrisey A$250,000
135
b f Spirit Of Boom-Ready To Belong
Eureka Stud → Steve Morley Bloodstock/Kitchwin Hills A$240,000
55
b f Spirit Of Boom-Matinee
Eureka Stud → Spicer Tbreds/Ciaron Maher B/S/Brae Sokolski A$220,000
4
b c Spirit Of Boom-Imanoremiss
Eureka Stud (As Agent) → Gollan Racing/John Foote Bloodstock A$200,000
104
b f Spirit Of Boom-Ossie's Secret
Eureka Stud (As Agent) → JHB Syndications A$200,000
63
br f Spirit Of Boom-Military Bride
Eureka Stud (As Agent) → Gai Waterhouse/Adrian Bott/Blue Sky (FBAA) A$170,000
125
b f Spirit Of Boom-Plumage
Eureka Stud → First Light Rcg/Busuttin Rcg/Paul Willetts A$160,000
160
b f Spirit Of Boom-See No Evil
Raheen Stud → Gai Waterhouse/Adrian Bott/McKeever Bstk A$160,000
177
b c Spirit Of Boom-Sparkling Sound
Eureka Stud (As Agent for T Lipp) → Denis Wilton A$140,000
24
b/br c Spirit Of Boom-Koranovsky
Eureka Stud → Munce Racing A$140,000
---
Bowditch delighted with new benchmarks
On the back of the success of Spirit Of Boom yesterday, all key figures on day one were up on the previous year's sale, with the aggregate of A$6.03 million up 47 per cent, the average of A$43,390 jumped by 45 per cent and the median of A$26,000 increased by 13 per cent.
The clearance rate of 77 per cent was also up three per cent on day one last year.
Magic Millions managing director Barry Bowditch, who took charge of the business from Vin Cox in January, said trade was sensational.
"From the opening lot there was a great vibe around the grounds," he said. "Spirit Of Boom is averaging close to A$135,000. We had five horses sell for A$200,000 or more and we'd never had a horse here get to A$200,000, so for five to break the record was great for the sire.
"We'd like to see the clearance rate climb overnight and on Tuesday. It took awhile for the vendors to find their feet in the market but all-in-all the results were very pleasing."
---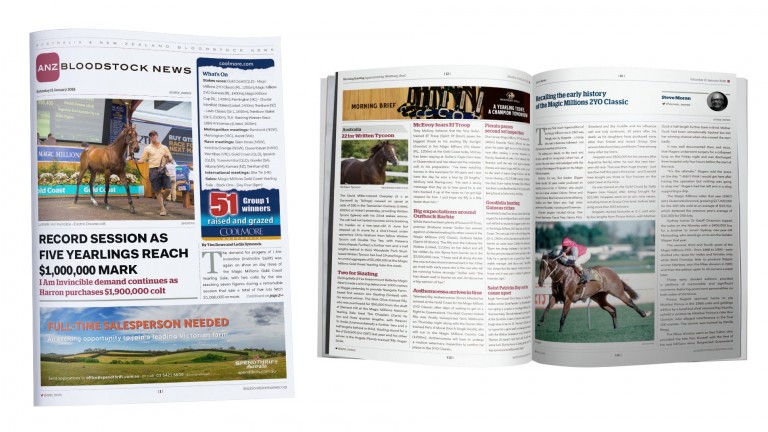 For complete coverage of racing and bloodstock in Australia and New Zealand, download ANZ Bloodstock News every day
The top ten lots sold yesterday were all by Spirit Of Boom, who had 21 yearlings sell in total for an aggregate of $2,817,500