Supreme Thoroughbreds' Grayling looks ahead to the Premier Yearling Sale
Draft includes a half-brother to Blue Diamond Stakes runner-up Enbihaar
There's a refreshing candour, together with a 'knockabout' turn of phrase, about Brent Grayling's assessment of Supreme's 29-strong draft for the Inglis Melbourne Premier Sale which begins Sunday.
"They've scrubbed up all right," he said of this year's Premier yearlings as the 'shampoo and blow wave' touches were applied at Oaklands on Tuesday.
Chances are they're better than all right as Supreme last year, was the leading vendor at Melbourne Premier for the first time, an impressive outcome for a business which has been operating for just ten years. A business that nonetheless has probably flown a little under the publicity radar.
Grayling's comment is perhaps consistent with an operation which takes its business very seriously but not so much themselves it seems.
To wit, their website which features current photos of the four partners accompanied by shots of each of them as infants.
---
Subscribe to ANZ Bloodstock News
---
They're very 'low key' says Inglis Victoria Bloodstock Manager Simon Vivian. "But extremely professional in every aspect - in the way they deal with us; in their preparation of yearlings and their attitude to selling. They've obviously become one of our primary vendors and highly in demand across the state," Vivian said.
"I couldn't tell you which will be our top lot," Grayling says, again candidly, "but they're a good group overall who'll present well and timing is everything in this business so last Saturday's Blue Diamond result was certainly good for us."
That's in reference to the Blue Diamond runner-up Enbihaar as Supreme offers, on behalf of Robert Crabtree's Dorrington Park, the half-brother by Rubick (Lot 300).
Enbihaar, by Magnus, sold for A$200,000 (£113,000/€128,000) at last year's Magic Millions Gold Coast Yearling Sale. "This colt will generate plenty of interest," Grayling said. The Romsey farm also presents three yearling by the 'hot' Written Tycoon who, of course, is the sire of the Blue Diamond winner Written By.
"So that can't hurt either," he said in his matter of fact manner. "In fact most of ours are by some of the hottest sires around, so we're hopeful of a good result again."
Grayling, when pushed, did single out one colt he's taken a particular shine to - Lot 218, a colt by popular first season sire Charm Spirit.
"He is a cracking colt," he said.
It seems that Supreme came from nowhere to be the leading vendor last year and even Grayling concedes that he's been a little surprised how the business has 'just taken off' as he put it.
"We've just being winging it as we go," he says a touch disingenuously. A little more science, you'd imagine, has gone into it than that and the partners - Brent and his wife Adrienne along with Neil and Sue Shaw - are anything but newcomers to the game.
"I met Neil when I was the manager at Eliza Park and he was a client. We had similar views on many aspects of the game and Supreme really evolved out of us getting a few horses together. As the numbers increased, it was basically costing too much to have others managing the horses so we set up at our own small property at Romsey, back in 2007.
"We started off a very low financial base but we've now grown to having some 30-odd mares and three properties of almost 500 acres."
A little bit of good fortune, along the way, has also helped which Grayling concedes.
"Obviously I made a lot of good contacts at Eliza Park and people followed us across in the new venture. Then the first mare Neil and I bought was Snow Hero, for A$40,000 (£22,500/€25,500), and all up she yielded us about A$1,400,000 (£788,000/€894,000)," he said.
The True Hero mare, who died this year, produced the Group 3 winner Hvasstan.
So what's been the key to success for this relatively fledgling operation which has been consistently among the leading Melbourne vendors and sold Group winners Shanghai Warrior, Ten Gun Salute and Hvasstan?
"Fundamentally, I'd say it's our passion for the business plus each of us brings us a different skill set to the table and that's worked.
"We've also had great support and obviously the inclusion of the Dorrington Park yearlings for the first time, last year, helped us top the sale. We don't rest on our laurels but as a relatively small operation, we're quite proud of that," he said.
Supreme will sell a few less of their own stock this year at Premier having taken eight to the Classic Sale and having another 'four or five' entered in the Vobis Gold Sale in April.
"We took a few of our colts to Classic which we thought would suit the ready to run market and we were happy to average A$105,000 (£59,100/€67,100) with them," he said.
Supreme last year sold two yearlings at A$500,000 (£281,000/€319,000) at Premier. They were a Written Tycoon colt to the Hong Kong Jockey Club (HKJC) and an All Too Hard filly from Fuhrnatic to Justin Bahen on behalf of Little Kwok Hing Hung.
Fuhrnatic, the dam of Fuhryk, has a Magnus colt (Lot 398) this year.
They won't be selling to the HKJC this year as Vivian yesterday confirmed that the Jockey Club will again be absent from this Australian sale. However the international buying bench is still expected to be strong and the HKJC's absence and concerns about the impact of the tribulations of embattled South African Markus Jooste did not circumvent record numbers at the Classic Sale.
"It's unfortunate as we'd loved to have had the Hong Kong Jockey Club here but we will have a very strong private buying bench from Hong Kong, and the South Africans will be here in force again," Vivian said.
---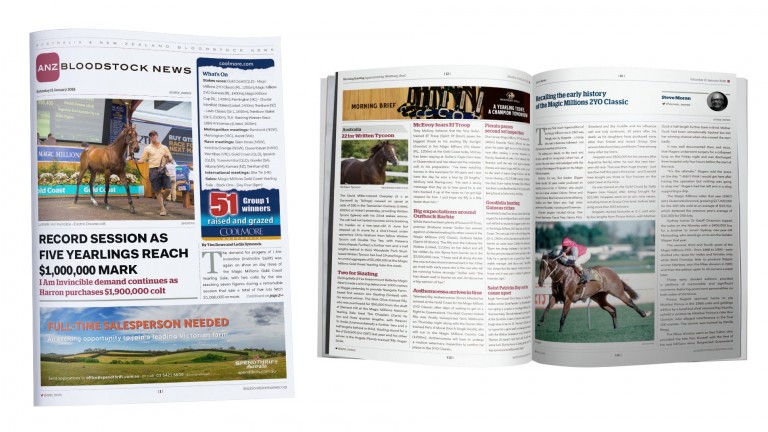 For complete coverage of racing and bloodstock in Australia and New Zealand, download ANZ Bloodstock News every day
We started off a very low financial base but we've now grown to having some 30-odd mares and three properties of almost 500 acres