Sheikh Mohammed in town as the stage is set for Arqana August Sale
A who's who of global racing and breeding descends on Deauville
Deauville may be 330 miles from Newmarket, 4,070 miles from Kentucky, and a lot further from the Hunter Valley (10,550 miles to be precise), but for this weekend it is very much the centre of the racing and bloodstock world.
Industry names from those locations and beyond were on Friday examining the collection of around 300 yearlings who are due to come under the hammer at Arqana's August Sale, which begins its three-day stretch with a post-racing session on Saturday at 5.30pm local time (4.30pm BST).
---
View full Arqana August Sale catalogue
---
Among those combing the sun-bleached sales grounds, which were experiencing rather more autumnal conditions on Friday, were representatives from Coolmore, Al Shaqab Racing, Phoenix Thoroughbreds, and this year's Prix du Jockey Club-winning owner Peter Brant.
Also present was the Godolphin buying team, who were accompanied by Sheikh Mohammed. The ruler of Dubai's apperance on the sales grounds late on Friday afternoon ramped up the anticipation for the first European yearling sale of the year, which boasts a catalogue brimming with stellar pedigrees befitting the presence of racing's A-listers.
Sheikh Mohammed, whose entourage included Simon Crisford and Charlie Appleby, made a beeline for the Ecurie des Monceaux draft, where he paid particularly close attention to the Dubawi filly out of Prudenzia (lot 148).
That filly is one of two lots by Dubawi on offer, along with a colt out of the Group 1 winner Giofra (88).
"We're delighted to welcome his Highness back to Arqana," said the auction house's executive director Freddy Powell. "I just met with him and he seemed very happy to be here. It's a very big thing for all the breeders and consignors, as it's those people who started thinking about every single yearling here today maybe two and a half, three years ago.
"They'll have been hoping that someone like Sheikh Mohammed would be here to look at their horses so we're delighted with the presence of His Highness. It's a great reward for the hard work of those breeders."
23
) and Cladocera (
68
), six yearlings by Frankel, including a filly out of L'Ancresse (
108
), 14 lots by Kingman and a pair of American Pharoah fillies.
Other blue-chip sires with strong representations include Dark Angel, Invincible Spirit, Le Havre, Lope De Vega, No Nay Never, Sea The Stars and Siyouni.
While the pedigrees on offer are of the highest calibre, Powell said Arqana had gone to great lengths to ensure they were offering the physical models to match.
"The catalogue looks really good, there's a lot of new families and progeny of young mares, some whom were purchased for quite a lot of money by French breeders, which shows the great level of reinvestment by the farms in Normandy," said Powell.
"The sire-power aspect is huge too, we're delighted to have yearlings by so many top-class stallions in the catalogue. But the main job during selection is to find the individuals, that means going around the farms, sometimes as many as four times to see how the horses progress from foals, to how they are in February and April and June.
"Our sale is very select so we need to ensure we have the right horses in the right session."
With a global buying bench assembled and among the finest yearlings to be offered anywhere in the world, the stage is set for what promises to be another blockbuster edition of the August Sale.
"We have the right people here and we believe we have the right horses, that's what people are saying anyway," said Powell. "The economy is a bit of a question mark as the value of sterling has gone down and Brexit is still an issue, while the stock market has also dropped a bit.
"There are questions, of course, but we'll only have the answers to those tomorrow."
---
Arqana August Sale factfile
Where Arqana sales complex, Deauville
When Three-day sale begins on Saturday (Saturday and Sunday sessions begin at 5.30pm local time, with Monday's starting at 1pm local time)
Last year's stats From 316 offered, 230 lots sold (73 per cent) for turnover of €36,786,000 (down four per cent); an average of €159,939 (down three per cent) and a median of €107,500 (down two per cent)
Notable graduates Sottsass (sold by Ecurie Des Monceaux, bought by Oceanic Bloodstock for €340,000 in 2017); Arizona (sold by Fairway Consignment, bought by MV Magnier for €260,000 in 2018); Magic Wand (sold by Monceaux, bought by Peter and Ross Doyle, MV Magnier and Mayfair Speculators for €1.4 million in 2016); Wings Of Eagles (sold by Reboursiere et de Montaigu, bought by MV Magnier for €220,000 in 2015)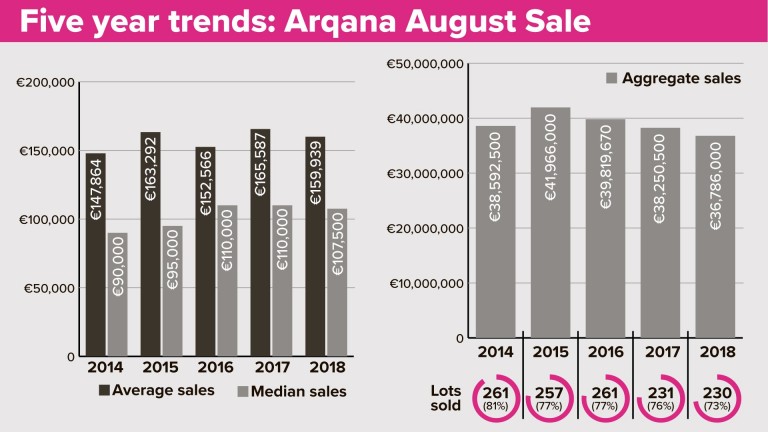 ---
More Arqana news:
More Monceaux magic in store as Sottsass and Chicquita siblings head to Arqana
Strong home support for Shalaa as first yearlings come up for sale
'We've got to think differently' - Taylor Made makes first foray into Deauville
We have the right people here and we believe we have the right horses