She Will Reign's dam Courgette sells for A$2.1 million
Charge Forward mare was offered in foal to I Am Invincible
A stunning closing 15-minute spree that saw three mares break the million-dollar barrier brought the curtain down on Book 1 of the Magic Millions Gold Coast National Broodmare Sale under the floodlights on Thursday.
It was Courgette, the dam of Golden Slipper Stakes winner She Will Reign and offered in foal to I Am Invincible, who capped off the remarkable run in style, becoming the week's second most expensive mare when selling to E Thoroughbreds' Tony Bott for A$2.1 million.
The last lot through the ring and consigned by Yarraman Park Stud, Courgette was a must-have in the eyes of Bott after she was added to the sale as a supplementary entry late last week.
"It was a long day for everyone and unfortunately she was the last lot, but we thought she was the prized lot today and is the only one we have bought for our syndicate farm at Evergreen Stud in the Hunter Valley," Bott said.
"She is the dam of a Group 1 winner, a Golden Slipper winner at that, and they don't come along that often.
"Like everyone, I only found out [she was available] when we arrived, so we looked at her pedigree and studied it. To throw a Group 1 winner as her first foal shows she has the makings of a very good broodmare.
"She is in foal to I Am Invincible, so she ticks all the boxes."
It was the 2015 Oakleigh Plate winner Shamal Wind who kicked off the frenzied finale as Magic Millions and Baramul Stud owner Gerry Harvey forked out A$1.2m for the Group 1 winner.
"I like that mare," he said. "She's a typical Dubawi type and she will go well with Redoute's Choice or Fastnet Rock - I think that's a good mating and I will probably send her to Fastnet Rock."
Sandwiched between Shamal Wind and Courgette was the stakes-winning mare Marianne, also offered in foal to I Am Invincible, who delivered a A$1.1m payday for Kitchwin Hills when selling to Tom Magnier.
Stud manager Mick Malone revealed the decision to part with the mare had not been an easy one but was driven by a desire to make hay while the sun is shining, with her first foal by I Am Invincible having been snapped up for A$1m by the Hong Kong Jockey Club at the Inglis Australian Easter Yearling Sale in April.
Magnier said Coolmore had been very keen to secure the mare all week, and that no decision had been made as to which of their stallions she would be mated to.
"She's a quality mare, it's a good page and the team were very keen on her all week," he said. "We are just glad we get to take her home and she can go to a few of the stallions there. We will take her home and then decide what we will do."
At the conclusion of selling on Thursday, the aggregate came in at a little shy of A$103m, which represented a decrease on last year's sale. While the average increased to A$150,558, the median of A$70,000 also represented a drop.
"On a whole, to have a sale with 84 per cent clearance rate with that volume of mares, we couldn't be more happy," said Magic Millions managing director Barry Bowditch.
"The bloodstock team has worked hard to pull the catalogue together that he market had confidence in leading into the sale and they should be very pleased with themselves."
---
Read Thursday's edition of ANZ Bloodstock News here.
Subscribe here to make sure you never miss all the updates from Australia, New Zealand and beyond and to have ANZ Bloodstock News delivered to your inbox every day.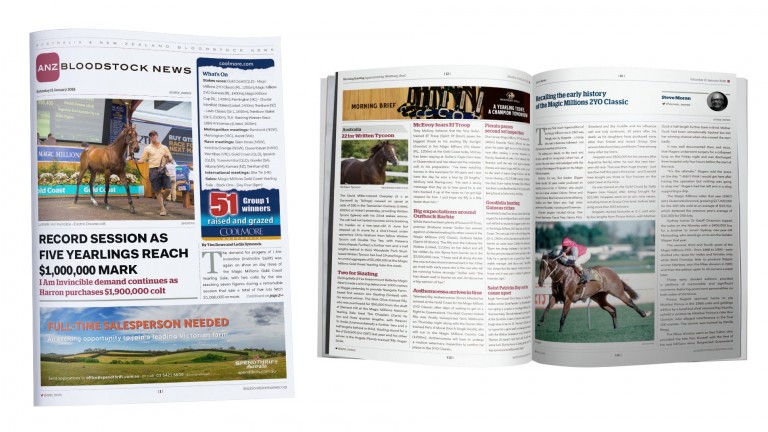 It was a long day for everyone and unfortunately she was the last lot, but we thought she was the prized lot today