Robson Aguiar aiming to continue his recipe for success
Brazilian jockey now consigning breeze-up horses under his own name
Mullingar is not the first place that everyone might expect to lay claim to a small Brazilian community.
The small town in County Westmeath is better known for its lakeland and rich history rather than sunshine on tap or the ideal ingredients for making an authentic feijoada.
Life, of course, is what you make of it and for Robson Aguiar there has been more than enough of an attraction to make a success of the Irish midlands.
The 37-year-old spends his mornings assisting in the preparation of youngsters at Tally-Ho Stud and, once finished, drives a few miles down the road to the Deravarra Gallops, where he rents his own boxes.
With the assistance of assorted family from brother-in-law Jose Gerra, sister Juliana, older brother Marcio to son Gabriel, and several other friends including I Correia, Aguiar has fashioned a breeze-up business which will be consigning under his own name for the first time this year.
"There's a few of us around Ireland, we're close," he explains.
"I've got two Brazilians helping me out with my breezers, they were very good jockeys back home and we go around together. I give them a share in the horses so they've got a chance to make some money too."
Starting from a shoestring budget, Aguiar has made some astute pinhooks already with a particularly impressive touch landed on Dubai Dominion.
Picked up for just €26,000 at the Tattersalls Ireland September Sale, the Godolphin-bred daughter of Pivotal was prepared for last year's Goffs UK Breeze-Up and returned a spectacular £140,000.
"The first horse I bought was called Bashiba," he explained. "He wasn't sold at Goffs [in 2012], so I bought him privately for €16,000 and then sold him for 50,000gns the next year. He did well as a horse for Nigel Tinkler, and that was enough money for me to start setting up my business.
"After that I started to buy some horses and every year I've improved and improved with them, being able to buy more expensive and better quality ones."
It was 2018, though, that set new levels.
"Yes, last year was a good result," he says.
"I've been doing it properly for the last four years and most of them have done well. I consigned some with Tally Ho and some with Hyde Park.
"Last year I sold Queen Jo Jo [bought for £11,000 and sold for 68,000gns at the Craven Breeze-up], who went to Kevin Ryan. She won second-time out and then finished third in the Group 2 [Lowther] at York.
"I sold a Heeraat [Freed From Desire] privately for £10,000 [bought for £3,000] and she won a race, and I had an Alhebayeb called Phoenix Star who won second-time-out for Chris Dwyer and Silvestre de Sousa at Yarmouth.
"The other horse, Dubai Dominion, I sold to Ed Vaughan and Phoenix Thoroughbreds, he won second time out, was second in a Listed race then ran in a Group 3 in France."
Aside from what is clearly an eye for a horse and a bargain, as well as the knowledge of how to develop it onwards, Aguiar seems to have no magic formula.
"I've been very lucky with the ones that I've picked," he says. "I like a strong horse and I want one you can look at and you can imagine them on the racetrack. You have to see athleticism and a good walker. The pedigree is a help as well, but sometimes you've got that but no horse, and sometimes you have the horse but not the pedigree.
"It's good if you can have the two, a horse like that is very easy to sell but with a good horse with no pedigree, you have to work harder for the sale.
"I like sharp stallions. I sold a Kodiac to Simon Crisford at Ascot three years ago who won a few races, and I'd buy more of them if I could!"
Aguiar, like so many of the Brazilian racing diaspora working in studs or stables, is an accomplished jockey with 196 winners to his name from the financially listing but fiendishly competitive scene back home.
He is also a graduate of the Sao Paulo Jockey Club's apprentice school, an institution where several modern stars have been moulded.
"I was at the school the same time as Silvestre de Sousa, and Joao Moreira was also around," he said. "We worked together and I'm good friends with both of them.
"When we were riding there we were kind of the same [level], but they had the opportunities to go on. Joao went to Singapore first, he settled well and improved and improved and improved - he's at the top now."
De Sousa plotted a not-too-dissimilar course to Aguiar, arriving at Dermot Weld's yard with virtually no English but finding his way to becoming British champion and a proven international pilot through skill and application.
"In Brazil you learn to ride bareback, so you get really well balanced," he explains.
"I was riding in kind of cross-country races, I was a champion when I was ten or 12, then I rode quarter horses in races, like pony races over just two furlongs, when I was maybe 14. Once you get into the school, you get started very quickly.
"We had a few good lads at the same time as me. A few went to America, we've got lads in Singapore, Malaysia, Sweden, Dubai, kind of everywhere. It shows what you can do when you get the chance. I was okay, but I've always been more interested in buying and selling horses than riding in races."
Success in the saddle was not exactly replicated in Ireland with a solitary winner during the course of a decade. It came for Adrian Murray with Shes Ranger in a maiden at Dundalk in 2016, upon whom he also finished third in the following year's Leopardstown Guineas Trial. He has maintained a link with the local trainer and took 24 mounts for him last year.
"I worked for Paul Deegan for three years and then I spent five with Aidan O'Brien at Ballydoyle," he explained. "It was interesting to see how they work.
"I used to ride Excelebration, I used to ride Camelot, and many of of the horses when they were working, a lot of them when they were two-year-olds.
"I have kept the racing licence but I don't ride for someone else. I haven't got much interest in it - I can make more money from the breeze-ups."
The amount of time Aguiar spends riding horses makes him mindful of the nature of those he trades.
"For breeze-up horses, the most important thing is to have a very good rider, to make them relax and not upset them. It makes them a better horse for someone else.
"I can ride anything, but if we sell him, they might not have someone who can ride any type of horse, so you have to make them very quiet, so anyone can train them. You have the responsibility to make them happy. If the horse is nervous or mad, they'll say don't buy one off this person."
Once the sales are over, he will take a few weeks' holiday in Brazil to reconnect with friends and family before returning to his unlikely home-from-home.
"I've been here for 14 years now and I look forward being able one day to try to buy my own farm and continue the business," Aguiar concludes. "My wife's here and our two daughters were both born in Ireland, they're happy. I think I'll be here for a while, anyway."
This year's intake
The true salesman, Aguiar is not about to dissuade prospective clients of any of his horses for 2019 within these pages. However, it could be notable that the first one he nominates might not be the most obviously expensive.
"They're going very well," he says. "I have a Coach House going to Ascot [ex Koharu, lot 58], he will be a black-type horse. He's a very, very good two-year-old, I think he could be a horse for Royal Ascot.
"I love Starspangledbanners, I've got three of them and they go very well for me. A filly [ex Pina Colada, 78] also goes to Ascot. She's sharp and she's ready to run maybe two or three weeks after the sale.
"She's athletic and I think she can win a maiden and then maybe step up a bit; she's nearly a Listed filly I think.
"I have a Showcasing colt [ex Lady Brigid] to go to Doncaster, he's a nice-two-year-old sort too, and I have a colt and a filly by Cappella Sansevero and another Starspangledbanner [ex Sister Sylvia] to go there too.
"I have a Dutch Art [ex Helter Helter, 88], a Make Believe [ex Royal Razalma, 145] and a Farhh [Fen Guest, 77] for the Craven Sale. I've got small numbers but good quality."
---
Prepare for the breeze-up season with our 16-page supplement packed with unmissable features including:
The breeze-up graduates to follow for 2019
Cool Silk partnership benefiting from change in sales policy
Robson Aguiar and Hetta Stevens on their first breeze-up consignments
Local industry insiders join our jury on the big issues of the new season
Simon Rowlands with the lowdown for shrewd purchasers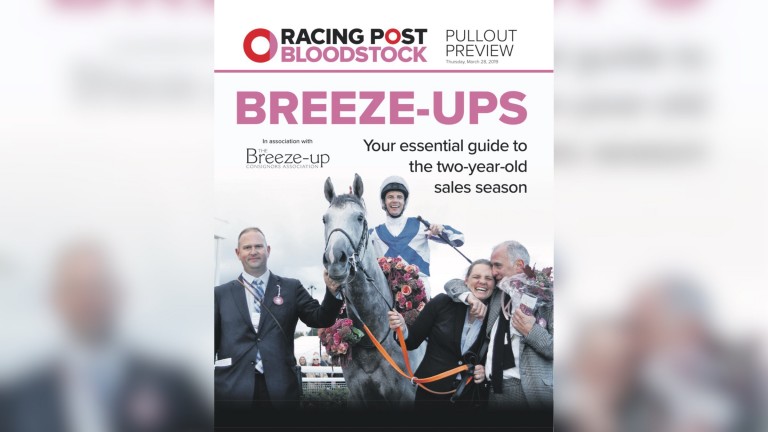 Every year I?ve improved and improved with them, being able to buy more expensive and better quality ones