Point-to-point winners lead the way on strong first day at Goffs UK January Sale
Previous sale record smashed by £270,000 Killeagh maiden winner
They say good things come in threes and the recent revitalisation of the Goffs UK January Sale was confirmed last year when a trio of lots broke the six-figure barrier.
Astonishingly, two lots broke the £200,000 barrier, including the £270,000 session-topper, during a roaring first day of trade at this year's renewal of the two-day sale, the first auction to be conducted in Europe in 2018.
Barn A was buzzing with activity as the latest winners from the pointing field were shown to potential buyers and that interest followed through to the point-to-point session in the ring, as supplementary lots produced the top five most expensive purchases.
Phoenix Way, offered by Donnchadh Doyle's Monbeg Stables following a maiden victory at Killeagh a little more than a week ago, smashed the previous record for the sale when knocked down by auctioneer George Stanners for £270,000 to Tim Hyde of Camas Park Stud on behalf an undisclosed client.
"I'm delighted," said Doyle. "His win last week came in what looked a good point and he was bought as a store. We would tend to buy around 40 or so stores each year."
The eye-watering sum represented a near 20-fold increase on the £15,000 paid by Ryan Mahon for Phoenix Way at the same company's Spring Store Sale in May 2016, when offered by Paul Nolan Bloodstock.
Pointing the way
Hyde also went to £210,000 to secure Dickie Diver, a runaway 20-length winner of a four-year-old maiden at Templenacarriga on New Year's Eve. The now five-year-old gelding is by Gold Well - who counts Hawthorn Cottage, March Is On and Lorvon Pearl among his other winning pointers in the latest season.
"They're two very nice horses and their form is very good," said Hyde. "I hope they'll make good chasers."
"It's a great sale," added Michael Goff, whose Moate Stables offered Dickie Diver as Lot 70.
"It's lovely when they work out that way. The horse is probably a little bit special now for what he did and the way he did it. You'd have to absolutely love him.
"Mr McManus has bought him and I hope he's extremely lucky with him. We loved him from day one. Rumour has it he might go to Mr Henderson, but wherever he goes, he's going to be a very good horse.
"We bought him as a three-year-old and broke him. We were going to run him at the end of the previous point-to-point season but the ground just got a bit quick for him, so we just left him then and we're delighted we did because he's after maturing. We're over the moon with him."
Lorvon Pearl, a five-year-old Getaway mare, won on the same card as Dickie Diver and was offered by Colin Bowe's Milestone Stables as Lot 67.
Described by auctioneer Stanners as "a top hotel", Milestone Stable offered one lot at last year's sale - the Killeagh point-to-point winner Minella Encore, who shared top billing at £100,000 with two other lots when bought by Eamonn Phelan.
Minella Encore subsequently went on to win two bumpers, including a competitive heat at the Leopardstown Christmas festival, with Phelan returning to the same source on Tuesday and snapping up Lorvon Pearl for £90,000.
Dontbitedabait, the five-year-old Oscar gelding consigned by Monbeg Stables, was knocked down by auctioneer Nick Nugent for £68,000 to Michael Hyde, more than three times his store purchase price of €18,000 at the 2016 Goffs Land Rover Sale.
"It's been great trade. I have offered four and three have sold," said Doyle, prior to the fourth also selling.
Equally delighted with the day was Goffs UK managing director Tony Williams, who described the £270,000 and £210,000 buys as phenomenal results.
"Today's results proved yet again that Doncaster is the measure of any venue for point-to-pointers at the top end of the market," said Williams.

"We're working hard to grow the point-to-point session. The timing of the January Sale is ideal and we're delighted with the results we've achieved and are very grateful for the consignors who have supported the sale. We wish the buyers the very best of luck.

"We look forward to an especially strong day of National Hunt mares and foals and the 26-strong Trull House Stud dispersal."
A number of mares eligible for the Elite Mares Scheme appear as part of Wednesday's Trull House Stud Dispersal including Hora, the Listed-placed dam of Thomas Campbell, as well as a number of two-year-old stores.
The second day of the sale will also feature the Thoroughbred Breeders' Association's National Hunt Stallion Showcase and silent auction of stallion nominations.
Yorton hoping for some Luck
Elsewhere on Wednesday, Yorton Farm will offer a grey yearling filly by its resident stallion Blue Bresil out of A Cappella Lido, a half-sister to three-time Grade 1 chase winner Valseur Lido.
Not only does the filly qualify for the TBA National Hunt Mare Owners' Prize Scheme, she is owned by Yorton in partnership with Maggie Luck, mother of racing broadcaster and writer Nick Luck.
Remember this little star at 10 days old? One year on, she sells @GoffsUK next Thursday - Lot 288 @YortonFarm pic.twitter.com/04U6jgUxLk

— Nick Luck (@nickluck) January 18, 2018
"She's a nice filly, a good walker, moves well and trots well," said David Futter of Yorton Farm Stud. "We're hoping she'll go down quite well tomorrow and she should be alright.
"The mare was sourced by Richard Venn, and this is her first foal. The filly qualifies for the TBA Mops Scheme, which is a fantastic incentive."
---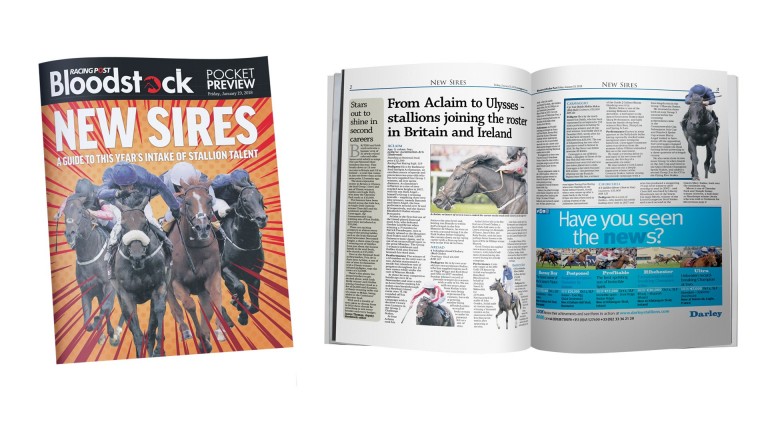 Read our in-depth guide to this year's intake on stallion talent here
The timing of the January Sale is ideal and we're delighted with the results we've achieved