Plenty more to come from Presenting, the breeding purist's sire
Martin Stevens pays tribute to a prolific source of jumps talent
If Presenting – whose death was announced on Sunday; the full tribute can be read here – had only sired Denman, one of the most revered natural jumping talents in recent decades, that would have been enough to lavish praise upon him after his passing.
But he was no one-hit wonder. Denman was the best of many exceptional performers supplied by the Glenview Stud stalwart: there was also Ballabriggs, First Lieutenant, Weapon's Amnesty and so on.
There will surely be many more to come, as well, with Presenting having covered triple-figure books up until last year.
Then there are those emerging talents from the point-to-point field in Ireland, where a young Denman first advertised his brilliance: for example Madison To Monroe and Slate House, both wide-margin winners between the flags for the sire last season, were bought by agent Tom Malone for £300,000 and £260,000 apiece at boutique sales in the spring.
This year's Cheltenham Festival allowed Presenting's latest firmly established star Yorkhill – another former winning pointer – to shine in the JLT Novices' Chase and gave a glimpse into how the sire's influence will be felt in years to come, as maternal grandsons Might Bite and Presenting Percy also notched victories.
All that success meant Presenting will have generated plenty of profit for Glenview Stud, as well as for those who bred to him or pinhooked his stock.
But this business is about more than beancounting and his death brings a lump to the throat when you consider the brass-bound bonds forged between the Cashman family and their staff at Glenview Stud during his 20 years in service for them.
For breeding purists there is also a particular poignancy and pang of nostalgia for a good old-fashioned, hard-knocking jumps sire whose progeny came with a cast-iron guarantee of staying, and who hailed from a male line – Mtoto, Busted, Crepello – so rarely seen in the stallion ranks any more.
---
What industry insiders are saying about Presenting
"Presenting was an outstanding sire. I was very lucky to have Denman, who'd have been the most prolific of his runners, in his early days.
"He just installs quality in his progeny and they look like racehorses." Adrian Maguire, trainer
"We were fortunate that he was quite close to us here. There was no year that we didn't use him. After his first couple of seasons at stud, his stock became fashionable, and they began to win, and as they matured into seven- and eight-year-olds, it was easily to see that he was producing nice stock, that were going on to make nice chasers.
"His biggest attribute was that he got tremendously good-looking stock that were very correct. In latter years, it has become very apparent that his daughters are becoming exceptional National Hunt broodmares. He's probably one of the most sought-after broodmares sires from a National Hunt point of view.
"Presenting mares are breeding real nice stock and they're selling very well. A lot of that is due to the fact that they are all good lookers as well."
Frank Motherway, Yellowford Farm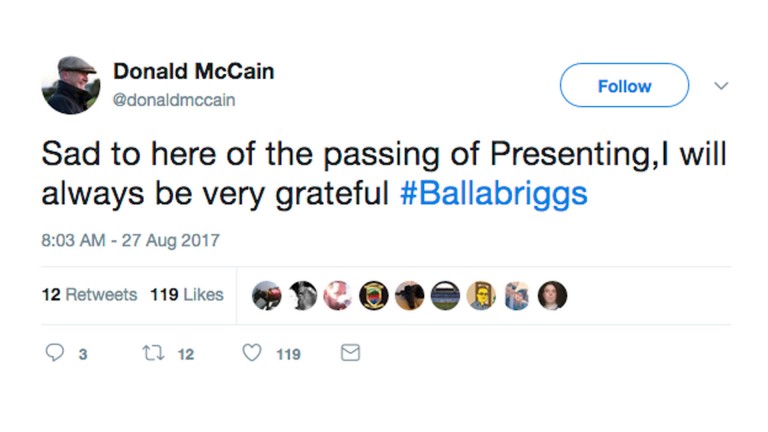 "He'll be a big loss. It's very unusual for a sire to get both sales horses and racehorses, and he was able to get both. His stock proved very popular with British buyers, as he was able to get a Cheltenham Gold Cup winner.
"He's leaving his mark with his broodmares now as well. You'll always know a foal out of a Presenting mare at the sales - they'll always be a good looker."
Peter Nolan, breeder and consignor
---
Read more...
Unusually coloured Madison To Monroe makes a splash at Aintree Sale
Five things we learned from the Cheltenham Festival this year
Then there are those emerging talents from the point-to-point field in Ireland, where a young Denman first advertised his brilliance