Opportunity knocks for buyers from the Rainbow Nation
Mark Scully on the lure of Australian bloodstock to South African buyers
Melbourne is famous for many things. Routinely voted the world's most liveable city, it boasts the magnificent MCG, plays host to the Australian Open tennis tournament and stages one of horseracing's greatest spectacles, the Melbourne Cup.
For racing professionals in South Africa, however, the city is about far more than those things. As the home of the Inglis Melbourne Premier Yearling Sale, the capital of Victoria is a rich source of Grade 1 talent and as such, Oaklands Junction is once again set to be visited by a host of South Africans this month.
With Australian buyers still, for the most part, desperate to get their hands on gun juveniles with the potential to unlock the riches of a lucrative stud career, leading players from South Africa such as Mike De Kock have been using this sale as a way of tapping into some of the world's most potent Classic-distance bloodlines, that they are often either priced out of or unable to access elsewhere.
---
Your essential guide to the Inglis Melbourne Premier Yearling Sale is available to read online now
---
Having recognised this demand, Inglis has worked hard to cater for these international visitors through the work of their South African representative, Simon Vivian.
"We like to make the South Africans feel welcome, so when they come to Melbourne they are looked after in such a way that they really enjoy themselves," said Vivian. "It's not a chore to come to this sale, they can come and relax and enjoy the company of the Australian people.
"It's become something of a party time for them, as well as a chance for them to come and find a horse that totally suits their style of racing."
Last year, 11 yearlings went the way of South African buyers for a combined spend of almost A$1.5 million. Back in 2013, A$2 million was spent on 32 yearlings, while in 2015, a remarkable A$3.8 million was shelled out on 34 youngsters.
Key to encouraging and nurturing this type of relationship with an overseas buying bench, according to Vivian, is building strong personal relationships and as a result, he and his teams have been eager to display the commitment of Inglis to racing in South Africa through regular visits to the country's major racing and sale days as part of an effort that began in earnest around 2008.
Back at home, that work continues through the selection of yearlings for the catalogue, with Inglis keen to maximise South African interest via the inclusion of yearlings that may not be considered for other sales in Australia and New Zealand.
For South African buyers, the sale represents perhaps the best opportunity to access some of the world's most potent Classic bloodlines, via stallions shuttling from Europe to Australia and New Zealand.
"The Australian market is still very dominated by the local buyers trying to buy the precocious sprinting horse," said Vivian. "The South African market is nowhere near as preoccupied with those two factors; they are far more inclined to look towards a more European style of horse. For them, the perfect horse is one that looks like being a good three-year-old at a mile and become a ten furlong horse as an older horse.
"Australia has become the absolute focus for the best European shuttle stallions. These horses are not going to shuttle to South Africa. Those same horses that are proving themselves to be successful throughout Europe are the sort of horses that appeal to the South African buyers and their best access to getting those bloodlines is to come to Australia and buy them.
"We have a lot of stallions in Australia and New Zealand who fit that bill but the Australian market has not been demanding them, whereas the South Africans love being able to get their hands on High Chaparrals or Camelots or Street Crys and these sorts of horses.
"When we go and select a Melbourne catalogue, there is a degree of emphasis placed on what will suit the South African market. So, whereas a lot of sales in Australia will say they don't want to take on Camelots or Adelaides or these sorts of horses, we will actually look to take them on because we believe they will appeal to the South African market."
This selection criteria is evident with a glance through the 2018 offering, with 43 sons or daughters of shuttler Toronado, a Group 1-winning son of High Chaparral who was at his best over a mile but was tried at ten furlongs. Adelaide has two colts and a filly catalogued, while there is representation too for other recent European stars such as Canford Cliffs, Dawn Approach and Charm Spirit.
The list of top-class performers emerging from this sale continues to grow but it is not just the pedigrees that make sense for South African buyers - the economics work too and the proof lies in the results in recent years.
The Conglomerate, the 2016 Durban July hero, was a A$160,000 purchase from the Tyreel Stud draft in 2013. Igugu, a daughter of Galileo who was crowned South Africa's Horse of the Year in 2010-11, was picked up from the Kia-Ora Stud draft in 2009 for a mere A$65,000. Alboran Sea, the champion three-year-old filly of 2014-15, was sold by Rosemont Stud in 2013 for A$105,000.
"The average price of a horse in the Melbourne sale tends to be within the scope of what they can afford to spend, given that the Rand is about ten to one and it costs around $15,000 to get a horse home," said Vivian.
He added: "It's never been massive number of horses going to South Africa, so the strike rate is quite phenomenal."
The South African landscape has been significantly altered recently, with billionaire Markus Jooste forced to close down his racing operation as he faces accountancy fraud allegations but Vivian is confident the country's presence will still be felt at the sale, despite the absence of Mayfair Speculators' money.

"Whilst we're going to miss the buying influence of Markus Jooste and his Mayfair Speculators, there are still others who will be here and we're working hard to attract as many South Africans as possible," said Vivian.
"Jehan Malherbe of Form Bloodstock, whose been coming here since 2007 and been a fabulous contributor, is already booked in. Mike De Kock, who's already trained so many of these top performers from this sale, has booked too. Hassen Adams, who came to Melbourne and bought a horse called Mac De Lago, is coming back. Louis Goosen, a trainer over there, is coming and so is The Conglomerate's trainer Joey Ramsden.
"Often, people will come one year but not the next. So you'll have a big operation, like the Mike Bass stable or the Geoff Woodruff stable who have been great supporters, who are trying to support their market in South Africa as well but we look forward to welcoming them back in future years."
---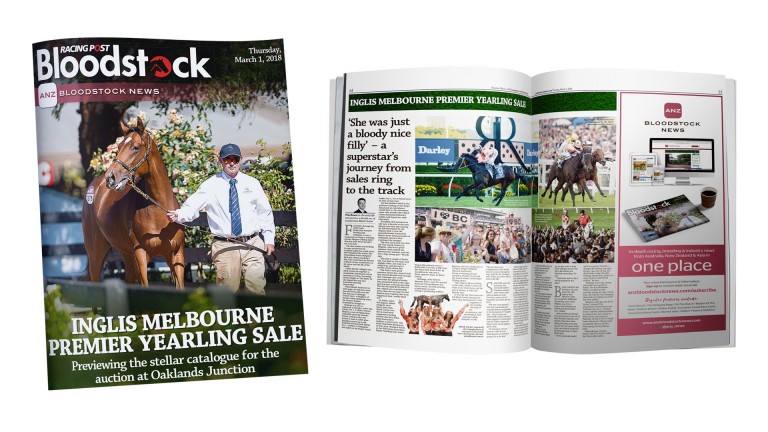 Click here to read ANZ Bloodstock News and Racing Post Bloodstock's comprehensive preview of the Melbourne Premier Yearling Sale