Opportunities could abound for Australasian breeders in Korea
Of the possible bonanzas which could unfold for the Australian and New Zealand breeding industries within the East Asian region, I would mark further expansion in Korea as the likely favourite ahead of racing opening up in mainland China, on Hainan, in the wash-up from last week's Asian Racing Conference in the South Korean capital.
The very fact that the conference was held in Seoul and its level of accompanying prestige could well aid the Korean Racing Authority (KRA) in their dealings with a government which is believed to be more sympathetic to racing than its predecessor.
The two keys would, of course, be the establishment of a turf track - a task complicated by Seoul's winter weather - and the introduction of legal online betting which could well capture some of the US$11.1 billion now bet illegally.
That subject was high on the agenda at the conference, as was the possibility of racing being developed on Hainan, China's southernmost province and island, with that province having some regulatory freedoms akin to Hong Kong or Macau.
A number of reports in the Asian press, by business and social journalists rather than racing writers in recent weeks, has tended to pour cold water on the proposition and Hong Kong Jockey Club chief executive Winfried Engelbrecht-Bresges gave an unscheduled address at the conference, suggesting that speculation should be cooled regarding racing and wagering combined on Hainan.
But recent newspaper reports have claimed that Hainan officials had begun to choose which agencies will regulate horse-racing and sports lotteries on the island. Of course, lotteries are one thing and wagering very much another.
The province's Department of Culture, Radio, Television, Publication and Sports is charged with developing racetracks and other tourism and commercial facilities, according to official media outlet China News.
You could argue there is a ray of light and there is the widely held view that the imposition of a benign tax, that is the deduction taken from a parimutuel betting pool, will eventually override any other concerns any government might have.
Hainan is already set up as a tourist destination but now, only three per cent are international visitors. Plans are afoot to increase that significantly by 2020. There is a Hainan Equestrian Association and there is a belief that China wants to 'open up' Hainan like Hong Kong.
It might happen, but it won't happen overnight is the obvious conclusion.
It is probably a similar outlook in Korea in terms of a turf track but a compelling presentation from Korean criminologist and statistician Changhun Lee on illegal betting in the republic could possibly fast track a return to legal online betting. This would see huge sums channelled from the illegal betting markets, he argued.
Korean racing continues to grow, as outlined last week, and given that the conference brought together such a diverse array of racing nations, it will be interesting to see whether that brings about a positive impact on the KRA's two imminent international races, scheduled for September 9.
The flagship race, the Keeneland Korea Cup over 1800 metres for three-year-olds and upwards, does carry a not insignificant US$900,000 in total prize money. It's supported by the Keeneland Korea Sprint over 1200m with a purse of US$645,000.
The races, introduced in 2016, and their accompanying prize-money have attracted excellent competition - notably and unsurprisingly from Japan and Hong Kong.
They badge the burgeoning status of racing in the Republic of Korea, which is still on an upward spiral. And it will explode further if online betting is re-introduced, given the estimated size of the illegal market.
That might not only see an advance in prize-money and an increase on the 192 race meetings conducted there in 2017, especially if that mooted turf track is introduced, but also - long term - provide the aforementioned stimulus for Australian and New Zealand sellers and see a gradual increase in the quality and quantity of foals bred domestically (1361 foals produced in 2017) which would again drive further development.
Mike Kneebone, New Zealand Bloodstock (NZB) director of business development, concedes that New Zealand's market share is currently minimal but says NZB is well aware of the potential for growth.
"There's two main factors restricting us now," Kneebone said. "The first is the cost of freighting horses to South Korea from both New Zealand and Australia. We are working on this with airlines at present.
"The main issue however is the lack of a turf track, in my opinion. We know our horses can race on other surfaces as proven in countries like Hong Kong and Singapore but to get a foothold in Korea and showcase our thoroughbred to local owners and trainers a turf track would make a world of difference.
"NZB has Robin Lee representing us in Korea. He is well known in the industry and also operates an animal import business so we are buoyed by his enthusiasm for the industry and support he receives at club levels.
"We have been canvassing for business in South Korea for many years and followed their growth with great interest more recently. They have always had big crowds.
"The potential for the country to develop into a serious international player is very real. They have a raw product ripe for going to the next level."
---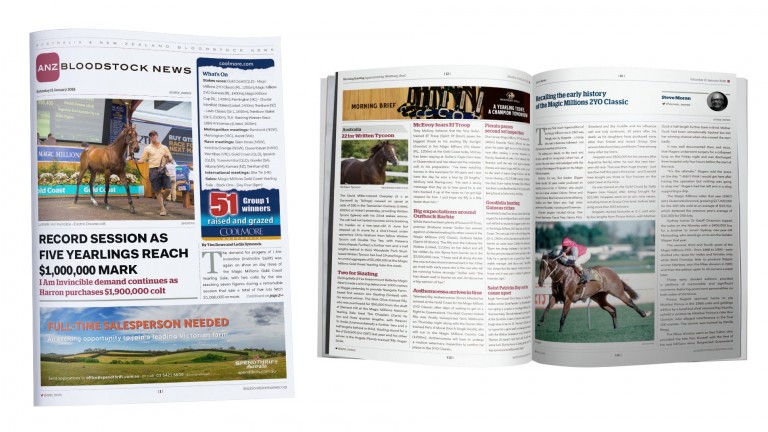 For complete coverage of racing and bloodstock in Australia and New Zealand, download ANZ Bloodstock News every day
The potential for the country to develop into a serious international player is very real. They have a raw product ripe for going to the next level