One simple ambition for idyllic Two Bays Farm
Jack Keene talks to Rob Carlile as the operation prepares its draft
Nestled among a collection of wineries on the fertile soils of the Mornington peninsula, the boutique thoroughbred nursery at Two Bays Farm has quickly grown into an established and well-respected breeding operation during its short history.
The farm is around six years old, and next month it will send its fourth draft to the Inglis Melbourne Premier Yearling Sale with the goal of continuing on its upward trajectory.
In 2015, three of Two Bays' four yearlings sold at the Premier Sale for an aggregate of A$180,000 and the growth continued into the following year's sale, when a trio of youngsters cleared the A$100,000 barrier. In March last year, the farm sold its first A$200,000 yearling.
---
Your essential guide to the Inglis Melbourne Premier Yearling Sale is available to read online now
---
Rob Carlile has been manager at Two Bays Farm for three years, and he believes the pastures just outside Flinders make for an idyllic location to house broodmares and rear yearlings.
"We are in a prime spot for growing out horses with fertile soil. We have everything to cater for horses from foaling, to weaning and yearling preparation all the way through to being able to spell horses in big paddocks with their mates trying to get back to nature," Carlile said.
"Our ambition is simple - to try and breed great racehorses who are tough, durable and fast. We want the best outcome for all, whether that be horses we sell and thus our brand, or people's horses who come through us, out there and winning races."
Two Bays Farm will also prepare yearlings on behalf of Makybe Breeding and Racing for the Melbourne Premier Sale, a significant fillip for the burgeoning operation.
"It has been a great boost for the farm being able to prepare Makybe Breeding and Racing yearlings this year for Melbourne Premier. To be entrusted with their horses so early on in our young life as farm is a big thrill and honour," Carlile said.
As for this year's draft, Carlile believes it is the best offering the farm has yet taken to Oaklands Junction for the four-day sale.
Central to the draft are four yearlings by Widden Stud-Woodside Park stallion Zoustar, who currently sits atop the first seasons sires standings in Australia by earnings following the exploits in the Magic Millions 2YO Classic of his brilliant two-year-old daughter Sunlight.
Two Bays will offer three fillies by Zoustar and one colt as part of an 11-strong draft, and Carlile will be hoping the popularity of the stallion's progeny will continue into the sale, with a four of his yearlings at the Magic Millions Gold Coast making more than A$500,000 and another going for A$340,000 at the Inglis Classic Yearling Sale.
"It would definitely be the strongest draft I have taken to Melbourne for the Premier sale, both on page and on type," he said.
"For a second season stallion (Zoustar) to have the sale results he is currently receiving is quite something. It has been a long time since a stallion has seen his yearlings sell so well in just his second year."
Among the yearlings on offer by Zoustar is Lot 469, a 22 October-born filly who is the fifth foal out of the unraced American-bred mare Lady Lightning.
The mare is a half-sister to the former champion American two-year-old Stevie Wonderboy, winner of the 2005 Breeders' Cup Juvenile at Belmont Park, and Theyskens' Theory, who won at Group 3 level in Britain and was Grade 1-placed in the USA.
This is also the family of champion American turf horse Big Blue Kitten, dual Grade 2 winner Fair Judgment and Grade 3 winner Ailalea, and Carlile said the filly has the physical attributes to go along with her appealing page.
"She is a very athletic filly, a great physical type and quite typical of the Zoustars," Carlile said.
There is plenty of variety in the Two Bays draft, with Snitzel, I Am Invincible and Not A Single Doubt among the established stallions represented, while there is also a colt each for young stallions Eurozone and Shooting To Win.
The Eurozone colt is catalogued as Lot 544 and is the 11th foal out of the dual Grade 1-winning South African champion Mythical Play, while his second dam Kate's Myth was a champion three-year-old filly in New Zealand.
Meanwhile, the Shooting To Win colt, catalogued as Lot 232 is the second foal out of a half-sister to the stakes winner Chic Choice from the family of Group 1 winners Cosmic Endeavour, Easy Rocking (Barathea) and Fairy King Prawn.
"Zoustar makes up a third of our draft with three fillies and colt, but we have a few by young stallions. The Shooting To Win is a nice horse, and so is the Eurozone, he is a very nice colt," Carlile said.
As has been the case at the sales so far this year, Carlile is hoping the infatuation with yearlings by I Am Invincible continues, while he is also banking on the progeny of Arrowfield-based stallions Not A Single Doubt and Snitzel proving popular.
The Two Bays Farm filly by I Am Invincible is catalogued as Lot 303 and is the third foal out of the stakes-winning and Group 2-placed sprinter Choice Words.
The Not A Single Doubt filly (Lot 436) is out of a half-sister Rosehill Guineas runner-up Oh Oklahoma, while the Snitzel colt (Lot 206) is the first foal out of a half-sister to Group Two winner Soapy Danger.
"Sales-wise, obviously I Am Invincible, Not A Single Doubt and Snitzel are probably the ones that everyone will look too, their results are always strong and we are hoping that will continue at Premier," Carlile said.
"We have a diverse draft though, with a Stryker and an All Too Hard. There is something for everyone."
---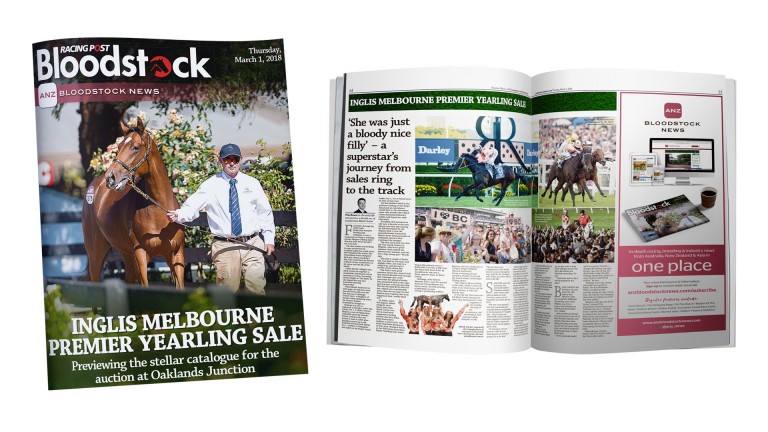 Click here to read ANZ Bloodstock News and Racing Post Bloodstock's comprehensive preview of the Melbourne Premier Yearling Sale
Our ambition is simple - to try and breed great racehorses who are tough, durable and fast. We want the best outcome for all