No time to waste on whirlwind tour of France's new stallion intake
Almanzor and Wings Of Eagles among Normandy newcomers
With the arrival of a new wave of stallions, unprecedented in both quality and quantity, the 2018 Route des Etalons promised to be an unmissable event.
Despite two days when the rain only ever relented for short spells, the tour proved an irresistible draw for breeders, media and enthusiasts alike, with the new names in Normandy understandably in demand.
Straight to Almanzor
Tucked a couple of miles inland from Omaha Beach, Haras d'Etreham is situated well to the west of the majority of studs in Calvados that open their doors.
But with the newly-retired Almanzor now standing alongside his sire, Wootton Bassett, plenty made the hour and a quarter drive out from Deauville their first priority.
Etreham's Nicolas de Chambure was keen to stress that both stallions will have their numbers limited, with Almanzor capped at 140 covers and Wootton Bassett being conserved at 130.
Almanzor hadn't been seen in public since August and he is already well advanced on the physical journey from racehorse to stallion.
The power of five at Bouquetot
If one farm in Normandy can be said to have embraced the 'spirit of '18' then in must be Al Shaqab's French stallion station, which welcomes four newly-retired horses in Al Wukair, Brametot, Ectot and Zelazal, as well as Toronado, who moves across after three years at the National Stud in Newmarket.
There was also plenty of interest in Shalaa, whose first crop is due on the ground this foaling season, including the second foal from Treve, who is expected to deliver on March 3 according to Bouquetot.
Great expectations for Attendu
Hours before news broke of her impending retirement as one of Europe's foremost post-war trainers, Criquette Head-Maarek was as animated and engaging as ever in hosting visitors to Haras du Quesnay, where four stallions were on show.
2005 Derby hero Motivator and Youmzain ensure Le Quesnay offer plenty for the breeder who dreams of middle distance success but the farm have invested more recently in stallions which hark back to the days of Anabaa and should be more of an influence for speed.
A full-brother to Goldikova, Anodin was a pure miler when trained by Freddy Head and produced some excellent performances in defeat at Group 1 level, notably behind Kingman in the Prix Jacques le Marois and Karakontie in the Breeders' Cup Mile.
Anodin's owners, Wertheimer et Frere, have this year retired another well-bred horse to Le Quesnay in Attendu, an imposing son of Acclamation who drew admiring looks when shown through the course of the weekend.
"The open day is very important for us this year because, while people know Anodin and the others, Attendu is a new discovery for most of our visitors," said Le Quesnay director, Vincent Rimaud. "We are very happy because everybody has liked him physically and he really carries the stamp of Acclamation. People knew he had an interesting pedigree on both sides - his dam has produced four black type performers and was very smart herself at two - and now they have seen for themselves, we have had nothing but positive responses."
Zarak fully booked for his first season
An interested visitor to Le Quesnay on Sunday morning was Georges Rimaud, elder brother of Vincent and director of the Aga Khan Studs in France.
Rimaud had been flat out on Saturday welcoming nearly 500 people to the Haras de Bonneval, where Zarkava's first racing progeny Zarak has recently joined the roster.
"Zarak is full up at 140 covers booked," said Rimaud on Sunday. "I've had a few calls this morning and I have had to turn people away."
The Grand Prix de Saint-Cloud winner joined Siyouni, Charm Spirit and Dariyan in front of the crowds on Saturday - Bonneval's only day open to the public - and it's likely that those who already have a nomination to the son of Dubawi were pleased with what they saw.
The syndicated Dariyan also continues to prove popular and is likely to at least match the 90 plus covers from his first season.
Dariyan had his first foal on the ground on the eve of the Route des Etalons while Vazirabad's dam Visorama is carrying to the son of Shamardal.
Montaigu's Derby dream a reality with Wings Of Eagles
We started with a Classic winner on Saturday morning in Almanzor and the tour came to a fine conclusion down in the Orne Valley at Haras de Montaigu, where Derby winner Wings Of Eagles has returned to the farm where he was bred.
While his stablemates - Prince Of Gibraltar, Literato, No Risk At All, Night Wish and Martaline - were all kept busy enough, it was with evident pride that Gilles and Aliette Forien showed off Wings Of Eagles as often as they could, frequently twice in the same session.
"He's been out around 50 times over the course of the weekend but he has handled it brilliantly," said Gilles Forien. "And who wouldn't want to see him? He has the model and the presence."
Wings Of Eagles certainly lived up to Forien's billing and proved completely unmoved by various encouragements to look in a certain direction, ignoring the whistling of Coolmore's Mathieu Legars and even an imitation duck call employed by photographer Zuzanna Lupa.
Montaigu will send six of their best mares to the son of Pour Moi, while Coolmore - who retain sole ownership of Wings Of Eagles - are pledged to fully support the horse, whether that might be in terms of mares or in the sales ring.
---
Three more freshman sires caught by the Racing Post cameras
Patrick Chedeville's Haras du Petit Tellier landed quite a coup in securing the 2013 Prix du Jockey Club and Irish Champion Stakes winner for his first season at stud. He joins Elvstroem (Danehill) and Meshaheer (Nureyev)
Now minus his antipodean prefix of "Our," Ivanhowe is one of three new arrivals at the Riva family's Haras du Thenney. A four-time Group 1 winner in Germany and Australia, the son of Soldier Hollow is joined in the line-up by 2011 Jockey Club winner Reliable Man and Dar Re Mi's son De Treville.
Darley's Haras du Logis welcomes the 2015 Prix Jean-Luc Lagardere winner, who will join his sire Manduro. One of three new stallions in Normandy this year trained during their racing career by Andre Fabre (De Treville, Al Wukair).
---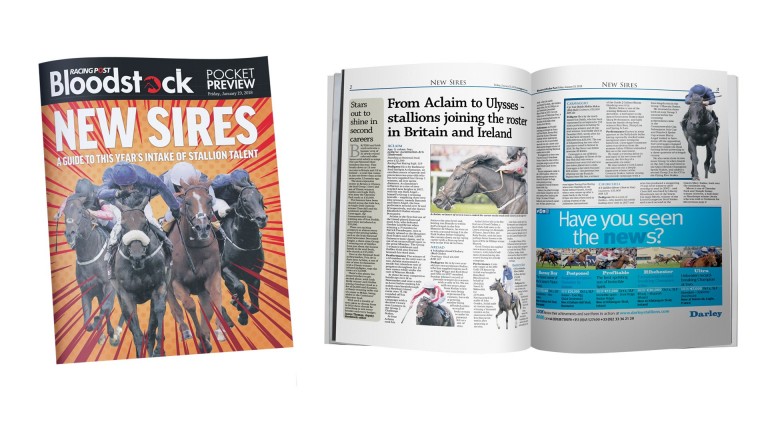 Read our in-depth guide to this year's intake on stallion talent here
People knew he had an interesting pedigree on both sides and now they have seen for themselves, we have had nothing but positive responses