No Nay Never leads way among 2018's crop of first-season sires
James Thomas assesses the performance of this year's flying freshmen
A minefield of information awaits anyone hoping to analyse stallion performance, an endeavour that can be even more problematic when there is limited evidence at hand, as is the case when scrutinising the achievements of first-season sires.
It is progeny earnings that determine who will be crowned champion first-season sire, or number of winners for betting purposes. But if the ultimate goal is to assess the quality of a sire's progeny, neither prize-money nor quantity of winners taken in isolation will prove a reliable guide when dealing with a relatively small sample size.
---
View all Racing Post sire stats
---
The Racing Post compiles its own individual performance ratings (RPRs) for each and every race run in Britain and Ireland, and these figures can be an illuminating tool in uncovering which sires really are firing on all cylinders.
The accompanying table highlights the average and median progeny RPRs for the sires who occupy the top ten slots by number of winners in Britain and Ireland, figures that help to flesh out the facts behind the bare number of winners.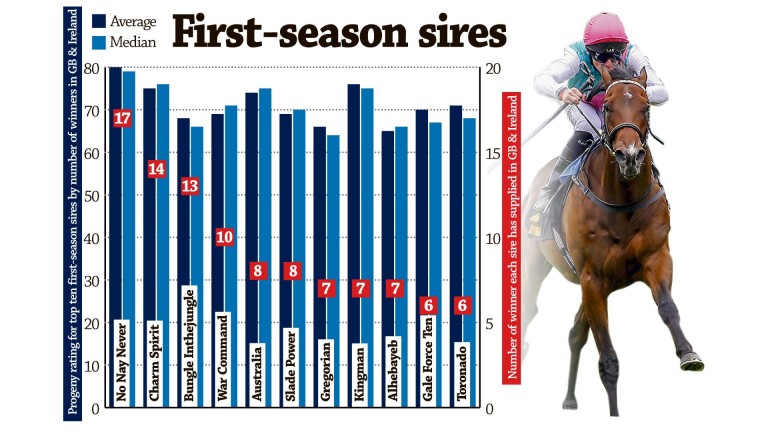 There is strength in depth to this year's intake of freshman sires, but, at this stage, four stallions in particular are proving the most eyecatching.
Leading the way by just about every measure available is Coolmore's No Nay Never. The son of Scat Daddy has not only supplied 17 British and Irish winners at a clip of 50 per cent, but there has also been enough quality among his runners to push him clear by both average and median progeny RPRs, with figures of 80 and 79 respectively.
He has supplied five runners with an RPR of 100 or over, headed by the hugely exciting Ten Sovereigns, who earned a mark of 113 for pulverising the opposition in the Group 3 Round Tower Stakes by three and three-quarter lengths.
No Nay Never's exploits come as no great surprise, given that his own juvenile campaign included sensational wins in the Norfolk Stakes and Prix Morny. Nevertheless, the depth of his achievements at stud thus far should not be underestimated, particularly as they place him in pole position as the search for an heir to his own late sire continues.
Sitting in second by average progeny RPR is Juddmonte's Kingman, a son of Invincible Spirit whose debut crop has yielded seven winners in Britain and Ireland, including three who have struck at stakes level.
That trio are headed by the brilliant and unbeaten Calyx, who had his season cut cruelly short after slamming subsequent Group 1 winner Advertise in the Coventry Stakes at Royal Ascot. He achieved an RPR of 116 for that performance, a figure that is yet to be bettered by the offspring of any first-season sire this year.
Kingman landed four Group 1s during his own racing career, all of which came at three, so while he was a high-class juvenile himself it is reasonable to assume that, should his progeny take after their sire, there will be many more winners to come.
Hot on Kingman's tail is another son of Invincible Spirit in Charm Spirit. The progeny of the Tweenhills Stud and Haras de Bonneval-based sire have achieved an average RPR of 75, just one pound behind Kingman, while his median progeny rating of 76 is, in fact, one pound ahead of Kingman's figure of 75.
Charm Spirit may lack a stand-out performer like Ten Sovereigns or Calyx, but he has supplied two runners with a peak RPR of more than 100, namely Yourtimeisnow, who became her sire's first Pattern scorer when landing the Group 3 Dick Poole Fillies' Stakes, and the July Stakes-placed Charming Kid.
Australia is also impressing with his numbers, particularly so given that, on both pedigree and type, his juveniles look nailed on to show significant progress from two to three.
Moreover, as these figures only take into account races from Britain and Ireland, the rating of his leading performer - three-length Group 2 Prix du Calvados winner Beyond Reason, who is on a mark of 107 - has not been factored in.
Away from the top ten by winners, former reverse shuttle sire Kuroshio continues to impress. Despite covering a modest book at a fee of just £3,500 his progeny have achieved average and median RPRs of 70 respectively.
By virtue of having supplied enough winners to figure in the top ten at this stage of the season, each of the stallions mentioned in the graphic above have proved they have something to recommend them going forward.
However, class will always out and, for the time being at least, is it hard not to be taken with the exploits of No Nay Never, Kingman, Charm Spirit and Australia.
It will be fascinating to see how far each can go, and which other members of the class of 2018 will emerge as serious stallion talents.
---
If you enjoyed this story you may also be interested in...
Nothing hidden about the talent of Scat Daddy's latest juvenile winner
Kingman supplies a third stakes winner with smart Sangarius
Mark Johnston reveals his methods of sourcing a record number of winners
No Nay Never's exploits come as no great surprise, given that his own two-year-old campaign included wins in Norfolk Stakes and the Prix Morny