Music Magnate to take Bjorn Baker on Dubai adventure in the Al Quoz Sprint
The New Zealand-bred sprinter aiming to strike for the southern hemisphere
The conscious decision to tackle Dubai's Al Quoz Sprint first-up with Music Magnate is based on a mix of sound ingredients - the gelding's excellent fresh record; his preference for good to firm ground; a purse of around $1,270,000 and the great record of Australian-trained sprinters in the race.
Stir in some encouragement from Robert Heathcote, who won the race two years ago with Buffering, and the recipe's looking good for the Bjorn Baker-trained gelding.
The subconscious seed, however, may well have been planted in 2007 when Baker had what he describes as a "weekend away" in Dubai for the World Cup meeting.
"I was living in Ireland and virtually had a long weekend in Dubai. The Kiwi-bred Vengeance Of Rain won the Sheema [Classic] and Invasor won the World Cup," Baker said.
That was also the year that Tony Noonan trail-blazed an assault on the lead-up races in Dubai and came away with three wins with Benedetti and Smart And Mighty and perhaps the sun and the moon are aligning in Baker's quest.
At the time, Baker was working in Ireland for legendary trainer John Oxx just as Noonan's former assistant Nick Cox had done a couple of years earlier. And it was Noonan's one-time stable jockey Nash Rawiller who scored Australia's breakthrough win in the Emirate aboard the Tony Vasil-trained Elvstroem in the 2005 Dubai Duty Free [now Dubai Turf].
Noonan's winners, Elvstroem and Buffering, remain Australia's only Dubai winners aside, of course, from Paul Messara's success with Ortensia who was formerly trained by Noonan.
Ortensia won the Al Quoz Sprint in 2012, four years before Buffering's success. Australia's only other runner has been Grahame Begg's All Silent who finished fifth, beaten two and three quarter lengths, in 2010 so the Australian strike rate is excellent.
It's therefore surprising that so few Australian trainers have been tempted but interesting nonetheless that Baker takes up the challenge. Like Heathcote and Noonan, he had another career (pharmacy) before taking up training; he has a keen sense of adventure and has great people skills to complement his training acumen.
"I'm very much looking forward to it. I spoke to Rob [Heathcote] at some length and he assured me it would be a great experience. He pointed out that Buffering was coming to the end of his career and was still able to win it so we take heart from that. It's generally a winnable race.
"Rob was great with his time and has given me a few pointers about what to do when we get there," Baker said.
Music Magnate, who departs on Tuesday, may be a six-year-old but has raced just 20 times (for nine wins) and four of the past six Al Quoz winners have been six or older.
"Everything's gone to plan so far. This horse is best when he's fresh so we try to pick and choose his marks carefully. He's best on firm ground and we're virtually assured of that over there whereas the autumn weather is so variable here in Sydney," he said.
"He's going there in good order and really the key is just to keep him fit and happy. I think he'll cope with the travel and while he's unknown down a straight course, I doubt that will worry him.
"He can travel strongly and that might give him an edge over some of the Europeans who tend to settle well back in these sprint races," Baker said.
International success would certainly be another feather in the cap for Murray Baker's son who has entrenched himself in the top half-dozen trainers in the highly competitive New South Wales arena after just seven seasons of training in his own right.
Music Magnate will be joined in the Al Quoz Sprint by Illustrious Lad and Faatinah who each boast good straight form. A final decision has not yet been made with Newmarket Handicap fifth Supido.
Trainer Michael Kent is investigating the possibility of Supido advancing from Dubai to England for the King's Stand Stakes at Royal Ascot. "The problem with heading home is that after three weeks of quarantine in Dubai, the horses then have to spend two weeks at the Mickleham centre in Melbourne where they can't be exercised.
"So we have to weigh up whether we go to Dubai which may mean only one more run for the campaign pending any interest or otherwise from Ascot or whether we stay home where there's multiple options including the William Reid, The Galaxy and The Goodwood amongst others," Kent said.
---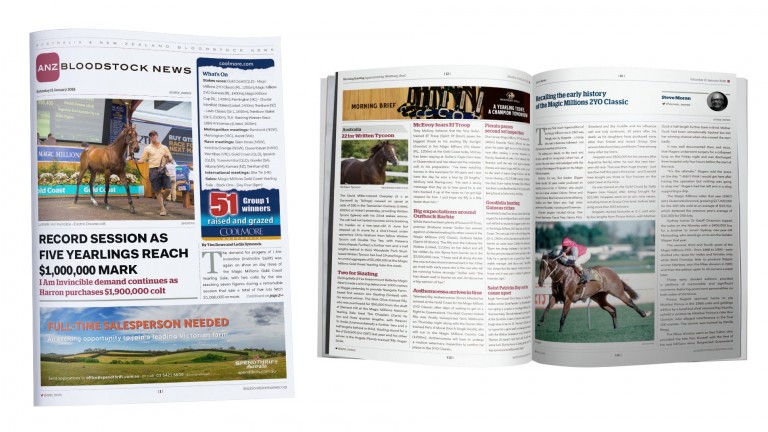 For complete coverage of racing and bloodstock in Australia and New Zealand, download ANZ Bloodstock News every day
He can travel strongly and that might give him an edge over some of the Europeans