Mark Webster to end 11-year tenure as Inglis chief executive
Riverside Stables the lasting legacy of his time with auction house
Mark Webster is to step down as the chief executive of Inglis following 11 years at the helm, the company's chairman John Coates announced on Friday.
Webster, who was appointed as the lead director of Inglis in 2007, will cease to be a full-time executive after Christmas and will undertake more non-executive board roles alongside consultancy work, while he is already a non-executive director at Australian Securities Exchange-listed company Salmat.
During his time as head of Inglis, Webster oversaw the most successful sale in the company's history in the 2008 Australian Easter Yearling Sale, when book one achieved a gross of $140,885,000, alongside the relocation of Inglis' main sales venue from Newmarket in Sydney to the state-of-the-art Riverside Stables.
The decision to step aside is one that Webster has pondered at some length, and he said yesterday that he felt the time was now right to pursue a new challenge following the conclusion of the inaugural sales season at Riverside.
"It is obviously a big decision and I have been thinking about it for some time, when the time would be right to move to a non-executive career," Webster told ANZ Bloodstock News.
"I needed to focus on the Riverside project and establish that and get through the first selling season before I could consider it.
"When the selling season came to an end I gave it more consideration and decided that I should step down. I had a requirement to give the board at least six months notice, so in giving them eight months it allows them plenty of time to identify a new CEO."
Looking back on his time at Inglis, Webster identified the construction of the new Riverside sales complex at Warwick Farm as his defining achievement, with the first Australian Easter Yearling Sale to be staged at the venue achieving excellent results to become the second-best sale in Inglis's history.
However, he also pointed to the launch of the Inglis digital online auction as a significant moment for the company, and he feels the executive team at Inglis have all contributed to its recent success.
"That would be my main legacy, the relocation to Riverside," said Webster. "I started that project nine years ago. I put it to the board at a strategy session that we should consider relocating and it took a while for everyone to come on board with that idea, both internally and externally.
"There were still a lot of doubters about Riverside until the last six months, when people could see it and touch it and attended the sales and enjoyed the whole experience. People like Angus Gold and others came down and thought it was wonderful and enjoyed every minute, so that is very satisfying.
"Leaving that aside, the digital space and taking a leadership role in the digital world with online sales and the use of online technology and online bidding.
"There are a whole range of things that I am proud of, with one key thing being the quality of people we have in the company now.
"I feel I can leave and hand over the reins because we have got such a strong executive team who have all contributed to make our success happen."
Webster's tenure as chief executive has not come without its challenges, with the equine influenza outbreak in 2007 in his first year in the role followed soon after by the global financial crisis of 2008.
However, he has no regrets from his time in charge and believes that he will leave Inglis in December in the best possible shape for his successor.
"It has been an interesting time. In my first year we had the equine influenza breakout, which shut down the whole industry, and in my second year we had the global financial crisis, so there having been some challenging times but nothing that I could have changed," he said.
"There is always scope for improvement and not everything we have done has worked out perfectly.
"It is a very competitive landscape we operate in, both in Australia and globally, and I will be leaving at the end of the year knowing that the company is in very good shape, for the next 100 years or so I would think."
---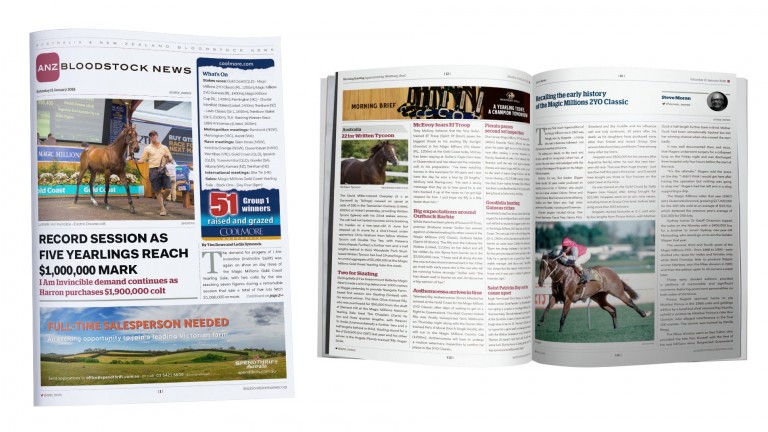 For complete coverage of racing and bloodstock in Australia and New Zealand, download ANZ Bloodstock News every day
I feel I can leave and hand over the reins because we have got such a strong executive team who have all contributed to make our success happen