'I wouldn't swap any of our stallions as this is a long game'
Industry figures tell us how they are managing in self-isolation
Yorton Farm's David Futter tells us how he is managing – both personally and professionally – with the Europe-wide lockdown to slow the spread of the coronavirus
How is life ticking over for you at the moment, how has life changed due to Covid-19 and lockdown?
When the lockdown started we, like most stud farms, were well into the stud season. We're now in the tenth week and the day-to-day running of the farm has continued as near normal as we can, apart from some of the restrictions that have been put in place.
We're lucky to have a very good team here at Yorton and I'm immensely proud and grateful to everyone who has helped keep the show on the road. I'm also fortunate to have my partner Birte who is our in house vet and my two sons Lester and Riley working with me seven days a week.
Riley flew back from Australia two days before the lockdown started and I think he must have brought the weather back with him, the warm sunny period we have all had during this lockdown has certainly made it more bearable.

What measures have you brought in on the stud to deal with the coronavirus and lockdown?
We have simply followed the guidelines that were swiftly put in place by the Thoroughbred Breeders' Association (TBA). I don't think as breeders we should forget what a huge part the TBA played in helping us move forward and keep the breeding season on track.
I would urge anyone who breeds thoroughbreds and is not a member of the TBA to please join them and give them your support.
Are you or your clients covering any fewer mares this year because of an expected downturn in the market?

We have around 60 to 70 mares on the farm, either of our own or with partners, and the Potter family would have another 30 mares. All of these, if possible, will be covered.
I think some of the breeders have not covered their mares but on the whole I would say most of the larger breeders are carrying on.
What's your view on online sales, if they had to happen in Europe this year?
We only sell National Hunt horses so I wouldn't be the right person to comment on the Flat breeze-ups, but I do think it's great to see the sales companies working together.
Regarding the three-year-old National Hunt store sales, it may be more difficult to sell on an online platform but we are going to have to work within the parameters we are allowed.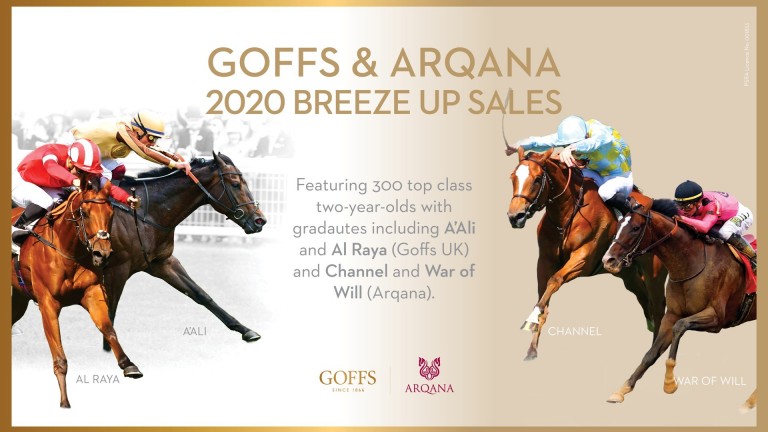 The Yorton Sale had its first winning graduate recently, could you tell us a little bit about that? Is there any news on this year's renewal of the sale?
We were delighted with the success of our first sale at Yorton and the support it was given by trainers, owners and pinhookers from Ireland, France and the UK.
We were very grateful to Gabriel Leenders who came over from France and bought three two-year-olds from the sale, one by Masterstroke called Paros who won first time out last Friday at Dieppe and looks great value now at £22,000.
The team at Yorton couldn't be more delighted with the result, to have our first winner so soon after the sale. The whole concept of the sale is to show that if we start of our National Hunt horses as two-year-olds, it's of benefit for them in the long term and some will be able to race and win as three-year-olds.
We're planning to hold our sale in September this year. We will have around 50 yearlings and two-year-olds to offer. They will, as last year, all be videoed walking and loose jumping and photographed.
Yorton with our partners Goffs UK wants to make a sale in a relaxed an pleasant setting and one of the concepts of this sale is to give an opportunity for trainers to bring their owners to a proven stud farm that has selected a group of young horses with the potential to go on and win races at reasonable prices.
Easysland put Gentlewave's name up in lights when winning at the Cheltenham Festival, did that success result in an upturn in bookings?
Seeing Easysland win at Cheltenham gave us all great pleasure. Not only do we stand Gentlewave at Yorton but we bought Easysland as a three-year-old store. He had been broken in as a two-year-old, which I think may have put some buyers off him.
We liked him, he was by our stallion and we always like to try and support the stallions we stand, so we thought we would have a go at buying him and to our surprise we got him for €20,000. David Cottin was at the sale, asked if he could have a share and I'm glad he did.
David and his team did a great job of producing him, and seeing him win at Cheltenham in the colours of his new owner, JP McManus, and still being trained by David gave us immense satisfaction.
I'm sure it has helped Gentlewave this year and his oldest British-bred stock are four so hopefully there will be some more winners to come this winter.
How have you found launching your new stallions Linda's Lad, Masterstroke and Scalo in the current circumstances?
It probably wasn't the best decision I've made trying to launch three new stallions this particular year, but I wouldn't swap any of our stallions as this is a long game we are in. It's all been great character building.
What's your best guess on what will happen to the market this year, and how long it will take to recover?
I don't think anyone really knows what will happen to the market this year but one thing is for sure, and that's the sooner we're allowed to start trading the sooner we will all start to recover.

Do you think there will be any positives to come out of the crisis eventually?
After what we have all been through and are still going through I'm sure we will all have learnt a lot, and I hope as an industry we can start working together towards a full recovery as quickly as we can.
Any film, TV or book recommendations to share to get through quarantine?
I have started watching Money Heist on Netflix. It's very good but taking up far too much of my time!
---
Read more Life in Lockdown Q&As with industry figures
Cathy Grassick: 'I think this cap will have the opposite effect on many successful stallions'
Eamonn Reilly: 'It's a busy household as my wife is working on the frontline'
Julian Dollar: 'A standout foal would be the Dubawi half-sister to Waldgeist'
Oliver St Lawrence: 'Stallion masters will have to look at dropping fees'
Ian Bradbury: 'I'm fortunate to have a young, enthusiastic and talented team'
Mathilde Texier: 'Curbs on travel are greatly limiting the scope of my work'
Richard Knight: 'It's been great to see the sales companies work together'
Tony Fry: 'Would I buy a horse over the internet? I must admit I wouldn't'
Ed Harper: 'Our stud secretary says clients have never been so organised'
Adrian O'Brien: 'There are plenty of reasons to maintain a spring in the step'
Billy Jackson Stops: 'The buying bench is going to be heavily depleted'
Alex Elliott: 'Cooking and cycling were two things I never thought I could do'
Joey Cullen: 'Racing has the chance to showcase itself to a captive audience'
Claire Sheppard: 'The TBA had to move quickly to save the covering season'
Tomas Janda: 'Lower prices could encourage new buyers to get involved'
Matt Hall: 'Films are a waste of time – I watch festival replays instead'
Tom Goff: 'I've painted two garden seats. God, I sound so middle-aged!'
Simon Sweeting: 'Rightly or wrongly I'm having all my mares covered'
Richard Kent: 'Stud fees and sales house charges will have to come down'
Philippa Mains: 'The industry is a family and we help each other out'
Claire Goodwillie: 'People have realised if you're not online you're invisible'
Tina Rau: 'I'm enjoying post-dinner quarantinis with friends over video call'
Daniel Creighton: 'The market will recover – the only question is when'
Ed Player: 'We're happy to move with the times and embrace online trading'
Patrick Sells: 'Chasemore Farm is effectively operating in a bubble'
Chad Schumer: 'Racing in the US being cancelled is the biggest frustration'
Tom Blain: 'Trade will be down but all we can do is roll with the punches'
Ted Voute: 'We'll need to strengthen the way we showcase young stock'
Simon Kerins: 'We'll embrace any format that will help get horses sold'
Barry Lynch: 'The industry has often bounced back as quickly as it dipped'
Tim Lane: 'Working with horses does you the world of good in these times'
Jerry Horan: 'My sister butchered my haircut. I think it was payback'
Violet Hesketh and Mimi Wadham: 'Social distancing isn't hard - just lonely!'
Henry Beeby: 'Nick Nugent and I have entered a beard growing competition'
Charles O'Neill: 'ITM will be ready to go when the markets open up again'
Freddy Powell: 'We're improving our online sale platform in case it's needed'
Bumble Mitchell: 'Online sales could be tricky for outlying studs like mine'
David Stack: 'I had to give a garda a lesson about the birds and the bees'
Colm Sharkey: 'I've been torturing myself trying to sort out my golf swing'
Rachael Gowland: 'I didn't realise how much I loved racing until I couldn't go'
Sam Hoskins: 'I've been listening to endless Cold War podcasts on my tractor'
Niamh Spiller: 'Video calls are very important to keep everyone motivated'
Jamie Lloyd: 'Staff have had all their own gear labelled, even wheelbarrows'
Micheál Orlandi: 'The stallions are flying and that gives me great hope'
Richard Venn: 'The French are in a good position to get back racing sooner'
Tim Kent: 'It's difficult to plan when we don't know when racing will resume'
Russell Ferris: 'Weatherbys had contingency plans that we activated at once'
Grant and Tom Pritchard-Gordon: 'Inglis Easter has kept us busy since January'
Peter Hockenhull: 'The social side of meeting and chatting to breeders is gone'
Polly Bonnor: 'We've fulfilled every feed order, including all our exports'
Richard Lancaster: 'We're fortunate that some Shadwell staff live on site'
It probably wasn't the best decision I've made trying to launch three new stallions this particular year