'Le Stallion Man' talks tricks of the trade and why France is booming
Martin Stevens meets Richard Venn after a remarkably busy year of deal making
You must have broken all records for the number of stallion deals completed ahead of the next breeding season. How many has it been so far and who are they?
I don't know about breaking any records, but it was a busy year. I managed to put together 16 stallion deals, the majority of which were in France, where I introduced nine new stallions (Berkshire, Castle Du Berlais, The Grey Gatsby, Elm Park, Estejo, Johnny Barnes, Recorder and Storm The Stars) and relocated Papal Bull.
I was also involved with getting Paco Boy (together with Edward Daly) sold to Turkey, Multiplex (with Jake Warren) to Bahrain, two to South Africa (Wings Of Desire and Lord Of The Land), Dragon Dancer back to the UK and one deal that isn't quite finished, but you should be hearing about that in the next few days.
How does a stallion deal start? Do you offer horses you know are for sale to other studs on spec? Does a stud give you a mission to find a horse?
It can work in a variety of ways. I tend to keep a close eye on what is happening on the racecourse and on the farms. I keep in touch with the major players to see what might be available and sometimes I will get specific requests from some of the farms I work closely with. It seems to work very well for me and is something I have developed and concentrated on over the last few years.
You have been based in France for three and a half years now; is there much of a language barrier when you're trying to do a deal?
I have conducted more stallion deals in France than any other country, so I think you have your answer. I am also ably assisted by Sophie Pinheiro-Teixeira, my very capable French assistant. The days of drawing numbers in the sand and exaggerated sign language are now very much a thing of the past!
Who are the up-and-coming French National Hunt sires we should be looking out for?
There are several young stallions who will be making names for themselves in the coming years. French breeders are particularly influenced by a stallion with a strong pedigree who has shown a level of form over jumps.
The horse on everyone's lips at the moment is No Risk At All. He has had a great start with his first crop of runners and although he has no black-type winner yet, I feel sure that is only a matter of time.
He stands alongside leading jumps stallion Martaline at the impressive Haras de Montaigu and I would not be surprised to see him follow in his footsteps in the years ahead. I have booked in 12 mares for UK and French clients and his book is already closed.
Cokoriko will have his first crop of hurdle runners this spring and he is a name to look out for. This Listed-winning hurdler by Robin Des Champs stands at the highly regarded Haras de Cercy near Moulins. I expect him to make a good start.
Looking further into the future, I am very excited by Castle Du Berlais, not just because I put the deal together to buy this good looking son of Saint Des Saints. He has an outstanding pedigree and he also won at Listed level over hurdles. He has everything that French breeders want, so much so that his book was closed before Christmas.
The French stallion scene is absolutely booming - how do you think that happened, and what does it mean for you and British and Irish breeders?
I think you have only to look at the British and Irish jumps results and what is happening at the sales to appreciate why French-bred National Hunt prospects are in such high demand. This has a knock-on effect, with French breeders throwing all the mares they can at stallions to keep up with the requirements of the pinhooking market. The strength of this is such that many British and Irish pinhookers are scouring the French countryside for young National Hunt stock. It has got to a stage now that many jump-bred colt foals are being reserved for export literally days after they have been born.
It will be interesting to see what effect this will have on French jump racing. With so many males being exported I have already noticed a drop in the number of runners in the three-year-old hurdle races for colts and geldings. However, the number of fillies in training in France, for which they have an excellent programme, remains the same and I can see this division becoming stronger and more competitive.
I am booking in several mares for forward-thinking British and Irish National Hunt breeders. Each year they are sending more well-bred mares to the top French jump stallions. The benefits are there to be seen.
Inevitable Brexit question: how do you think Britain leaving the EU might affect your life and business in France?
I haven't got a clue, I suppose we will just have to see how it all works out, but I am not going to lose any sleep over it at this stage.
If you had a fantasy stallion roster and could recruit three Flat stallions to cover jumps mares, regardless of cost, who would they be?
An interesting question, but since I have been in France I must admit that I am looking at what you need to breed jumpers in a very different light. It's a very long and arduous route to make the transition from Flat to jumps stallion. Look at the logistics; it would normally take at least five to six years, from retirement, before it could be determined that your Flat stallion might be better suited to a career as a jumps sire. The decision is therefore made to sell or redirect and in his seventh year at stud he starts covering a full book of National Hunt mares.
This will mean that the first of his runners from this crop, over jumps or in bumpers, will not be seen for at least another four or five years. By this time, the stallion will most probably be in his dotage or no longer with us. If he starts his career as a jump stallion there is a chance that he will reach his goal that much quicker and reap the rewards of any success in his own lifetime.
I am taking the view that if you want to breed top jumpers, then you should seriously consider sending your National Hunt mare to sires who have shown that they can jump. I seem to recall that there was a general view that if a stallion had won over jumps, he would lack speed and throw slow, staying types but I think that the French 'way' has dispelled this view as a myth. You only have to look at the French National Hunt stallion table from last year and you will see that four of the top seven plied their trade over jumps, namely Kapgarde, Saint Des Saints, Balko and Nickname. I am pretty confident that this trend will continue.
You have been dubbed 'Le Stallion Man' by the French racing press: what do your family and friends make of that name?
I suppose I find it quite flattering, it certainly doesn't seem to do my business any harm and my family think that it's quite a cool nickname.
---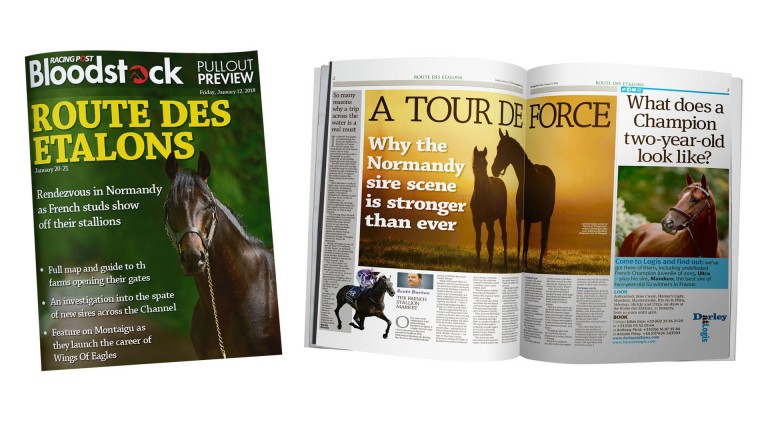 Let us take you on a visit to the French studs throwing opening their doors for the Route des Etalons weekend
Each year they are sending more well-bred mares to the top French jump stallions. The benefits are there to be seen