Kingmaker sale for Spirit Of Boom at Gold Coast Magic Millions
Filly sells for record A$430,000 on day two of March auction
The Spirit Of Boom phenomenon caused fireworks for a second day in a row at the Magic Millions Gold Coast March Yearling Sale on Tuesday, with the headline act being a filly by the leading Queensland first-season sire, who sold for a record A$430,000 (£237,000/€270,000).
The filly was one of six Spirit Of Boom yearlings to sell for A$300,000 or more on day two, eclipsing day one's record in which the Eureka Stud-based stallion was responsible for the top ten lots sold, with the most expensive being a A$250,000 filly.
Spirit Of Boom has so far sired ten first-crop juvenile winners this season, four of whom have won at stakes level, and he will be represented by the Tony Gollan-trained colt Ef Troop in Saturday's A$3.5 million Golden Slipper Stakes at Rosehill.
Spirit Of Boom, who stood for a fee of A$11,000 in his first four years at stud, sired the 14 highest-priced lots and 18 of the 20 most expensive lots sold at this week's sale, confirming his place among the top echelon of commercial Australian stallions.
In total, 13 yearlings by Spirit Of Boom also sold for A$200,000 or more in a remarkable achievement for the former Gollan-trained dual Group 1-winning sprinter and Eureka Stud's McAlpine family.
Spirit Of Boom had 37 yearlings sell over two days for an aggregate of A$6,197,500 at an average of A$167,500, with many to first-time buyers at the March sale.
Waiting patiently
The top-priced filly of the sale was purchased by Boomer Bloodstock's Craig Rounsefell in conjunction with Gollan, who is set to welcome the daughter of Spirit Of Boom into his Eagle Farm stable.
Rounsefell had waited patiently for nearly two days of selling before delivering the knockout bid on behalf of Sean Tomlinson's Hobby Horse Hall Racing after identifying the daughter Spirit Of Boom as the best filly in the sale.
Catalogued as Lot 384, the Lyndhurst Stud-consigned filly is the fourth foal out of the unplaced mare Hidden Flair, who is already the dam of the Listed Calaway Gal Stakes winner Flamenco, a three-parts sister to the A$430,000 filly.
Jeff Kruger of Lyndhurst Stud, which is also based in Queensland, took great satisfaction from selling yesterday's highest-priced filly having stood Spirit Of Boom's sire Sequalo and remaining a shareholder in the stallion.
"Obviously it is very satisfying because we feel a big part of the Spirit Of Boom phenomenon at the moment," Kruger told ANZ Bloodstock News.
"He was conceived in our shed, Spirit Of Boom, being by Sequalo and we were quick to become shareholders in the horse, so it is great to be involved.
"This filly is a true Lyndhurst family going back three generations and it's a family we've hung onto all the way through."
Phenomenon
Kruger said the fact the filly was a three-parts sister to the former Liam Birchley-trained Flamenco, who won the 2014 Calaway Gal Stakes at her first start, was an obvious attraction for many buyers.
"There were a lot of fillies in the sale who made A$200,000-plus but I think she was one of the few who was closely related to another stakes-winning filly," he said.
Kruger said Spirit Of Boom's success had revitalised Queensland breeding and had a big impact on this week's sale including the promotion of Lyndhurst Stud's first-season sire Better Than Ready.
"The crowd was super on both days and people stayed right to the end," said Kruger.
"Better Than Ready is our first-season sire and they were with many vendors, not just ourselves, and they made their A$30,000 up to A$70,000 and the main aim with any first-season sire is to get them out to trainers.
"Hopefully that puts us in the same position as Spirit Of Boom next year."
Spirited bidding
Boomer Bloodstock also bought another Spirit Of Boom filly earlier in the day on behalf of Tomlinson from the Eureka Stud draft for A$300,000. Brisbane's premier trainer Gollan will also prepare the filly for Tomlinson.
Catalogued as Lot 338, the filly is the third living foal out of the winning General Nediym mare Eureka Moment, while the filly's second dam is New Zealand Group 2 winner Kapsdan.
"We were very determined to take home some nice fillies by Spirit Of Boom and narrowed our focus to Lots 338 and 384," Rounsefell told ANZ Bloodstock News.
"I'm a proud Queenslander and we have been waiting a long time for a stallion like Spirit Of Boom.
"Both fillies look early types from running families and are from great nurseries in Eureka and Lyndhurst. They were at the upper end of our values although that is the market and we didn't want to go home without them.
"We have loaded up on I Am Invincibles over the past couple of years and intend to do the same with Spirit Of Booms."
Continued below . . .
---
Top ten lots Magic Millions Gold Coast March Yearling Sale
384
br f Spirit Of Boom - Hidden Flair
Lyndhurst Stud Farm (As Agent) → Boomer Bloodstock A$430,000
305
b f Spirit Of Boom - Country Class
KBL Thoroughbreds (As Agent) → Strawberry Hill Stud A$400,000
199
br f Spirit Of Boom - Thank You Darling
Tullyard (As Agent) → Strawberry Hill Stud A$360,000
367
b f Spirit Of Boom - Goodlookin Gambler
Eureka Stud → Lipp Racing A$320,000
338
b f Spirit Of Boom - Eureka Moment
Eureka Stud → Boomer Bloodstock A$300,000
235
b f Spirit Of Boom - Zabeeler
KBL Thoroughbreds (As Agent) → Spicer Tbreds/Darren Weir Rcg/Brae Sokolski A$300,000
141
gr f Spirit Of Boom - Regal Tier
Eureka Stud → John Morrisey A$250,000
135
b f Spirit Of Boom - Ready To Belong
Eureka Stud → Steve Morley Bloodstock/Kitchwin Hills A$240,000
308
b c Spirit Of Boom - County Commands
Eureka Stud (As Agent) → James Harron Bloodstock A$225,000
55
b f Spirit Of Boom - Matinee
Eureka Stud → Spicer Tbreds/Ciaron Maher B/S/Brae Sokolski A$220,000
---
Overwhelming
At the conclusion of the second and final day of the Magic Millions Gold Coast March Yearling Sale new benchmarks were set for the QTIS auction on the back of the remarkable demand for the progeny of Spirit Of Boom.
The sale ended with an aggregate of A$13,821,000, up A$5,147,000 on last year, at an average of A$45,464, which also climbed from A$28,439 last year. The median of A$25,000 was also up by A$4,000 on the results achieved last year.
In total, 304 yearlings were sold at a clearance rate of 84 per cent, while 305 yearlings were sold with a clearance rate of 83 per cent last year.
Magic Millions managing director Barry Bowditch found it hard to believe how well the March sale had gone.
"It is hard to describe today's sale with amazing results and obviously Spirit Of Boom the kingmaker for the sale," said Bowditch.
"We are all overwhelmed with how he went. Two fillies selling for A$430,000 and A$400,000 is a phenomenal result. Spirit Of Boom has gone to another level. The market on the whole across Australia and internationally has supported this stallion, as well as this sale.
"It is fantastic to see so many Queensland breeders get incredible results. It has been life-changing for them here today.
"There have been some small breeders supporting the sale for a long, long time, so to see them get these results is phenomenal. We never saw these results coming and we are ecstatic with them."
---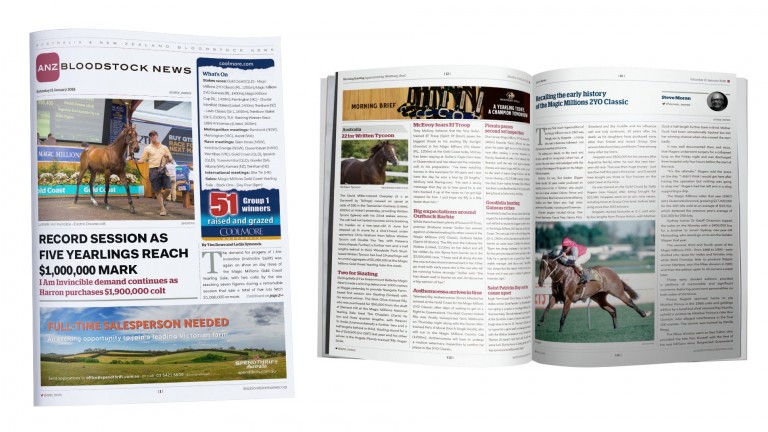 For complete coverage of racing and bloodstock in Australia and New Zealand, download ANZ Bloodstock News every day
We have loaded up on I Am Invincibles over the past couple of years and intend to do the same with Spirit of Booms