John Messara pays tribute to breed-shaper Redoute's Choice
Revered stallion died at Arrowfield Stud on Tuesday aged 22
Redoute's Choice, the champion Australian stallion whose legacy will last for generations, was the horse John Messara just had to have.
The Arrowfield Stud owner felt so strongly that the son of Danehill was an elite stallion in waiting - which he says "doesn't happen very often" - that he struck a multi-million dollar deal for the then three-year-old colt.
Almost two decades on, with three champion sire titles on his record and arguably Australia's greatest ever stallion, Messara was yesterday left remembering Redoute's Choice, a horse "who touched many people".
Redoute's Choice died at Arrowfield on Tuesday after suffering a traumatic loss of mobility which could not be restored, and was euthanised following intensive veterinary care. He was 22.
"Redoute's Choice is such a big part of all our lives, and right now it's hard to imagine Arrowfield without him," said Messara.
"He has given us so much, Arrowfield has been built on his back and he's allowed all of us and many, many other people to fulfil our dreams and ambitions."
Messara's belief in Redoute's Choice was solidified after his "off the canvas" Caulfield Guineas win in 1999, a win he listened to from a hotel room in France, a story retold in part on Tuesday.
"When I inspected him and saw him at close quarters I knew he was the horse we had to have," Messara told ANZ Bloodstock News.
"I was reminded today by Byron Rogers, who used to be a staff member of Arrowfield at the time, that I had come home and said 'we have to have this horse'. We pushed on to buy a stake in him and the rest in history.
"He was a very imposing animal and a great athlete. He was tough and courageous - he had everything that you want and he had great bloodlines as well.
"You don't get that often, that they are everything and prove to be everything in the barn."
Redoute's Choice's temperament had also been a standout while at stud.
"He was a gentleman. He was so easy to handle for everyone at the farm and was just a great horse all round," he said.
"It's like losing a relative. He's been around for 20 years and we wake up this morning and he's not going to be there. It's a big shock."
Messara took comfort from the fact that Arrowfield Stud has invested heavily in sons of Redoute's Choice, headed by his champion sire son Snitzel, Not A Single Doubt, Pariah, Scissor Kick and perhaps his best-performed colt The Autumn Sun.
"He leaves a legacy at Arrowfield because we had enormous faith in him and we invested in a number of his male progeny, so we've got a number of his sons now under our control and hopefully the story will live on for a lot longer," he said.
Just like Redoute's Choice almost 20 years earlier, Messara has a similar inclination about the Chris Waller-trained The Autumn Sun, and after his last-to-first Golden Rose Stake win last spring he mounted a successful big-money play to secure a controlling 50 per cent share in the three-year-old colt.
The Autumn Sun won his fifth Group 1 race, the Rosehill Guineas , and his eighth race from nine starts on Saturday and his place on the Arrowfield roster is assured.
When that will be is yet to be decided but it was confirmed on Tuesday that the colt will be spelled and will not race again this season, if he does at all.
"The Autumn Sun is owned jointly by another partner and I will be mindful of the partner's wishes, so Redoute's Choice's death shouldn't have an impact on that decision," said Messara.
"We'll probably make up our mind over the next couple of weeks. He's going off for a spell now."
Bred by Muzaffar Yaseen of Teeley Assets, Redoute's Choice was born on August 15, 1996, as the first foal out of juvenile-winning Canny Lad mare Shantha's Choice and was from the sixth southern hemisphere crop of champion stallion Danehill.
He would be retained to race by Teeley Assets, winning five of his ten starts including four at Group 1 level, before being retired to stud in 2000 at a fee of $33,000.
As Redoute's Choice's progeny began to become a force on the racecourse his fee rapidly increased, from $40,000 in 2004, to $220,000 in 2005 and a career high $330,000 in 2007 and 2008. He covered 45 mares last year at an advertised fee of $137,500.
Redoute's Choice was a champion sire on three occasions - 2005-06, 2009-10 and 2013-14 - after claiming the first-season sire title in 2003-04.
Messara said: "It is a great consolation to me that Redoute's Choice leaves us at the top of his game, having sustained his greatness as a sire from start to finish, across the full span of his career.
"His legacy to Australian breeding and racing is immense, through his sire sons, his broodmare daughters, his final crops still to come and all the people he touched over the past two decades."
Cassidy lauds Redoute's Choice
Jimmy Cassidy, who won three races on Redoute's Choice, described the horse as "a machine".
Cassidy rode home to victory on his two-year-old debut, and also when Redoute's Choice beat arch-rival Testa Rossa to win the Caulfield Guineas in 1999.
"I rode him his very first start when I won on him at Caulfield and I wanted to ride him in the Blue Diamond but I was already committed to one of Hayes' and he wouldn't let me off it," Cassidy told ANZ Bloodstock News.
"He gave me the feeling of being a machine because that day when he won first-up I was back on the fence, I had to shove one out of the way to get out, and I when I shoved it out of the way it nearly went through the outside fence and into the grandstand.
"He was that big and strong as a two-year-old and I am sure if he hadn't gone amiss he would have won the Golden Slipper."
---
Subscribe to make sure you never miss updates from Australia, New Zealand and beyond and to have ANZ Bloodstock News delivered to your inbox every day.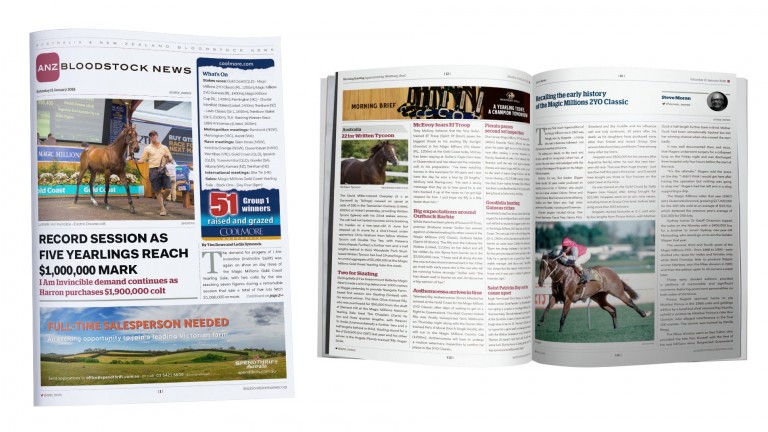 He was that big and strong as a two-year-old and I am sure if he hadn't gone amiss he would have won the Golden Slipper